We can all agree that Indian women have fantastic hair. Their lustrous locks always look healthy and shiny as if they came straight from a shampoo ad. Is there a secret remedy that makes the hair of Indian women look amazing? You bet there is! Actually, hair treatment is part of the Indian culture and you will see that all schoolgirls have neatly made braids and hair oiled for protection. These traditions are being passed from mother to daughter, making almost every Indian woman a real pro when it comes to gorgeous hair. Here are 9 tips from Indian women for shiny and healthy hair.
Wash with cold water
Cold (or lukewarm) water is your best friend when it comes to your hair beauty routine. Whenever you use any special hair serum or moisturizing product to improve you hair's health, make sure you rinse it with cold water. Hot water will negate the effect of any product you use and dry out your hair even more. If you feel the water you use for hair wash is not very good, you can use some bottled good quality water to rinse it in the end and get rid of the chemicals.
Go for exotic ingredients
Of course, Indian women know a thing or two about natural ingredients that can do wonders for you hair. Amla is a great source of Vitamin C and is one of the most ancient ingredients used in Ayurveda. You can eat it or use it on your hair to strengthen it, or both! Saffron strengthens hair and provides all the necessary minerals and antioxidants to protect it from the environment. Henna is often used as a hair mask or conditioner. It refreshes the hair's colour, making it shiny and bouncy.
Always use oils
Oils are essential when it comes to Indian hair care. The right oil used the right way will not make your hair look greasy, on the contrary, your locks will become more manageable, moisturized, and less frizzy. If you're a fan of over-washing your hair, using some oils afterwards is a must. It's good to use oils like jasmine oil that not only smells nice, but also protects your hair against the environment. Sunflower oil is an incredible moisturizer, while coconut oil is best used as a hair mask.
Use homemade remedies
Indian women treat their hair with the same care we treat our faces. Hair masks, special serums, and homemade natural concoctions – this is what keeps their hair so healthy and beautiful! The skin of your head requires just as much attention as your skin and it's just as sensitive. They soften, nourish, and moisturize the hair as a preventive measure instead of dealing with the consequences with heave chemical-induced hair products.
Go for natural colour
The majority of Indian women prefer natural colours and wouldn't experiment with mad dyes that are too harmful for hair. On one hand, they are more conservative with hair colours, but on the other hand they're keeping them safe from chemical dyes and hair commitments that require continuous treatments that exhaust the hair.
Healthy hair diet
It's not that Indian women eat something special to make their hair look all nice and glossy, but their diet is naturally packed with nutrients and vitamin-rich products like fruits, vegetables, spices, and herbs. Foods like turmeric, fenugreek, pomegranate, cashew, chickpeas, saffron are packed with protein, fatty acids, and all the vitamins responsible for your hair's health.
Use natural materials
Everything that touches your hair should be natural! Avoid plastic brushes and those made from metal as they are incredibly damaging for your hair. It's also best to use hair band made from some organic material. Avoid rubber products and use wooden instead.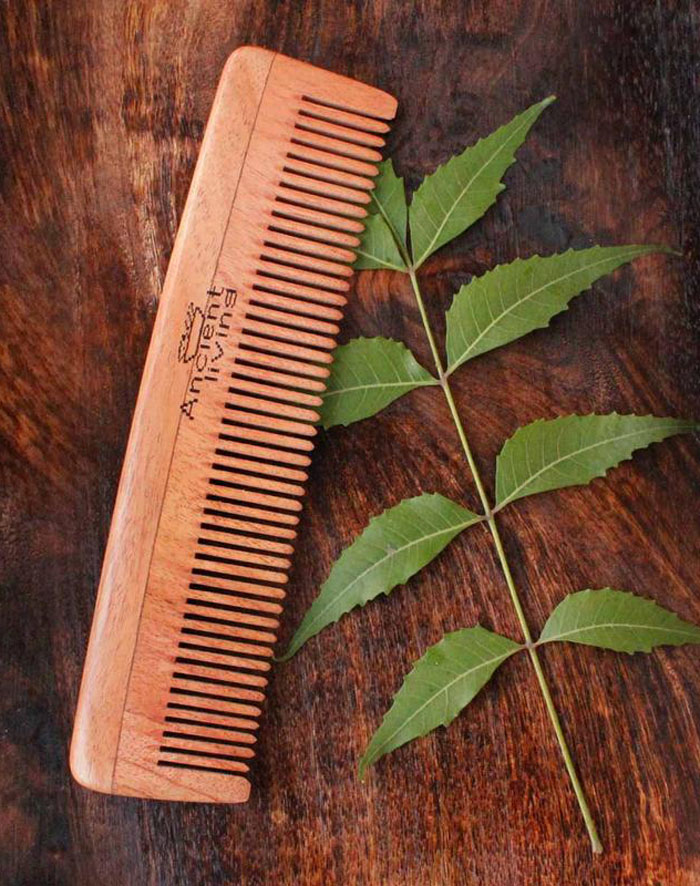 Wash less
Contrary to the popular belief, washing your hair more often won't make it cleaner or more healthy. The more you wash it, the drier it gets, which results in your scalp producing more grease to protect the hair from washing too much. Natural grease is not bad as it helps your hair survive sun, wind, dirt, smog, and all those pesky environmental issues. Indian women wash their hair no more than three times a week. You should try it, too!
Start early
Indian women start their hair care routines early and continue doing them non-stop throughout the life. Gorgeous hair requires consistency and high-quality products that you can even make yourself. Nontoxic natural remedies are essential to your hair's health and beauty, so you should either invest in some organic cosmetics, or start making DIY treatments that will do wonders for your hair.