The tabloids are often focused on celebrity fashion, but the offspring off celebs have just as much swag as their famous parental units. Here are our favorite style rebels who are just as chic as their red carpet walking parents.
1. North West
At just seven years old, this queen chooses her own outfits. At such a young age, she's showed styling finesse and even engineered her own mom and daughter photoshoot, instructing Kim on poses and direction. We have a feeling this little girl is going to grow up to do big things in fashion.
2. True Thompson
Khloe and Tristan might have their share of parent drama, but one thing that no one can contest is the naturally fashionista capabilities of True Thompson. Whether she's rocking an animal print jumper with white sneakers and a turban, or bantu knots and a tulle, ballerina inspired dress, True always slays.
3. Suri Cruise
At one point, Suri was hidden from the press entirely. But today she's a 14-year-old teen who has a good girl, J. Crew inspired style that's way better than the miniature Fashion Nova kids that obviously have a celebrity stylist. She's often out and about rocking a cute dress and cardigan combo and is all about classic meets contemporary girly outfits with different shades of pink.
4. Stormi Webster
At just over a year old, it's improbably that this little cutie is dressing herself. Either way, Travis and Kylie are decking out Stormi in the finest threads, and we're not mad. From snow bunny lewks and pink monogram print Dior dress to all-pastel outfits, Stormi's hair and outfit is our daily inspiration.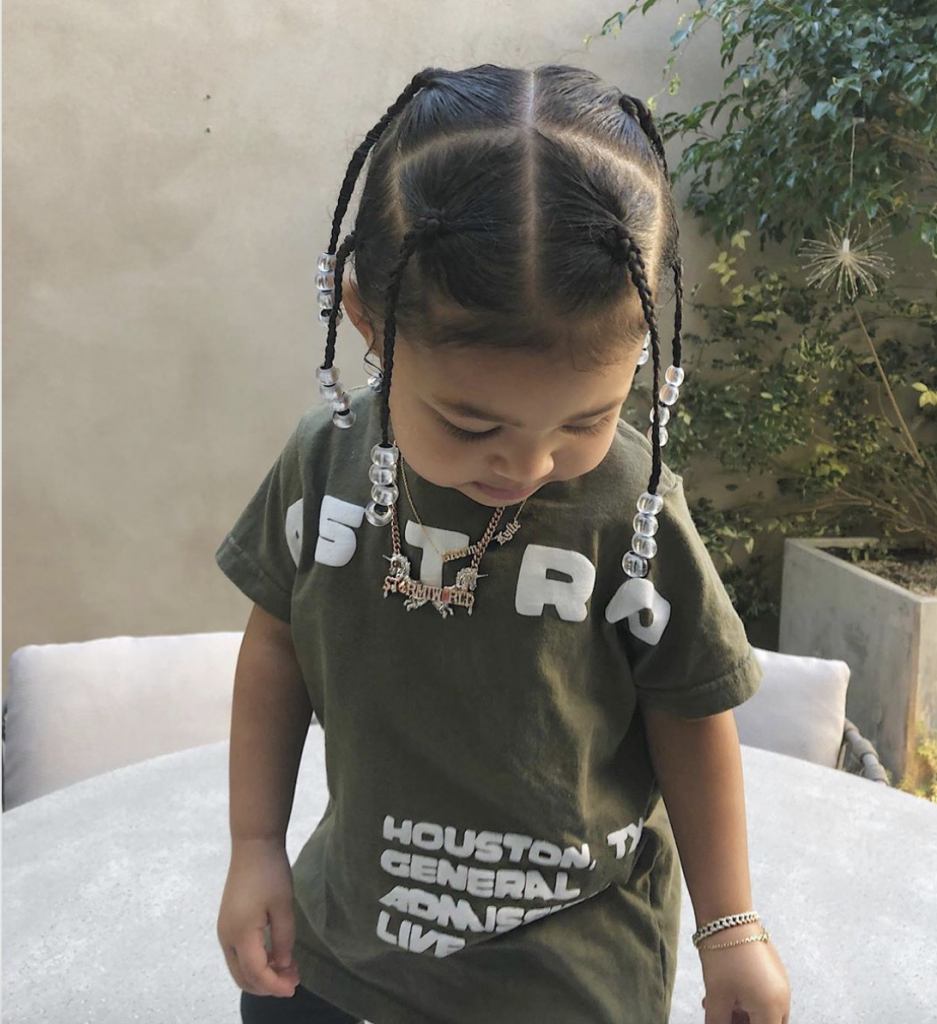 5. Blue Ivy
Blue Ivy caught a serious amount of flack for her looks from the haters, but they're clearly just jealous of her glamorous life. At age 8, she's consistently showing up to red carpets and flexing her style chops with Bey and Jay. Remember that chic, all-cream look at the 2018 Grammys and her rebellious slime green dress with black converse? So different, but equally adorable!
6. Ava Phillippe
Ava is Reese Witherspoon's 20-year-old daughter who practically looks like Reese's twin. Even though they look like doppelgangers, Ava has distinctly carved out her own style (though they've had twinning monuments), with breezy choices like a sundress and brimmed hat. She's also perfected street style, with chunky platform shoes, ripped cool girl jeans, and casual tees.
7. Luna Stephens
With a mom like Chrissy Teigan and a dad like John Legend, you're obviously going to develop some swag. Luna loves pink and floral touches on her ensembles, but has also classed it up with a structured white dress coat, textured leggings and sparkly cowboy boots. If that's not peak celebrity child fashion in 2020, we don't know what is.
8. Romeo Beckham
This kid has been seen draped in Burberry scarves and well-tailored garments since childhood, so it's clear that from a young age, Romeo has always dressed to impress. He has kind of a sophisticated bad boy look but always keeps it simple, and often, we get a spitting image of a young David Beckham.
9. Jagger Ross
Evan Ross and Ashlee Simpson's tot Jagger is only 5, but we want everything in her closet right now. From high-necked yellow dressed with black necktie bows to cowboy boots, rocker tees and pink skirts (styled all on her own, just so you know) we see a future stylist in the making!
10. Penelope Disick
Scott and Kourtney Kardashian's daughter is one day going to be style rivals with North, based on her epic looks. Whether she's sporting crop tops with her mom in Portofino, Italy or rocking a totally unique printed dress, Penelope is blossoming all on her own and we love it.
11. Princess Charlotte
Charlotte, her brother, and her parents always have similar color stories going on with their looks. They
Re very good at coordinating and looking cohesive without going too over the top, and we frequently see Charlotte in navy blues, forest greens and gingham prints that she pulls off with ease. Her style is similar to Suri's but we can't wait to see how it changes as she grows up.
12. Honor Warren
Jessica Alba's eldest daughter had a style that started out totally playful and engineered by mom. Today, you can see her in her own elegant but edgy looks, like pleated culottes paired with Doc Martens. She classes it up in things like bohemian floral wrap dresses – every style mood she's in makes us swoon, TBH. Recently, her and mom posted an Tik Tok video in oh-so-cute matching bikinis.