Jennifer Anniston is a very good looking and stylish actress. We must admit, she doesn't exactly go for unconventional, surprising or risque looks. Shocking people by wearing something outrageous isn't really her style. She prefers to look good and stick to what suits her best. But that doesn't mean she's boring, this lady just knows what's good and she's managed to have a very successful and long career in film and never really have a fashion faux-pas. She's always stunning. And you know, she's Jennifer Anniston, she really doesn't need to dress crazy to get people's attention, everyone knows who she is no matter what she wears. She has a haircut named after her, and whenever you say that to anyone they know exactly what you mean, she's that level of famous.
1. This is Jennifer Anniston in 1995. Can you actually believe this was 25 years ago? It seems insane. But also, you can see that Jennifer clearly had impeccable style. She knew how to rock a simple black slip dress then and that's still stylish today. Also, we had to include the outfit from "The One Where the Monkey Gets Away" because even though it's a styled Rachel outfit it still holds up to this day and I'd totally wear it.
2. Oh man, remember when Jennifer and Brad were the hot couple? Those were the times. Are we still holding out hope that they'll find their way back together? We sure are. But back to Jen's outfit. You might think "sequins, really?" but you've got to remember this was 1999 and let us tell you – this was the most sophisticated dress at the time. I mean, look at Brad, what are those glasses?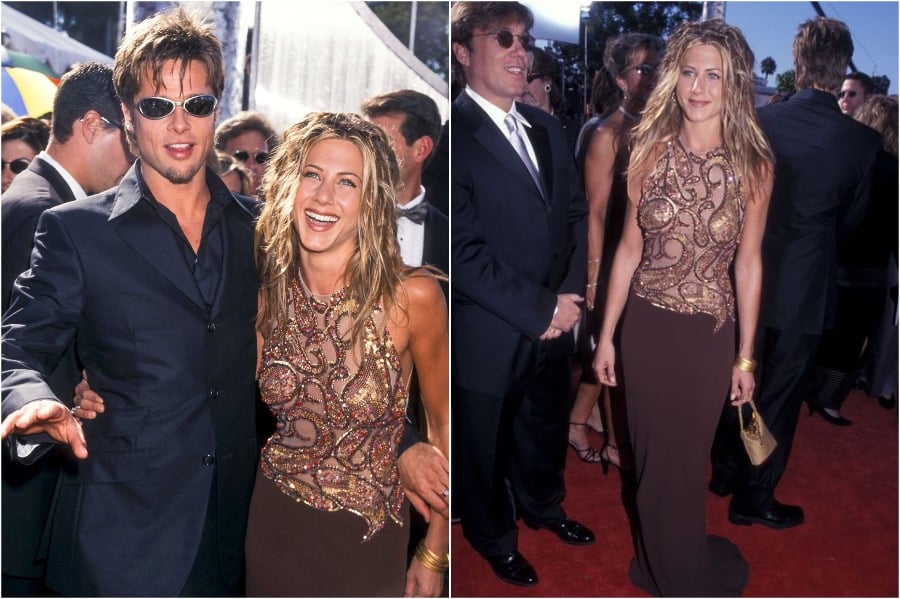 3. All black triangle crop top and a matching maxi dress, hell yeah Jennifer rocked that like no other. This was quite an edgy outfit at the time and definitely an edgy one for Jennifer but she pulled it off no problem.
4. Here's another 90s classic with the square toe boots. Isn't it amazing how cyclical fashion really is? Not to mention the whole all-black outfit that's very trendy these days when monochrome is the way to stand out. It's like Jen knew something we didn't.
5. We're entering the 2000's now and boy did Jennifer do that with style. That leather coat and fluffy handbag combo? Very cool, very edgy, very on-trend. And the red dress is what she wore to the Emmys that year. Absolutely iconic, there's no way around it.
6. Can we just all drool a little over this dress that Jennifer Anniston wore to the SAG awards in 2003? She's giving us style, she's giving us chic, she's giving us risque. We love everything about this.
7. At this point, you're probably catching on to the fact that Jenifer wears a lot of long dresses to red carpet events. But hey, she a girl loves her maxi dresses, and can you blame her when she looks this good in them?
8. And just like that Jennifer threw us a curveball, a red midi dress with flowers on the skirt. A very unusual choice for her. It's almost strange to see her not wearing a long dress, and yet she looks cute and vibrant and bubbly.
9. In fact it looks like Jen's dresses kept getting shorter and shorter in the 2000s. Why did she keep hiding these legs for so long? We particularly love the silverish, metallic grey dress she's wearing here with matching sandals.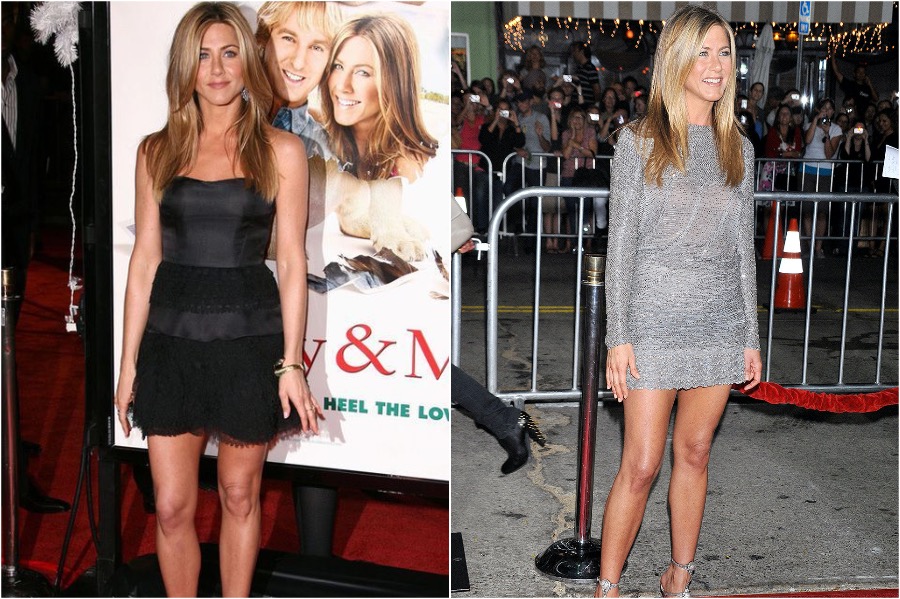 10. This is a dress Jennifer wore to the Golden Globes in 2010, yup this was 2 years before Angelia wore a high slit dress to the Oscars and the whole internet went crazy because of that. Dare we say Jennifer was streets ahead with this look?
11. We absolutely adore this blue dress Jennifer wore to the Toronto International Film Festival in 2014. It accentuated her best features, went so well with her eyes and her tan and just made her look like a true goddess.
12. This black leather dress Jen wore in 2017 is absolutely everything. If you needed a #goals moment – this is it. Queen of style Jennifer has graced us with edgy yet elegant and we can't get enough of it.
13. The gorgeous dress that Jennifer wore to the SAG awards where she won and also reunited with Brad and we all lost our mind a little bit.