Cannes film festival is one of the most prestigious international film festivals. Every year it previews films of all genres from all over the world. It's invite only, so if you get to go you know there's a good reason. It's also part of the tradition for celebrities who walk the red carpet to dress up in something memorable, because posing for photographs is kind of part of the Cannes folklore now. And while we're all used to seeing Hollywood celebs and European newcomers on the red carpets, this year Bollywood stars stunned the Cannes Film Festival with their looks. Let's take a look at these Indian beauties that stole the spotlight at Cannes this year.
Deepika Padukone
In our humble opinion, Deepika Padukone went above and beyond with her outfit choices this year. Fist she wore this incredibly glamorous and classy, yet unique Dundas dress. The voluminous cream colored dress with a thigh-high slit and a massive black bow made Deepika look like a true old Hollywood star. It's absolutely stunning.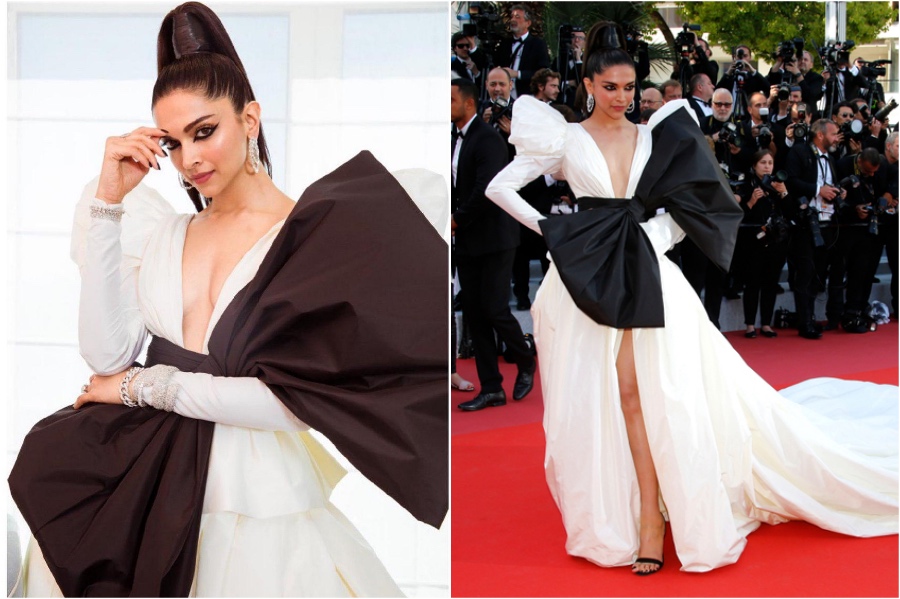 The bright green tulle dress by Giambattista Valli was definitely a complete opposite of her previous outfit choice. It was fresh, interesting, unexpected and showed that Deepika really can rock any style she wants. She looked incredible in that dress!

It's not all about red carpets, Deepika also wore some pretty awesome outfits while she was attending other screenings at Cannes and this striped Loewe suit was a definite power move. The all-white look was elegant and feminine, and the black and green dress by Off-White with sneakers was definitely our favorite.

Hina Khan
Hina Khan also opted for a metallic colored dress, but she went for metallic silver and much softer silhouette. Like many others, she also showed off her legs with the high-low skirt of the dress. Her makeup look was fresh-faced and glowy.

This second dress was way more impressive though. The jewel-encrusted silhouette of this dress flattered Hina's curves in the best way possible and the floor length sleeves added a nice touch of drama to the look. The deep décolletage and an open back could've looked a bit too risky on someone else but on Hina it looked stylish and tasteful.

Aishwarya Rai
Aishwarya Rai had two interesting looks at the Cannes this year. First, let's talk about this metallic gold dress with one sleeve and a very interesting train in the back. Was Aishwarya going for that Oscar look? Structurally it's a very interesting design, we're just not so sure about the golden material.

The other look Aishwarya wore to the red carpet was much softer. She essentially appeared in a white cloud of feathers blowing kisses to the photographers. A classy updo and a sparkly smokey eye work wonderfully with the whole aesthetic.

Kangana Ranaut
For the first day at Cannes Kangana wore a golden Kanjeevaram saree by Falguni Shane Peacock with a fun vintage twist thanks to her hairstyle and purple gloves. We must admit, she looked incredible!

She also wore an elegant yet structured white gown to the red carpet, which just proves that there isn't a dress or style that Kangana can't pull off. She really can wear it all and look amazing in it.

Priyanka Chopra
Still feeling wedding vibes from Priyanka in this white dress and Nick Jonas, as always, by her side. This might not be the most shocking or memorable clothing choice, but she looked very graceful and beautiful in it. The matching white delicate necklace and earrings were a nice touch too.

This sparkly evening gown that Priyanka wore to the red carpet at Cannes was a cheeky choice. The tight fitting bodice of the dress showcased her curves and the very high and risqué slit made sure to show off her legs too.

Here are some other beautiful dresses Priyanka wore at Cannes. The white one simply radiates classiness and makes her look almost royal. The turquoise outfit with the wide-brimmed hat definitely looks very cool, and the purple dress with scallop detailing looked both quirky and sophisticated at the same time.

And finally, we have to mention this fiery red Tommy Hilfiger gown with an open back. Priyanka bringing on the heat both on and off the red carpet.