The Kardashians are a legendary family. Whether you love them or hate them you've got to admit they've done an incredible job marketing themselves and now they're not only uber-rich but also super famous and successful. And while they're still filming god knows what season of Keeping Up With The Kardashians they all have a side business of their own that's insanely successful because of their celebrity status and fame. They're also known for being a very glamorous family. It seems like they're always looking perfect, with a full face of makeup and a cool outfit. Even when they're doing nothing and just hanging out at home they still have a perfect makeup look and a cute outfit to go with it. They seem to even look perfect when they're working out. But have you seen what they look like without makeup? Do they look mostly the same but less done up or do they look completely different? Let's take a look at the Kardashians without makeup.
Kim Kardashian West
It's not a secret that Kim uses a lot of makeup, she has a makeup company, she loves makeup. Over the years we've seen her makeup looks change many times. She used to be all about smokey eyes, then she went all out with contouring, these days she usually sticks to neutral glam looks. But you know what, she looks absolutely fine without makeup too, her skin is incredible and it's actually kind of nice to know she also gets under eye circles like the rest of us.
Khloe Kardashian
Khloe has revealed that her beauty and makeup routine has changed since she became a mother and these days she keeps her makeup quick and the less liquid products the better because she needs to keep an eye out for her daughter at all times and liquid things are messy. But she still makes sure to have a beauty routine to keep her skin looking good, and it shows. Even without makeup, she is glowing. Apparently, she just loves using all the oil you can on her face, neck and chest.
Kourtney Kardashian
Kourtney is all about natural beauty and natural beauty products. She likes making her own face masks and lip scrubs, she also makes sure that her makeup products are clean in terms of ingredients. And she doesn't really like doing her makeup herself, so when she does, it's always very minimal. And it all pays off. She's in her 40s and her skin looks incredible. She basically looks the same without makeup.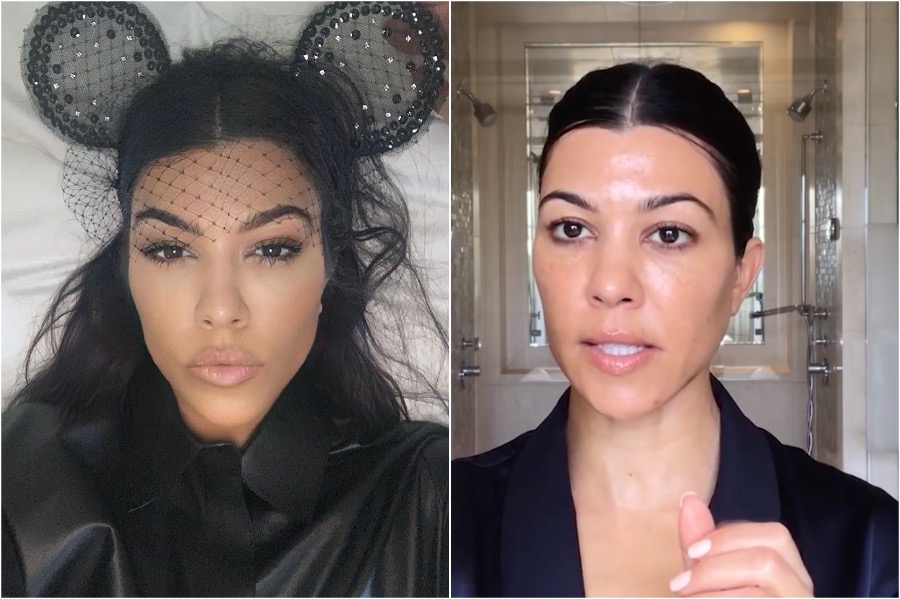 Kylie Jenner
Kylie has always been into makeup. It was her obsession with overlining her lips that led to her creating her own makeup company and her lip kits rock. While we know that she has since gotten her lips done, what few people know is that she actually has freckles, but we rarely get to see them because she hides it all under foundation. We kind of wish she didn't, her freckles are super cute.
Kendall Jenner
Kendall is a model for a reason. She generally keeps her makeup very minimal and uses it to accentuate her features, since there's nothing to hide. She basically looks the same without makeup as she does with, just slightly less polished perhaps. Even her sisters are jealous and joke about the fact that Kendall's whole makeup routine is what, putting on some mascara?
Kris Kardashian
And finally, we're getting to Kris, the momager, the head of this massive family. And you know what? This lady is in her 60s and she's had 6 kids but she still looks hella good. Yes, her makeup helps her a lot, but even without makeup, you've got to admit she looks good for her age.