We all know that a little black dress is a classic at this point. We all have one because it's perfect for any occasion. But the red dress – that's a special occasion dress. It's the one you wear when you want to wow people, be in the spotlight, have everyone's eyes on you and be in the center of attention. Red dresses are pretty memorable in that way, they stand out. So let's take a look at some of the most iconic red dresses in the history of movies and tv shows.
1. Pretty Woman
This might be a movie about a call girl, but it's a classic at this point, and the only thing more memorable than that scene where she walks into a store and buys all of the things is the scene where Julia Roberts wears this gorgeous red dress a pretty necklace and goes to the opera with Richard Geer.
2. Moulin Rouge
Nicole Kidman looked absolutely stunning in this red dress in Moulin Rouge. This movie, in general, has good costumes, but this dress was something else. The construction of it, that corset, the way it looks from every angle. It's truly an iconic red dress.
3. She's All That
Yeah, we know this movie is cheesy as heck, but you can't deny the fact that you still watched it back in the day and loved every second of it. It's a classic transformation story, and yes, it's predictable that they take off her glasses, give her a haircut, heels and a red dress and suddenly she's all that. But hey, this was 1999.
4. The Mask
The 90s are full of relatively simple dresses, but what they do the best is highlight a woman's figure to the max. And this red dress that Cameron Diaz wore in The Mask was honestly the hottest thing we've seen up to date at that point. And you know, for 1994, it was pretty damn cool.
5. Anna Karenina
There's a reason this movie is praised for costume design. And when we say praised, we mean it literally won an Oscar for Best Costume Design. So obviously we had to include this award-winning red dress on our list of iconic red dresses. Keira Knightly as Anna Karenina in this dress was absolutely mindblowing.
6. Me Before You
It's kind of weird when you think about the fact that Emilia Clarke had the time to do a movie like this while she was still very much doing Game Of Thrones. It was a very different vibe altogether, but you know, it was fun to see her play a quirky girl, and in classic rom-com fashion, she gets this gorgeous red dress that's meant to make her look like a million bucks. It is a cute dress though.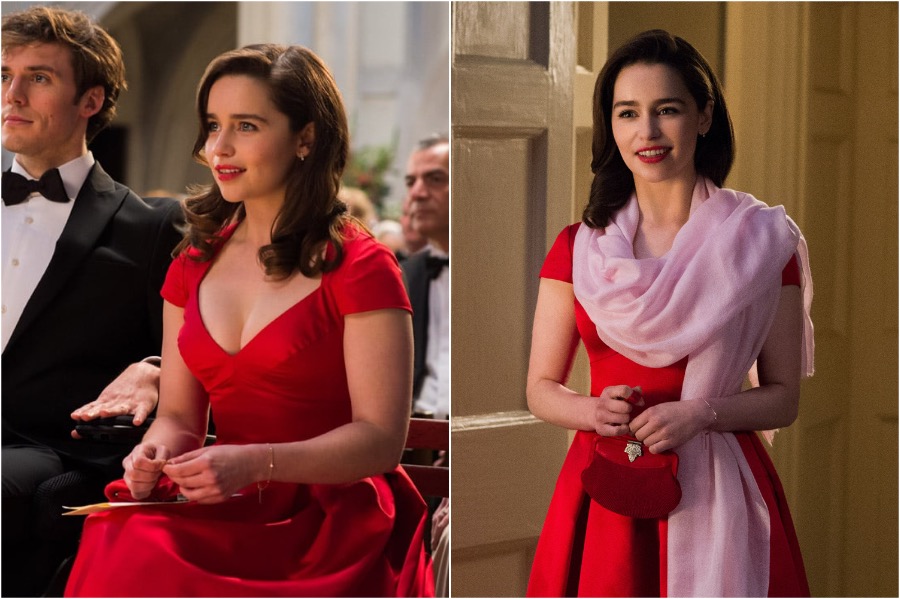 7. Gone With The Wind
A classic movie, a phenomenal dress. Vivian Leigh has never looked more beautiful than she did in this truly incredible red dress in Gone With The Wind. Just look at all the details of that dress. The rhinestones, the feathers, the silhouette.
8. Gangster Squad
Emma Stone can do it all, she can be the funniest girl in the room making jokes and funny faces, but she can also look like the most seductive woman on earth. And this red dress that she wore in Gangster Gang definitely helped her with the latter.
9. Funny Face
Audrey Hepburn can pull off any look – that's just a fact. And as much as we love her in that little black dress in Breakfast at Tiffany's, we think she looks even better in this red dress in Funny Face. And we should point out, this movie also got an Oscar for Best Costume Design.
10. Friends
This isn't a movie, but FRIENDS is such an iconic TV show that it's not out of place on this list. It was basically the main thing influencing the fashion world in the 90s and 2000s. And if you look around you'll see it's still relevant today, because fashion is cyclical and we're all nostalgic. But these two red dresses that Rachel and Monica wore on the show are basically the epitome of 90's slip dress vibes.