Machine Gun Kelly and Megan Fox are quite a power couple these days. They're what we imagine alternative Barbie and Ken would look like. We love their fashion sense and the edgy flare, so we thought it was about time to take a look at some of their best couple looks. They don't always match, instead choosing to compliment each other's style. Colson has a natural edgy flare to his style and Megan has admitted that she tries her best to match that in her own way. The result is always memorable!
iHeartRadio Music Awards
This is as Barbie and Ken as MGK and Megan get. The bubblegum pink co-ord by Mach & Mach looks incredible on Megan and Colson (MGK) and Colson's white and silver getup compliments it perfectly with well-chosen stripy socks and a pink heart on the lapel of his blazer.
Dinner with friends
Gotta love a couple that dresses up to the nines for a dinner out with friends (in this case with Kourtney Kardashian and Travis Barker). Megan wore a sparkly silver Dolce & Gabbana mini dress with a cutout that showed off her abs (to dinner! Now that's what we call confidence) and Colson wore a very sparkly purple outfit by Valentino Haute Couture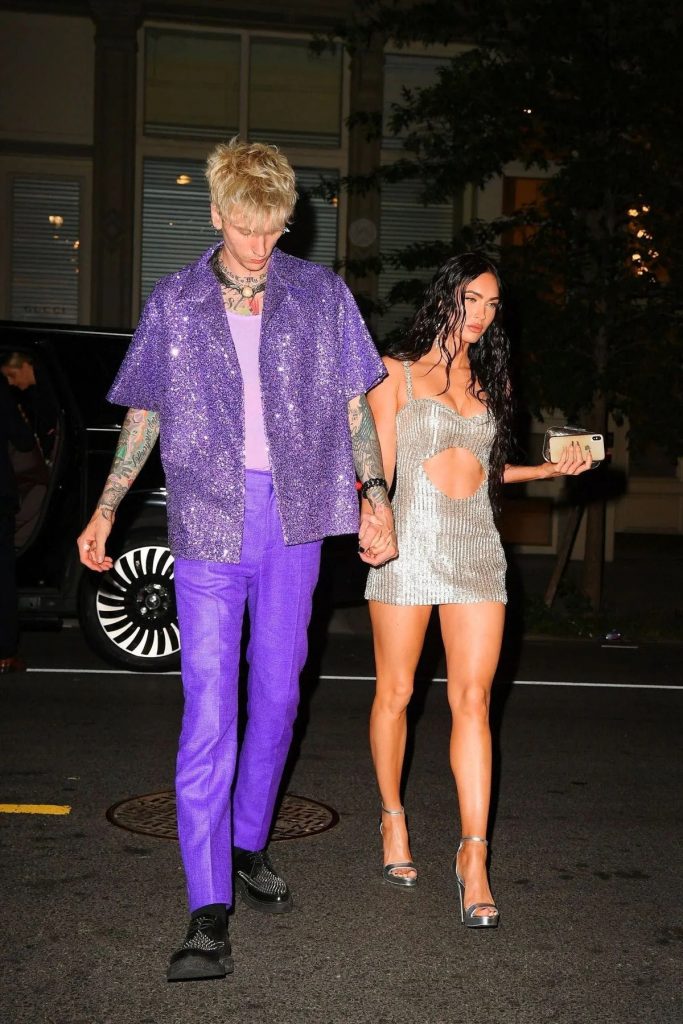 Dolce & Gabbana Fall/Winter 2022 Men's Show In Milan
When you go to a D&G show you wear D&G. These two looked awesome as ever in their black edgy yet sparkly looks. Colson's suit looked absolutely phenomenal in a dark, mysterious yet fancy way, and his shoes were sparklier than a disco ball. Megan went for a sexy lacy top and edgy leather-looking lace-up pants.
Megan's Birthday
The couple stepped out in complimenting colors for Megan's Birthday. Fox wore all read for the occasion: an Alex Perry pantsuit and perfectly matching bra and heels. Colson dressed up in a pair of gray slacks but paired them with a blue and red turtleneck and boots with matching red laces.
Matchy Matchy
Even when they dress casually – they try to coordinate. This was one of those occasions where Megan and Colson actually wore matching blue flannel while out and about and we think it's honestly adorable that they did it.
UN/DN LAQR launch
This is what they wore for the launch of Machine Gun Kelly's nail polish brand UN/DN. Matching black outfits, Colson in shiny black with silver accessories, Megan in matte black and black jewelry too. The best thing about it was the chain that connected their pinky nails. They were literally chained together.
Billboard Music Awards
These two are not shy people, they're more than happy to show off their bodies. This couple look is proof of that. Colson wore a black Balmain suit and his shirt fully unbuttoned to show off his tattoos. Fox (un)dressed in a risky Mugler dress with so many cutouts she was in constant danger of a nip slip. It's honestly a miracle that the dress stayed in place. But hey, looking outrageous is their thing and we love it.
PVC Trenches
At first glance, you might think how is this a coordinated outfit? Colson is wearing an all-black outfit, Megan is dressed in pink and blue. But it's the fact that they're both wearing PVC coats, one shiny black, one light pink that seals the deal here. They're contrasting each other's outfits! They know what they're doing.
MTV Video Music Awards
Did anyone else get some Kim K vibes from Megan's dress at the MTV Video Music Awards? That's because it was also a Mugler dress, except this one was ever more revealing. We kind of dig the contrast between MGK's fully buttoned all red sparkly suit and Megan's naked sparkly dress. It's kind of like showing how one can dress or undress to impress. We just kind of wish they did it the other way round tbh.
Wholesome
Seriously, how wholesome is this look? Sure, Megan is wearing a tiny cardigan with nothing underneath, but the textures, the colors, it's all neutral colors and fluffy cozy materials. This has to be one of their most wholesome and cute looks.