Billy Porter isn't just a talented actor – he's a pioneer and icon in gender-fluid fashion. Porter's brand of androgyny isn't toned down – it's lavish, loud and proud. Whether it's a debutante style ballgown or a completely new twist on a suit, he keeps making fashion strides that consistency impress us. Here are our favorite looks
1. 2019 Oscars
This truly creative fashion moment was called a piece of "political art" by Porter himself, and we can see why. Designed by Christian Siriano, this look was half dramatic ballgown, and half regal tuxedo. In a gorgeous blend of masculinity and femininity, Porter is one of the only human beings on earth who can pull off a velvet masterpiece like this. As with every Siriano look on the red carpet, the look was sublime.
2. 2019 Golden Globes
Here, an embroidered suit with floral detailing is covered with a silk, floor-grazing cape the color of taupe and rose gold. This outfit made Porter's natural radiance shine even brighter, and naturally wouldn't have been complete without a meticulously bedazzled upper on the cape. In a classic move of Billy innovation, the lining of the cape was hot pink. Both the custom suit and cape took six months to prepare and were hand-embroidered.
3. 2020 Golden Globes
There's something about Billy that makes designers want to create custom pieces for him 24/7. Perhaps there is just no pre-existing design fabulous enough for him. This time at the Golden Globes, he transformed himself into a real life angel with this Alex Vinash gown. As always, the graceful actor rocked a massive train with ease, and captioned it "The Category Is: Blaque Swan" on Instagram.
4. 2019 Met Gala
Camp was the theme for last year's Met Gala, and Mr. Porter did not disappoint. Inspired by Diana Ross and Ra, the Egyptian sun god, Porter was carried in by six gorgeous men in Egyptian makeup and metallic gold pants. Porter's majestic, bewjeled catsuit was designed by The Blonds and included jaw-dropping Giussepe Zanotti shoes paired with a 24-karat gold headpiece. It's safe to say that he stole the show with this theme interpretation.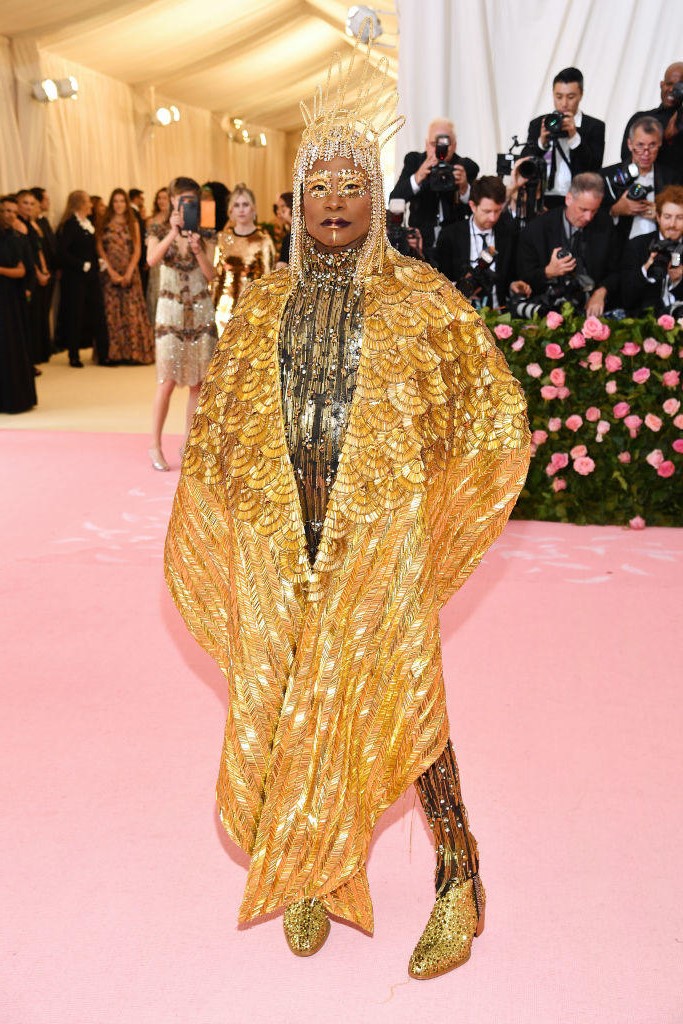 5. Pose Season 2 Premiere: Francis Libiran
This matador inspired look complete with a wide-brimmed hat is tough yet delicate at the same time, with silhouettes that we can't stop obsessing over. Always a master of the two-piece, this look consisted of a black cropped bolero jacket and black trousers attached to a ruffled overskirt giving it a sweeping, cascading finish. It took about three months just to make the skirt, and let's face it: when it comes to his skirt drama, Billy is a perfectionist!
6. 2019 Peabody Awards
Hold up, is that Billy Porter or Diana Ross? With a fierce, voluminous afro wig, an equally voluminous tulle dress and a black lip, Billy was an absolute head turner in this Celestino Couture ensemble. The sheer and lace detailing made for a striking look fit for a diva, and best of all, the outfit was made of up cycled materials, making it both high fashion and sustainable.
7. Critics Choice Award 2019
A more recent look of Porter's this has to be on of our all-time favorites. A square, topless bodice complements a sea-foam and teal color scheme. Upon first glance, this looks like a classic gown with a flared out bottom. But when Porter moves, you can see that it's actually insane wide-legged pants and this is a rare kind of jumpsuit that we've never seen before. The butterfly tats represent personal transformation.
8. Gold Meets Golden party
We love how Porter's androgyny can swing in either direction on any given day, depending on his mood. Slouchy leather pants are a hard look to pull off but Porter does it with ease, blending a matching leather jacket with a white bowtie and button down. Per Porter's usual style, he pairs an artfully ankled hat with the look that brings it all together.
9. Out Magazine's OUT100 Awards Celebration 2018
This look is a bit less dramatic than the signature Billy style, but it's jus was eye-catching and unique. This look was perfect for a magazine party, using a sheer organza jacket as the focal point. Rather than a scoop or V-neck, Billy opted for a low cowl neck integrated blouse, sleek black boots and a beautifully styled grey hat.
10. Diversity x Design charity event
This is a much more masculine rendition of Porter's style, but it's still anything but conventional. The actor still experimented with floral suits. This floral pattern is done in a chic color palette and paired with toned down black boots. Proof that even when Billy goes more masculine, he's still 100% style bae.