The Grammy Awards is one of the most fashion-forward events of the year, which means you can see anything on the Red Carpet – from mad fringe to masks and outrageous voluminous gowns. Year 2020 seems to be especially extravagant as each and every star that visited the Grammys wore a truly special attire. And I must admit that this year gentlemen outshone the ladies with suits like we've never seen before. They looked beyond breathtaking! Here are 10 most over-the-top looks from 2020 Grammy Awards.
Lil Nas X
It was impossible to ignore Lil Nas X's pink Versace ensemble. He looked eye-catching in a fuchsia leather suit donned with crystals, studs, and golden embellishments. And just look at those Medusa-clad earrings and matching buttons!
Billie Eilish
Billie Eilish rocked a custom-made Gucci look that was beyond extravagant. Tiny sunglasses, a Gucci-emblazoned face-mask, fingerless gloves, and spectacular Gucci nails with dark green design – this girl surely knows how to throw together an impressive look!
Ariana Grande
Arana Grande had a serious Cinderella moment and looked nothing short of spectacular wearing the multi-layered Giambattista Valli gown. She completed the look with evening gloves and gorgeous 30-carat Lorraine Schwartz diamond stud earrings. The girl definitely knows a thing or two about bling-bling!
Her second dress was just as dreamy and beautiful, but more low-key compared to the floating tulle dress she wore at the beginning of the event. Ariana Grande later changed into a Schiaparelli Haute Couture dress with a ballgown bow skirt.
Lizzo
Lizzo became one of the Red Carpet's favorites in her sparkling white Versace ensemble embroidered with crystals and accompanied by a fur stole. She wore matching diamond jewelry, completing the look with beautiful nail design.
FKA twigs
FKA twigs went for the gothic chic style and chose an Ed Marter pink gown with а ruffled neckline and a dramatic slit. Her antique jewelry matched the black and silver embroidery on the gown's neck and sleeves.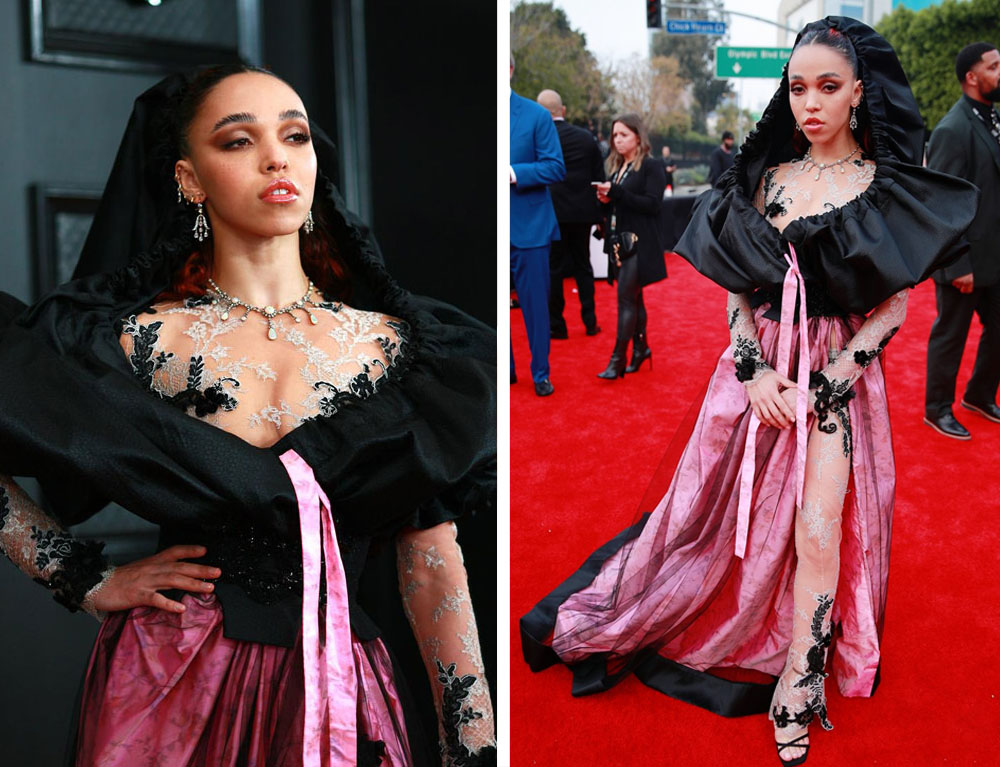 Billy Porter
Billy Porter was the most spectacularly dressed star of the Grammys Red Carpet. He chose a glittering Baja East jumpsuit with silver fringe and a matching Sarah Sokol Millinery hat. This stunning headpiece had a remote-controlled chandelier fringe that actually moved! And once it moved, it revealed Billy Porter's gorgeous blue makeup and sparkling jewelry.
Alessandra Ambrosio
Alessandra Ambrosio took the whole black-and-white game to a whole new level with her Balmain half-frock-half-bodysuit with a black belt. This seriously stunning combo was accompanied by elegant Gianvito Rossi sandals and head-turning earrings by Tasaki.
Tyler the Creator
Tyler the Creator went truly over the top with his Grammys look, choosing a flamboyant bellhop chic style. He wore a pink suit by Golf le Fleur, completing the look with a red bellhop hat and a pale pink suitcase. That's a truly unusual Red Carpet look!
Shaun Ross
Shaun Ross looked sleek in his pearly outfit. In fact, he proved that there is no such thing as too many pearls! Not only was his white jacked fully covered in peals, but so were his shirt, boots, and pants! He wore matching earrings to complete the whole look.