Even since her Disney days, Zendaya Coleman has been a style icon in her own right. Yes, she does have a model body, but it's the attitude and outfit choices that have made her a constant "it" girl since she first graced our screens.
How could we not make this our opener? This Tom Ford outfit is the most recent Zendaya look, and the one that we're most obsessed with by far. Transformed into a bionic Barbie babe with long, swinging box braids, the main star was obviously that metallic fuchsia bustier. She was drawn to the science-tech integration of the piece, which was actually scanned and molded to fit Zendaya's body perfectly.
This bustier look worn to the 2019 Emmy awards shouts vintage pin-up girl in this lingerie dress, especially with her cascading burgundy waves. The luxurious emerald satin screamed decadence and transformed her into a classy take on The Little Mermaid. The asymmetrical detailing and perfect side ruching show off that snatched waist.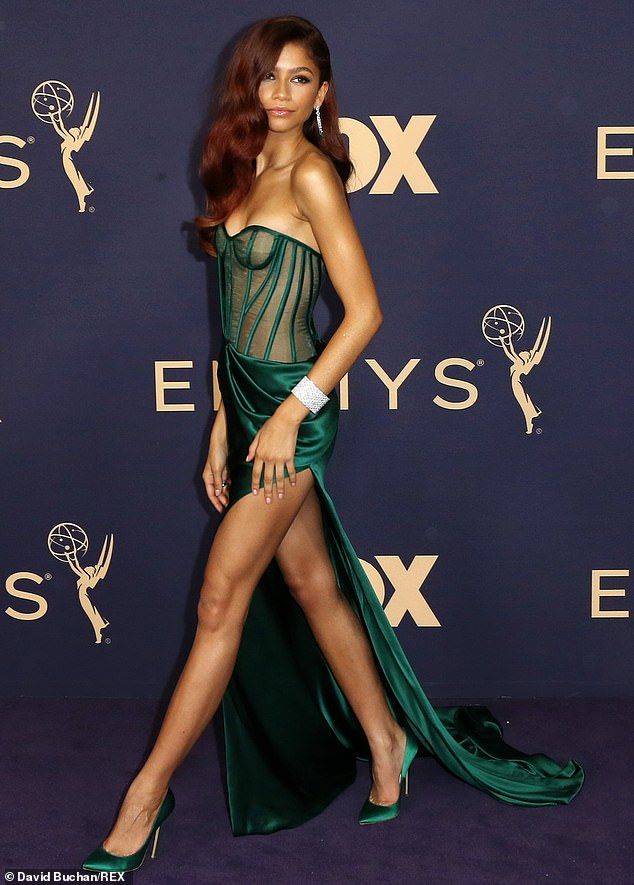 Zendaya slayed yet another iconic look when she arrived to the "Spider-Man: Far From Home" premiere in LA. Z captioned the look on social media with "Marvel but make it fashion". A slinky red halter top piece showed off her back and sides while the lower part was comprised of black sequins and a regal train.
If you can believe it, this gorgeous olive look is from the same day! For the after party, Zendaya changed into this high turtleneck halter with flapper fringe layers going all the way down. The movement in this dress is glorious, and so is the color on this radiant queen.
Zendaya transformed herself into a jazzy goddess from the 1920s with this deep V and high slitted masterpiece. The perfect 'fit for the Lancôme Idôle fragrance launch in Paris, this actress always finds a way to fit the exact mood of the event she's attending. This time, it was European glamour meets understated ballerina. Seriously, that detailing!
If most people tried to pull this off, they would end up looking like catering staff at a private event. Somehow, Zendaya is a runway model vision of beauty once again, this time attention the Giorgio Armani Prive Haute Couture event. Wearing black tights under trousers that are fitted to a T, she remixes the classic white button down into something cropped, risqué, and way cuter.
Who thinks of this outfit to visit the Empire State Building? While we would have been caught in a frumpy tourist sweater and boyfriend jeans, Zendaya looked like something out of a TLC music video with her silk pajama inspired two piece look. She always nails the lingerie-meets-formalwear look in a way that no other celebrity has. Our wide legged trouser inspiration for life.
Here, Zendaya is dressed for her appearance on The Late Show With Stephen Colbert in NYC. This look is a whole mood – think 80s super model meets '60s housewife. We're obsessed with the unique silhouette and flawless accessorizing of white pumps and a matching headband.
This is Zendaya's London look for the Spider-Man premiere, and was it fitting! The master of the pantsuit is back – seriously, how does she pull off these things? It must be those legs that go for miles. A dramatic necktie paired with a sleek and sophisticated power suit makes the commanding Coleman look like a CEO instead of an actress.
How has Game of Thrones not cast this beauty yet? In a dramatic interpretation of "Heavenly Bodies", she transformed herself into a couture Saint Joan of Arc with this trailing chainmail Versace dress, complete with armored chest, hip and shoulder detailing. She even followed through with the matching cropped bob wig.
This New York inspired look was created to match the vibe of the Marc Jacobs Spring 2020 show. In a total model-off-duty look, she pairs chunky heels with black ankle socks, a lace lined slip, and a stunning leather trench that Shaft himself would approve of. She makes it even more elegant with some ear bling and a high bun, which makes everything more streamlined.
A lot of Zendaya's looks embody a slouchy cool girl factor, when she does decide to opt for a more structured ensemble, it knocks us off our feet. At the 2018 MTV movie awards, she rocked this chocolate brown umbrella dress with an exaggerated skirt. As always, she found the perfect blend between edge and femininity. Don't worry, she still kept her cool girl vibes with that half slicked-back, half wavy hairstyle.