Finding your own style is no easy feat, but when you're pregnant it's a whole different game. You have to figure out how to dress your ever changing body, and by the end of 9 months when it finally feels like you got a grip on it, you're done. So much work and for such a relatively short time. Yet what's the alternative? You can't just live in oversized dresses for 9 months, no one wants that. So we're here to give you a couple of tips on awesome maternity fashion trends. After all, this is time where your body looks completely different so it's a perfect opportunity to try something new and exciting with your style too.
1. Bodycon Dresses
First things first – dresses are probably the most comfortable thing you can wear when you're pregnant. But don't only go for the super loose ones. You don't have to hide your body, instead embrace your baby bump and show it off. Bodycon maternity dresses can be a great way to do that.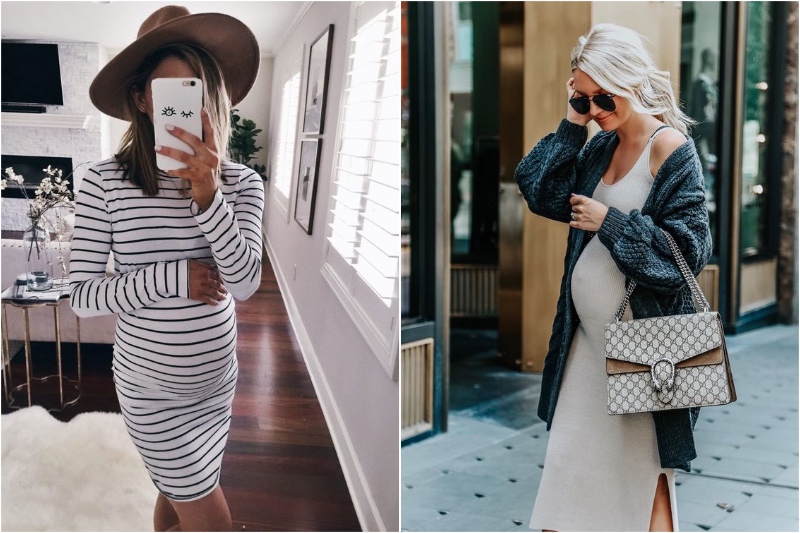 2. Empire Waist Dresses
These are awesome if you're not comfortable with bodycon and don't want to highlight every single curve or your body. They will give you a nice silhouette while having lots of room around your tummy and flowing nicely.

3. Maxi Dresses
Maxi dresses can sometimes really drown you in material so we suggest maxi dresses with slits. This way you'll have lots of room and be comfy while still occasionally showcasing a bit of leg.



4. Midi Skirts
Midi skirts work very well with a baby bump. They show off a bit of leg which is always good and you can dress them up or down depending on the shoes you wear. Sneakers for everyday casual look, heels or platforms for special occasions. Also, a pencil skirt is a good idea for work events or everyday office wear.

5. Blazers
For the days you don't want your pregnancy to be super obvious we suggest wearing blazers. Specifically wear them open, or get oversized boyfriend blazers. They'll add structure to your look and figure instead of hugging the curves.



6. Long Coats
Short jackets can make you look a bit frumpy if you're on your last trimester, but long coats can visually elongate your figure, especially if you wear figure fitting dresses or skinny jeans and a top underneath and wear the coat open.

7. Belts
You might think you have to say goodbye to belts while you're pregnant but you'd be wrong. Belts can do a world of difference to your outfit, especially with a baby bump. You can't actually wear them at your waist of course, but you can definitely cinch in your figure above the bump. It looks amazing and works with shirts, lose dresses and even coats. Especially coats.