As much as we love modern fashion with all its new and peculiar trends, it's hard to keep up with the ever-changing styles and colour combinations. Still, it's good to see what's trending in the fashion world right now to keep your wardrobe looking fresh and chic. Even if it's one new thing you'll buy after reading all the fashion tips, it will be that statement piece that will make you look like you've just came straight off the catwalk. Sometimes you don't even need to buy anything – you just need to arrange the things you have accordingly and get rid of the stuff that doesn't work for you anymore. Here are 8 easy tips from a professional stylist on how to look stunning in 2020.
Ankle boots, plaid shirts, and jeans are here to stay
They are the basis of so many styles, including Boho, Americana, and Country. These styles never go away and more often than not get mixed with other new trends to create fresh and chic looks. This year is the time of mixing and matching, so if you own any of those items you should to experiment with them as much as you want.
Get ready for the new season 2020
It's easier than you think! Go through all the tight knitwear you own, sort out the old stuff and that you've never worn or will never wear again. Throw away! Next, give away the things that are out-dated and those you don't look good at. Check them for wholes and faded prints, if they are beyond saving – throw away! Now that you have more space, add a few super trendy items to freshen your style a bit: tie-dye, faded denims, crochet, raincoats, coloured leather, etc. Shop for some accessories like sunglasses with colourful frames, belts, or hair bands to add a pop of colour.
Pearls are back
Pearls are back in the game and are trendier than ever. Not so long ago we couldn't care less about them, but now you can wear them with literally everything from denims and T-shirts to hoodies, sneakers, and athletic clothing. In fact, the more atypical and 'non-suitable' your style is for wearing pearls, the better!
Forget about size
All brands have different size charts, so what reads M in the clothing of one brand may easily turn into S or L in another. You should forget about fitting into those categories of Smalls, Mediums, and Larges because they don't matter. You can look good in a dress sized S, your T-shirt will be an M, and an L jacket will give you a cool oversized feel…it all depends on the clothing and the size charts of a certain brand! So experiment and try on different sizes to see what suits you the best.
Don't restrain yourself with tired phrases
This really isn't necessary in the modern fashion world we're currently living in, so forget all about capsule and basic wardrobes, autumn dramatic, a bag that suits all occasions, and clothes that are regarded as 'feminine' (there's no such thing anymore!). Now a woman can look feminine and beautiful even in oversized hoodies and sneakers (if she happens to feel good and girly in them) and a capsule wardrobe is good for travelling, but not in real life when you can have more options and colour schemes living in one place all the time. Don't tire yourself with 'basic' things as this is different for each person and, yes, you have to own more than one bag if you want to diversify your look.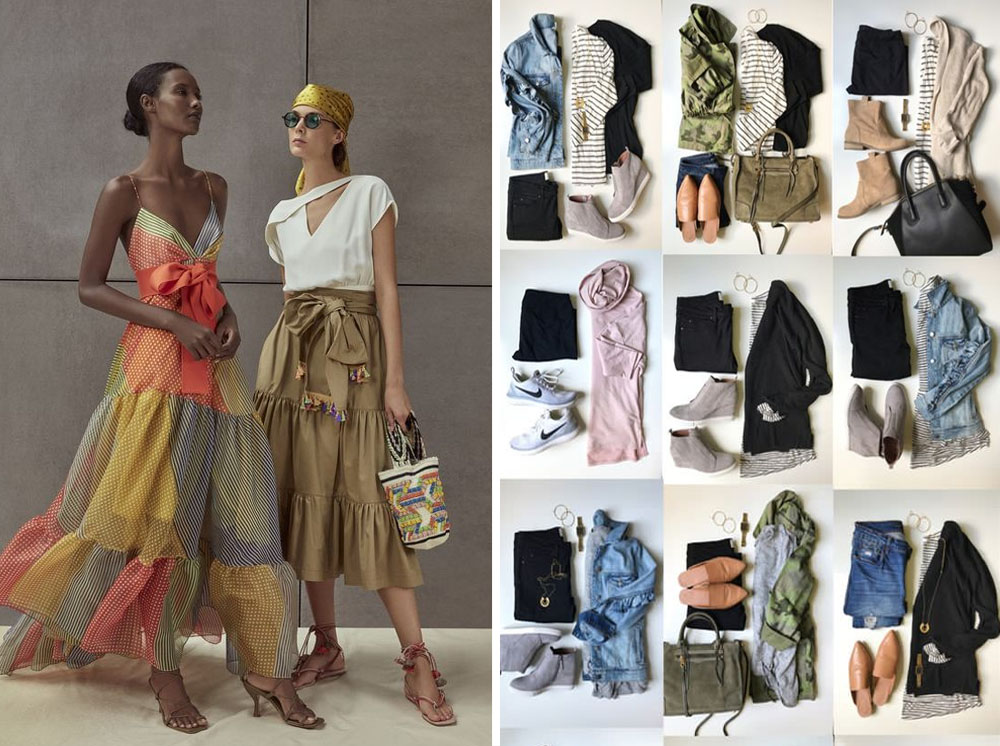 Experiment with tights
Tights never go out of fashion and don't listen to those saying that tights can be worn only by women with long legs. It's silly! If you are worried that your legs aren't slim enough, go for darker shades and avoid light skin-coloured tights. Other than that you can (and should) try all of them – with logos, bright-coloured, neon-coloured, fishnet, and, of course, leopard-printed. No one can escape the leopard print!
Turn to the style of 70s
We've done another round of the 80s and 90s fashion, so now it's time to try something 'new'. If you're tired of the 'ugly' trends, the styles of the 70s definitely have something yummy to offer you this season. Look for A-line silhouettes, knee-high boots, flared jeans, light dresses with floral or geometric patterns, and, of course, leather.
Don't avoid down jackets
Yep, many women are afraid to wear down jackets as they supposedly rid you of your femininity, but this sounds foolish and, in reality, it is just that! When it's cold you should wear the appropriate clothing to stay healthy – there is no other way about it. Now that we know that down jackets aren't that scary, we can work with them just like with any other clothing item in our wardrobe to create a cool look. Forget about sad black down jackets (unless black is your thing) and go for different designs, look for colourful jackets, try oversize, accessorize accordingly, and don't forget that even a little bit of makeup can make all the difference. Put some effort into your look and the result will stun you!