The comparisons between Kate Middleton and Princess Diana have started the moment the public found out that Kate and William were an item. And it's easy to see why. Both were dating the future king of England and both were not of royal descent. But do they have anything else in common? If you actually pay attention to their outfits you'll see that both Diana and Kate have worn very similar pieces or a similar style of clothing. It could be down to royal dress-code rules, but some of these looks are just too similar to think it's a coincidence. Let's take a look, shall we?
1. Houndstooth has been a popular pattern for a long while now. It's one of those classic things that never really go out of fashion. But we rarely see it in red, usually, it's just black and white. So it's really interesting that both Diana and Kate chose to wear this pattern in red.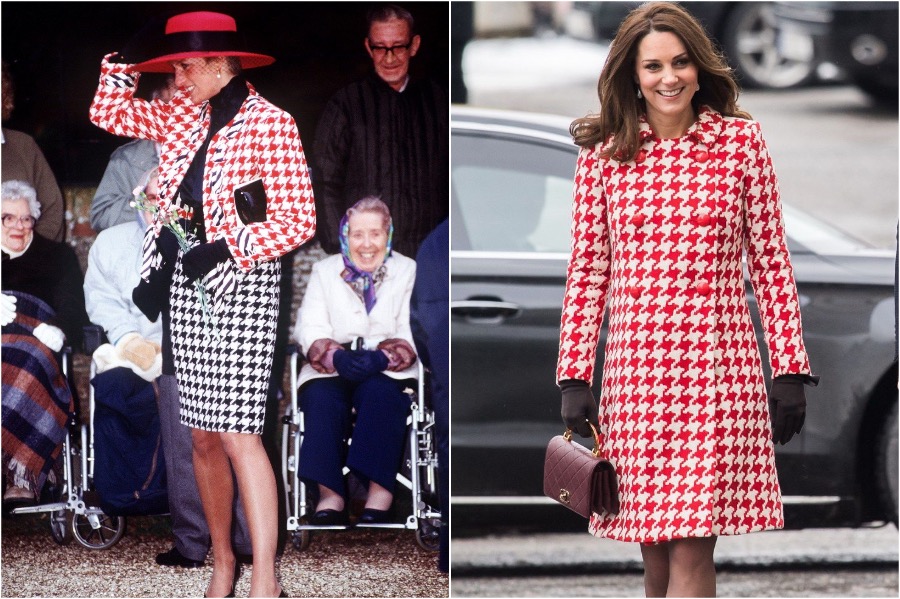 2. Diana wore this when she visited the Isle of Wight in 1985 and it looks like Kate chose a very similar look for her daughter's Christening in 2015. Different designers made these, but you can't deny that the vibe is the same.
3. Who knew wearing sailor dresses would be this popular amongst new royals, but here we are. This photo of Diana was taken in Buckingham Palace in 1980 and Kate wore this Alexander McQueen sailor dress when visiting Canada in 2011.
4. Diana wore this floral pattern dress for her wedding rehearsal in 1981. Yup, even royals have to do wedding rehearsals to make sure everything goes smoothly on the big day. And what do you know, it looks like Kate Middleton decided to wear a very similar look while at Diana's memorial garden.
5. This is where things get really interesting. Do you think it's really a coincidence that Kate wore a polka dot dress to present her son to the public a day after he was born? Because Diana wore a polka dot dress to show off William when he was born.
6. Perhaps it's just a royal tradition to wear a black and white polka dot dress to a big sports event, or maybe Kate is drawing inspiration from Diana. But here they are, both wearing a polka dot dress, Princess Diana – to the Royal Ascot race and Kate – to the first day of Wimbledon.
7. These two photos are actually taken in the same spot, which makes us think that Kate and William definitely were trying to go for the same vibe as Diana and Charles did back in 1983 when visiting Australia.
8. Diana's green tartan coat looks like such a statement, but you have to remember that such wide shoulders were a trend in the 80s. And of course, here's Kate wearing a much more tailored dress/coat in 2012 in the same print and color.
9. Green definitely suits them both, and Diana looks stunning in this slightly masculine green suit. Kate, as always, goes for a more tailored and figure-hugging silhouette.
10. This was the dress that Diana wore to her first public outing with Prince Charles. Do you see that ruffle detail? Well, Kate's dress that she wore in 2011 has an almost identical detail. Is that a coincidence?
11. This is one of those things where it's just too on the nose to be a coincidence. On the left, we see Diana and Charles on the day they announced their engagement in 1981. Diana is wearing a blue dress. And on the right, it's Kate and William's engagement announcement, and Kate is also wearing blue. We're pretty sure she did it on purpose.
12. And finally, let's look at the wedding dresses. Sure, Diana's has more puffy details and voluminous sleeves, it was the 80's that was the height of fashion. But many have pointed out that the wedding photos of William and Kate look very similar and that it can't be up to chance that Kate also had a super long veil, just like Diana.