Hailey Bieber, previously known as Hailey Baldwin is not a stranger to fame. After all, she was born into an already famous superstar family, her modelling career took off pretty early and her relationship and marriage with Justin Bieber only pushed her further into the spotlight. She practically grew up on the red carpet and definitely knows the importance of signature looks. But interestingly enough Hailey Bieber doesn't really have a signature look, she has experimented a lot and tried a bunch of things throughout the years and we think she pulled them all off beautifully. Speaking of beauty, she's shared her beauty routine in multiple interviews but it looks like soon she'll be launching her own beauty line called Bieber Beauty, otherwise, why would she file for a trademark?
1. This bold red lip and warm eyeshadow look she wore back when her modelling career was just starting to take off. What an amazing combination.

2.The effortlessly cool platinum blonde bob and matte red lip – what a badass beauty look. And with that leather jacket and all black outfit, she looked so cool.

3. Bronze smoky eyes, sun-kissed skin and a chic French braid is really all you need to impress people at a fancy event – if you're Hailey Bieber of course.

4. This black eyeshadow look was so simple yet made such an impact. Loving the cat-eye effect even though it's a full lid look.

5. Remember Hailey as a brunette? She might've decided to go back to blonde, but this Met Gala look was so memorable and so elegant we couldn't help but mention it.

6. This chic look she wore to the "Mission Impossible" premiere was absolutely gorgeous. The vibrant red matte lipstick went to well with her bronzed glowy skin and just a hint of eyeshadow as liner.

7. Is there any look that Hailey can't pull off? We don't think so. These awesome curtain bangs combined with an updo is such a great look. We loved that she kept the makeup glowy but simple, only doing a soft pink lip and some matching blush.

8. This dark red lip and long eyelashes combo that Hailey wore to the Beverly Hills gala back in 2015 gave her a bit of a vampy vibe but in the best way possible.

9. A dark nude lip and a bit of highlighter in all the right places can really elevate any look, even if you're just wearing a ponytail that day. Long eyelashes also go the extra mile.

10. We'd like to call this look – Hailey's shimmery goddess moment. That dress, that messy top knot with the long bangs and the gorgeous bronzy makeup look were just perfect for the iHeartRadio Music Video Awards.

11. Do you also think that this look can only be described as something in between innocent and regal? Hailey pulled it off beautifully at the Milan Fashion Week back in 2016. That lipstick shade is perfection, the eyeshadow look is soft but defined and that headband accessory is goals. It's like she just stepped off the runway.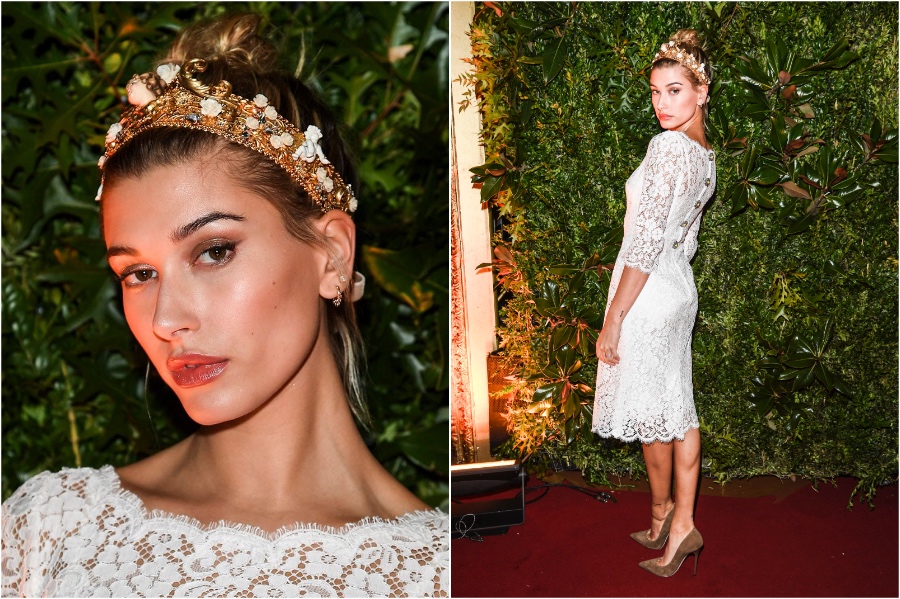 12. Even when she barely wears any makeup Hailey looks stunning. This is what we would call everyday chic. A low bun, some highlighter and eyebrow gel and you're done.

13. This dark and dramatic lip could've looked very goth on someone else, but on Hailey, it just adds an extra oomph to her edgy look at the 2018 BRIT Awards. We love how she darkened her brow a bit too to match the lips. Small detail but makes all the difference.

14. This absolutely adorable and very feminine spring look she wore to the 2018 Met Gala is one of our favorite too. Just look how cute that pink hair and flower crown is. And the makeup look is so perfectly fresh. The lip shade perfectly complimenting the hair – it's amazing.

15. There are so many other looks that Hailey wore that are worth noting, but we could be here forever. So let's end it on this gorgeous one from the 90th Academy Awards. Those eyeliner flicks are pure perfection.