To look younger, many women opt for Botox and other invasive treatments to lift wrinkles and minimize crows eyes. But what if you could work out your face just like you work out your body, creating a chiseled and toned look? These anti-aging moves have been done for thousands of years to keep women looking youthful – try it and turn back the years on your own clock.
1. This is an essential warm-up move that's part of many face yoga routines. Start by blowing exaggerated raspberries with your lips and cheeks – the bigger the vibration the better. This resets your face back to a relaxing state.
2. Puff your cheeks out like a pufferfish and shift the air in your mouth from one cheek to another 5 times. Then release, making a small O. This helps keep cheeks firm.
3. For high cheekbones and a taut jawline, look up at the ceiling and pucker your lips as though you are about to kiss. Hold for five seconds and repeat 4 times. You can also stick your tongue out while looking up at the ceiling.
4. Bend your head sideways to the right, stretching your neck muscles. Hold for a few seconds and repeat on the other side. Afterwards, roll your neck clockwise and anticlockwise to help reduce the appearance of a double chin.
5. Open your eyes wide as though you are startled or frightened. Pull your forehead skin back with interlaced hands to assist the exercise.
6. Drop your jaw so that your mouth is open, and make a small O shape. Then, widen your lips as if you're going to smile, but keep your jaw dropped. Repeat this small O followed by big O ten times.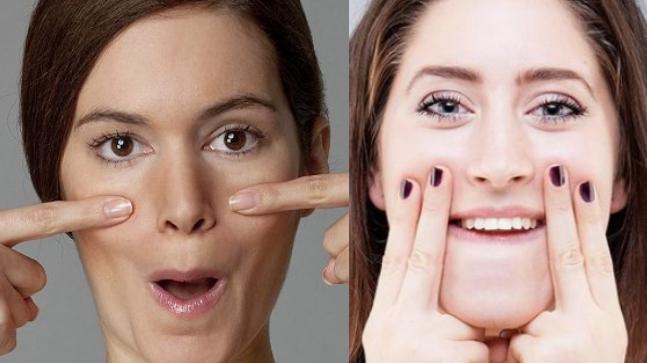 7. Make a fish face like Finding Nemo! Smile with pursed lips and suck the inside of your cheeks in. Perform this five times for firmer lips and cheeks.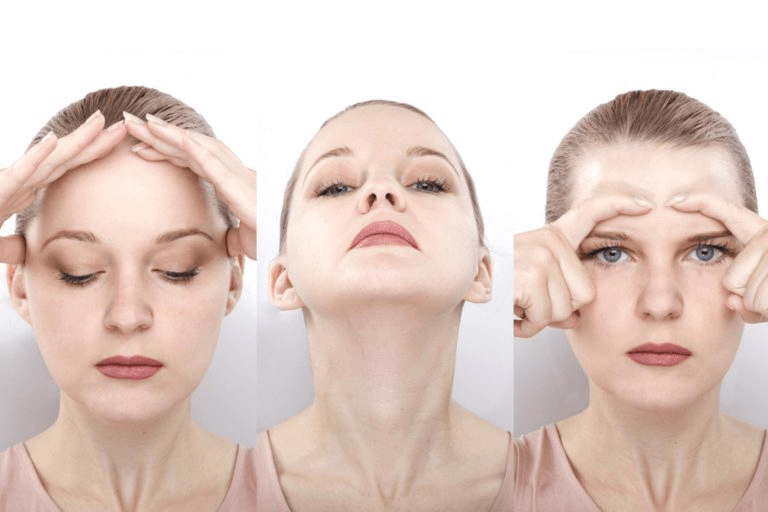 8. Smooth your smile lines by breaking down tension in the muscle from the inside out. In this exercise, you use the tongue. Stuck your tongue inside your mouth, making a tiny circle on the labial line, doing five circles in one direction and five in the opposite direction, on each side.