Silver hair has been in fashion for a couple of years now and it seems like each season there are new shades emerging and trending. So it's not exactly unexpected that more and more people want to try out this hair color. Before you start your journey to silver hair let's get a couple of things clear. First of all, silver hair is not a low effort hair color. It requires a lot of upkeep, you can't just forget about it and hope it stays silver. Be prepared for lots of toning, special conditioners and hair masks to keep your hair looking and feeling healthy.
How To Dye Your Hair Silver
When it comes to actually dyeing your hair silver for the first time we recommend you do it in at a salon with a professional hairdresser, especially if you have dark hair or hair that has been dyed a dark color. It's going to take a couple of rounds of bleaching, which can be very damaging so you don't want to do this by yourself at home. A professional hairdresser will be able to do everything correctly, in the fastest way possible for your hair and with minimal damage. If you still choose to do it at home, remember that you won't be able to get silver hair in one go. You have to strip your hair of color completely before even attempting to tone it silver. It'll take many bleach baths over the course of several days or even weeks, with lots of conditioning treatments in between.
Different Shades Of Silver Hair You Can Get
Another reason for going to a professional is that they'll be able to help you with getting the right shade of silver. Silver hair comes in so many different shades that it can be quite overwhelming to choose which one to go for. You don't want to go through all that trouble and end up with the wrong color that doesn't suit you.
Complimenting Your Skin Tone
One of the main criteria when choosing a shade of silver for your hair is that it should match your skin tone correctly. A hairdresser will be able to tell you what shades complement which skin tones better, which will make you look cool and hip and which ones can wash you out completely and therefore you should stay away from.
Platinum Silver Hair
Platinum silver hair looks best on fair complexions, those with rosy cheeks and very light skin. It's possibly the hardest to achieve and the hardest shade to maintain. Your hair has to be stripped of all color for this and then toned to a cool platinum shade. It's probably easier to achieve this if you're naturally blonde or at least have already bleached blonde hair.
Silver Grey Hair
If you want to go for that silver fox look – this is the color you're looking for. It's grey but cool toned and very edgy looking. This is a great option for most skin tones and it can look equally awesome on someone young and give them that ethereal look, but it can also be a great option for those who already have some grey hairs and instead of making them wants to embrace that look.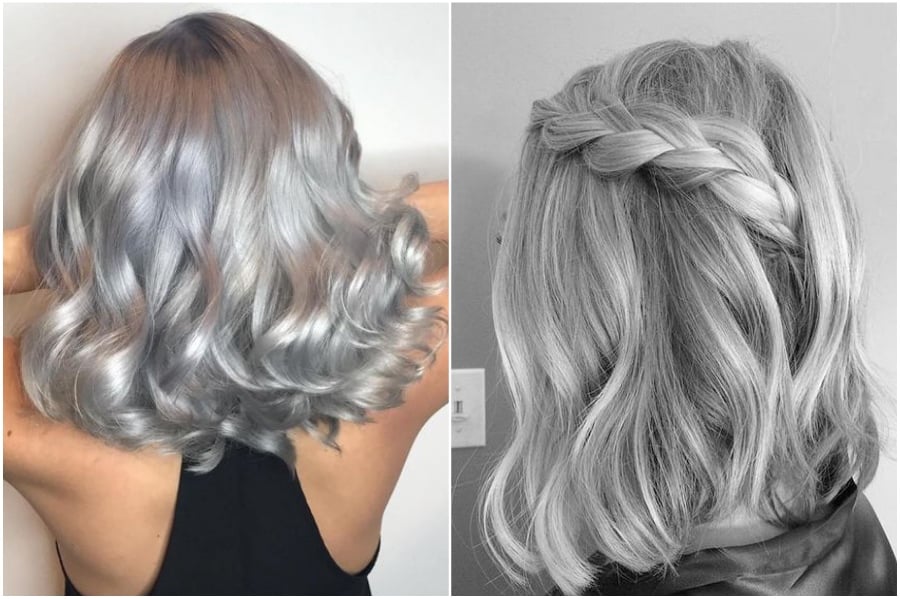 Mushroom Blonde
Mushroom blonde is this year's most popular hair color. Seriously, the amount of times you probably read about it is insane and it's the one that keeps showing up in our Pinterest feed all the time. It's a really unique color that is virtually impossible to achieve outside of a salon, so don't even try. It's worth paying the big bucks to achieve this gorgeous trendy shade of silver hair.
Ash-gray
Ash grey is exactly what it sounds like, it's an ashy shade of grey and it look absolutely stunning. There are many variations of this one, because you can go with an all-over color, or you can do a beautiful balayage that goes from dark ash to light. It's great for brunettes because you can easily make this color work with a darker root.
Blue-gray
Another great option that works for both brunettes and blondes. Depending on your natural hair color you can go lighter or darker with the shade of grey and the shade of blue. It's a very beautiful combination of colors but it's important to get it right, you don't want to see blue and grey in your hair side by side, you want a grey color that seems to go blue in certain light.