Pixie cuts have been around for a very long time but like most haircuts, they become super trendy once in a while. If you've been thinking of changing up your hair and cutting it short – now is a great time to do so. Pixie haircuts are at the peak of their popularity and summer is always a good time to try out a short haircut and minimize the amount of time you spend on your hair every day. One thing to keep in mind when considering a pixie haircut is that it's not one size fits all. There's a wide variety of pixie cuts and just cause a celebrity you like or your friend got one doesn't mean that the exact same one will suit you. However, the good news is, there's definitely a kind of pixie haircut that will suit you. The first thing to consider is the shape of your face, and the second is your hair structure. The thickness of your hair can also make a difference when it comes to choosing your kind of pixie cut. Let's take a look at a couple of kinds of pixie haircuts and maybe this will help you figure out which one you want and what will suit you best.
Classic Short Pixie Cut
The classic short pixie cut is the one you probably think of when you hear the words "pixie cut". It's the shortest one, where you chop off most of your hair and only leave about an inch of length. It's the most low maintenance. You basically get to wash your hair, towel dry it and you're good to go. Maybe use some texturizing spray or cream to achieve that messy look. Most days you'll probably be able to just roll out of bed and go. If you have an oval face you can easily rock this one, but if you have a square, round or heart-shaped face you might want to consider other pixie cuts first, just so you get used to it.
Long Pixie Cut
Long pixie cuts are good for people with round, square or heart-shaped faces. Here you can leave a bit of length, try styling it differently to see what you like. This type of pixie haircut is very versatile as you can choose to leave most of your hair a bit longer, or just the top layer. Some people choose to have an undercut but leave just the top long. You can also experiment with different kinds of bangs depending on what you're more comfortable with and what you feel suits you most.
Curly Pixie Cut
If you have curly hair and want to go short – a long pixie cut is probably your best bet. Since your hair tends to curl up and appear shorter, getting a long pixie cut will allow you to keep the curls while making your hair appear much shorter. If you're ready to say goodbye to curls for a while – you can go for a short pixie cut and then you'll just have short waives and a very pleasing textured look instead of big curls. It's really up to you. But do remember that to maintain a pixie cut you'll have to get regular trims every couple of weeks. If your hair tends to get frizzy – hair creams will be your best friend to keep your curly pixie cut looking great.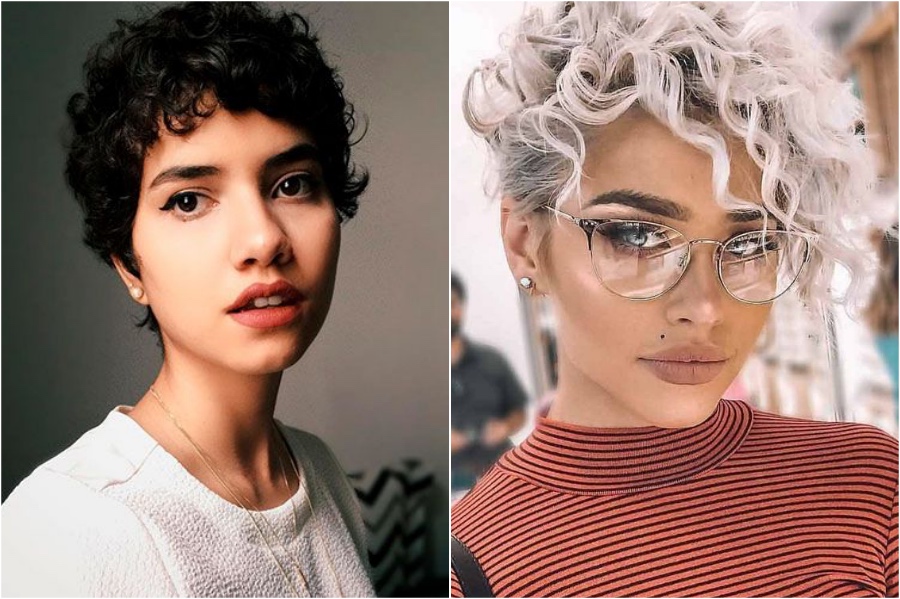 Pixie Bob Cut
A pixie bob cut is a haircut that combines elements from a pixie and a bob. You cut your hair super short in the back and the sides but leave the top layers long and cut in a wispy fashion, kind of like a bob. The layers framing your face tend to be the longest ones, and then the rest of the top layer of your hair gets shorted towards the back yet it still touches the nape of your neck.
Pixie Cut For Thick Hair
If you have thick hair you can probably easily rock the short pixie cut or the one with an undercut. You can cut the back and sides short and leave the top layers to be longer. This can visually elongate your face and since you have thick hair you'll have plenty of volume to work with. Essentially thick hair is ideal for a pixie cut because you won't have to work hard to add volume.
Pixie Cut For Thin Hair
Lots of people with thin hair are scared to try a pixie cut because they worry that it'll make them look almost bold or it'll be super flat. The key here is to get a layered pixie cut. It might sound strange at first, but really cutting lots of layers of varying lengths into your hair will make it look thicker and help you achieve more volume in your hair. A volumizing and texturizing spray is all you'll need to keep your layered pixie looking good. But be sure not to put in too much product in your hair so you don't weigh it down.