As women, we're always searching for the latest in haircare to make our strands look as healthy and shiny as possible. Celebrities have whole teams dedicated to their locks, so we can't be too hard on ourselves. However, they also have some coveted haircare rituals – here are the celebs with the most envious heads of hair and some of their beauty secrets.
1. Shay Mitchell
The "Pretty Little Liars" actress has worn her hair in multiple ways, and no matter how, we love her long, smooth, Pocahontas-Like locks. The brunette has a naturally wave-tousled look and its shade perfectly compliments her skin tone. Can you believe that sheered to be insecure about her waves? It's because she grew up around blue eyed, blond haired BFFS. We bet they're pretty jealous today! The secret to her locks is air drying, not touching it, and not over-brushing it.
2. Salma Hayek
We're literally shocked that Salma Hayek is somehow 53 years old. The Mexican actress has always had impeccable hair, both natural and styled. Naturally, she has a generous head of loose but robust and inky curls. Mostly, we're obsessed with how open and proud she is about her gray hairs. She's an inspiration for aging beauties all over the world to wear it natural.
3. Tracey Ellen Ross
The "Black-ish" star has been slaying hair looks since her "Girlfriends" days, and she even released whole video guide to curly hair through Vogue. Today, Tracey even has her own hair-care line called Pattern, which is mad especially for curly hair. She diffuses her cruces with a Dyson hair dryer, which is one of the secrets to her fluffy, dreamy, and airy nature that seems to defy gravity.
4. Ariana Grande
Besides her voice, Ariana Grande is practically famous for her mega long, mega shiny high ponytail. She's admitted to damaging her hair and wearing extensions and wigs. She called it absurd back then, but today, she's grown out healthy and curly locks. To be honest, we prefer her with those natural curls rather than
5. Sofia Vergara
Whether she's rocking a brunette or blond shade, the cascading waves on this queen must come down to genetics. Her layered hair always manages to look like a silky waterfall that's softer than anything you've ever seen or touched. It seems that the older she gets, the more volume and sheen these locks gain. She was born with lighter hair, but regardless of her shade, that's a top notch head of hair.
6. Blake Lively
Since Blake recently subbed her long locks hair in lieu for a short brown bowl cut, so we had to simultaneously mourn her old hair as we celebrate its best moments. Her long blond hair is the definition of "bombshell" that so many women wish to emulate, and it's been famous (and making us jealous) since she appeared as the golden soccer goddess on "Sisterhood of the Travelling Pants." According to Blake, he secret is getting haircuts as frequent as manicures.
7. Yara Shahidi
This lovely biracial actress and activist always rocks her natural hair, and why wouldn't she? It's insanely beautiful. Perhaps the secret to the voluminous work of art atop her head is her love for it. She told Today, " it's been a lovely process of waking up and my curls being as curly as they can be, and just really appreciating them and being, like, I wouldn't have it any other way." We love your 3C curlies too, Yara.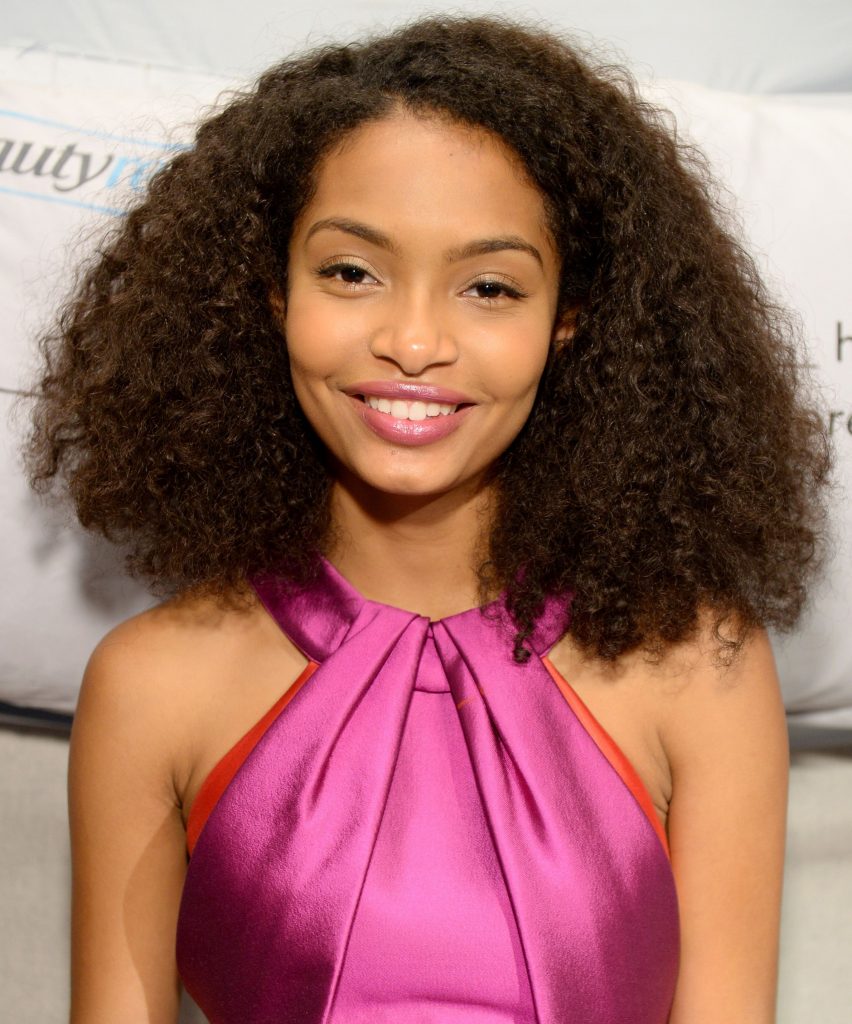 8. Jessica Chastain
It's not often that you come across a redhead as unique as Christina Hendricks. A lot of Hollywood's redheads are not actually redheads – Emma Stone, for example, is a natural blond but has made her career as a faux redhead. Same goes for Christina Hendricks. However, red is Jessica's natural color, and she refuses to dye it for movies. Her hair screams old Hollywood and we love how she sticks to her roots- literally.
9. Aishwarya Rai
Indian women are known to have lustrous hair, but there's something about Aishwarya's bountiful, dense and shiny hair that has natural va-va-voom factor. She never needs to style it so much since it's naturally flawless. Her secret? A weekly hot oil massage.
10. Dita Von Teese
The queen of pin-up hairdos, we love Dita's jet black, supremely shiny look and how it's always perfectly coiffed. Not everyone can pull off the vintage look with such ease, but Dita must be from another era, because it looks constantly timeless on her. She's a natural blond, but the deep brunette look fits her so well, we had to add her to this list.
11. Chrissy Teigen
Model Chrissy Teigen always has that sun-kissed beach babe look going for her with messy waves, often in an ombre or balayage rendition. Whether it's wavy or straight, we love her choppy cool-girl 'dos in all shades. It's impressive how she can equally pull off a chic bob, or long, modelesque waves. The styles always accentuate her high cheekbones and envious facial structure.