As is 2020 weren't enough already, a lot of our favorite celebrity couples are breaking up and ruining our dreams of fairytale endings. Maybe they couldn't stand the heat being quarantined together, or maybe all the craziness in the world made them realize that they weren't happy with the state of things in their own household. Here are the biggest celeb breakups that hit the press this year.
1. Matthew Perry and Molly Hurwitz
After two years together, the Friends alum and his talent manager bae (and a total babe) Molly Hurwitz decided to go on their own paths after a two year relationship, with Hurwitz being a huge support system to Matthew. It's sad – they just went public with their relationship a few months ago, and apparently the decision was bad luck, based on this recent news.
2. Lana Del Rey and Sean 'Sticks' Larkin
In an interview with the New York Times. Lana Del Ray's ex Sean 'Sticks' Larkin admitted that after half a year of being together, him and the glamorous singer had decided to end the relationship. Apparently, Sean is…a police officer, and also an IG influencer. A confusing combo, but hopefully he's one of the good ones.
3. Megan Fox and Brian Austin Green
After what was close to a decade of marriage, the two called it quits in May of this year. Brian said on his podcast that he will always love her and that she will always love him, and that he appreciates what they've built as a family. We suppose their 2009 separation was a dark foreshadowing of what was to come.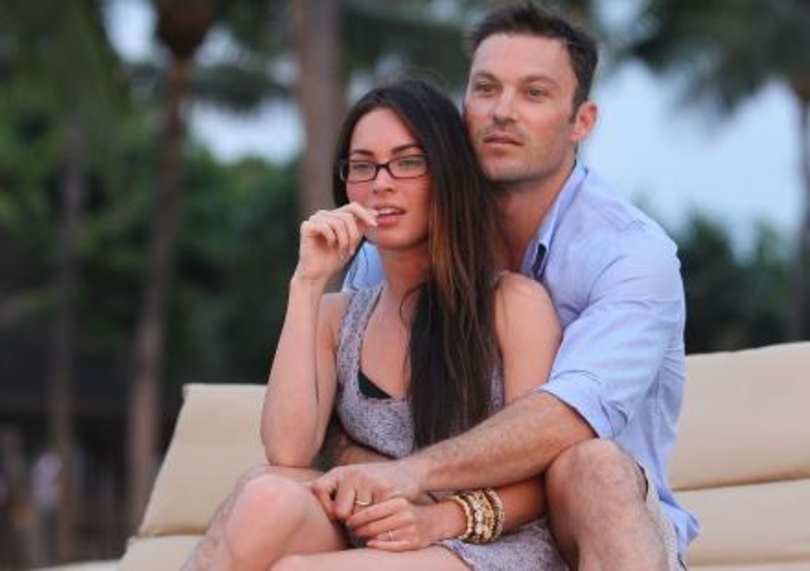 4. Kaia Gerber and Pete Davidson
On their breakup, Pete said, "She's very young." Well, since his ex was Kate Beckinsale, we guess that makes sense? Then again, he said he didn't want her to worry about being with a guy who has as many issues as him, and that she should be focusing on having fun instead.
5. Dr Dre and Nicole Young
This was never a very high profile relationship, but they were quietly together for over two decades. In this chapter of life, it turns out that Nicole and Dre want something different. Dr. Dre has two kids with his attorney ex – Truice and Truly.
6. Christina Ricci and James Heerdegen
Our favorite indie actress and her husband filed for divorce on July 2nd, but with a rather shocking context. They have a child together, Freddie, and Ricci is seeking sole custody of him after citing irreconcilable differences. We wish her the best.
7. Kristin Cavallari and Jay Cutler
Kristen Cavallari, who found fame on The Hills, is getting a divorced after 10 years. They released this statement: "We have nothing but love and respect for one another and are deeply grateful for the years shared, memories made, and the children we are s proud of. This is just the situation of two people growing apart." Sounds like an unusually conscious uncoupling, but we feel there's more to the situation.
8. Kelly Clarkson and Brandon Blackstock
The American Idol alum and her husband of seven years are officially filing for divorce. They have two children – River and Remington. Brandon is also father to Seth and Savannah, from his relationship with ex Melissa Ashworth.
9. Scott Disick and Sofia Richie
After nearly three years together, it turns out that the age difference was jut too much. That, and Scott'a new return to rehab. The couple went on a break after his stint there, which was for "past traumas". After he got help, the split was apparently inevitable.
10. Lili Reinhart and Cole Sprouse
These two played lovebirds on Riverdale, and they were in real life as well. They dated, broke up, and reunited. Now, eight months later, it seems the two have called it quits for good. The next season of filming is going to be… awkward, to say the least.
11. Mary Kate Olsen and Olivier Sarkozy
This oddball couple has been married for over five years, if you can believe it. They filed paperwork for divorce in April, but the process was delayed by Covid-19, which was a huge catalyst for the divorce in the first place. The Full House star even asked for an emergency order in NYC to annul the marriage faster. I mean, we can't blame her. Go get yourself a younger rebound, Mary-Kate!
12. Kehlani and YG
Kehlani is and will always be our #WCW, and while we're bummed out that she had a falling out with fellow musician YG, the musical product that came out of it (her album It Was Good Until It Wasn't. The breakup came following reports (and photographic evidence) of the rapper getting a little handsy with a female club-goer in his car.