The world has been shaken by the news that Prince Harry and Meghan Markle want to leave the royal family. The people are mind blown, the royals are probably having a meltdown and the media is having a field day. And whether you're a royalist or not, you've probably heard about this and have formed some sort of opinion or at least have had some kind of knee-jerk reaction towards this.
If you have watched the Crown or Downton Abbey, chances you're fascinated with traditional British culture and the royals in general. And why wouldn't you be? There aren't that many countries that still have a real royal family. And while it's kind of strange, that is something we find interesting. But the times are changing and we're finding out that being a royal isn't all it's cracked up to be. Let's talk about it, shall we?
The Announcement
Prince Harry and Meghan Markle chose a very modern way to announce their plans to leave the royal family. They did it with an Instagram post that stated this:
"After many months of reflection and internal discussions, we have chosen to make a transition this year in starting to carve out a progressive new role within this institution. We intend to step back as 'senior' members of the Royal Family and work to become financially independent, while continuing to fully support Her Majesty The Queen. It is with your encouragement, particularly over the last few years, that we feel prepared to make this adjustment. We now plan to balance our time between the United Kingdom and North America, continuing to honour our duty to The Queen, the Commonwealth, and our patronages. This geographic balance will enable us to raise our son with an appreciation for the royal tradition into which he was born, while also providing our family with the space to focus on the next chapter, including the launch of our new charitable entity. We look forward to sharing the full details of this exciting next step in due course, as we continue to collaborate with Her Majesty The Queen, The Prince of Wales, The Duke of Cambridge and all relevant parties. Until then, please accept our deepest thanks for your continued support." – The Duke and Duchess of Sussex
The Queen's Reaction
It has been noted by the media that this came as a surprise for the Queen and the rest of the Royal family. Probably not in the sense that Harry and Meghan never mentioned these thoughts out loud, after all, they have publicly mentioned their struggle to cope with the media's treatment of their relationship in a documentary and in interviews. But apparently, they have not given the Queen a warning that this post was going up and that Jan 8th was going to be the day they announce their wish to step back from royal duties to the world. They were met with millions of questions from the media and complete silence from the palace. The Queen released a very vague statement on discussions with The Duke and Duchess of Sussex that said: "Discussions with The Duke and Duchess of Sussex are at an early stage. We understand their desire to take a different approach, but these are complicated issues that will take time to work through."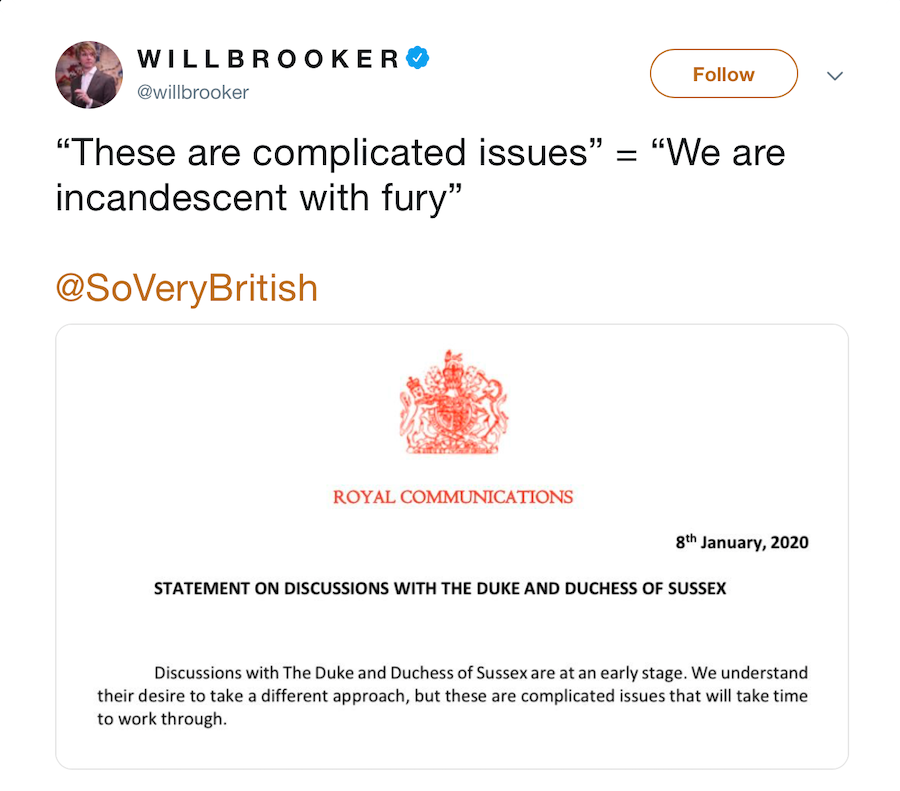 The Media
The media chose to interpret that statement as the Queen, not being thrilled with this decision and not giving her approval. Some have even suggested humorous interpretations of that statement on twitter that went along the lines of "These are complicated issues" = "We are incandescent with fury". A lot of tabloids jumped onto that bandwagon and the public seems to be very confused about what's actually happening and how will this affect Britain and the Royal Family.
The Possible Changes
Stepping back from the royal duties isn't exactly a new concept. It's been done before but generally not by the direct descendants of the Queen and people who are in line to the Throne. This is very new and everyone is wondering what will change if Harry and Meghan do leave. First of all, as members of the Royal family Harry and Meghan had certain diplomatic responsibilities that they were required to do on behalf of the Queen that will now have to be passed on to someone else. The same would have to happen with their charity work. They still plan to start their own charity project, but they will no longer be able to work with the charities they worked with on behalf of the Queen. Another issue they face is their finances. As the members of the royal family, they were given funds to support and sustain their lifestyle and once they leave they will no longer receive grants from the Queen. However, considering how famous they are we doubt that it will be difficult for them to become financially independent. They will most likely lose their titles as the Duke and Duchess of Sussex and neither Harry or his children will be in line for the throne. Speaking of children, this decision will impact their firstborn Archie and any other children they might have in the future will no longer be raised under the Queen's Sovereign Grant. They will also probably no longer take part in official royal engagements. When it comes to their living situation, Harry and Meghan plan to reside in their home Frogmore Cottage, but they also intend to spend some time in Canada. All of these are only assumptions at this point and we're waiting to see what kind of arrangement Harry and Meghan will come with Her Majesty The Queen.
The Latest Statement from the Queen
The last official statement we heard from the Queen was released on Jan 13th and stated this:
"Today my family had very constructive discussions on the future of my grandson and his family.
My family and I are entirely supportive of Harry and Meghan's desire to create a new life as a young family. Although we would have preferred them to remain full-time working Members of the Royal Family, we respect and understand their wish to live a more independent life as a family while remaining a valued part of my family.
Harry and Meghan have made clear that they do not want to be reliant on public funds in their new lives.
It has therefore been agreed that there will be a period of transition in which the Sussexes will spend time in Canada and the UK.
These are complex matters for my family to resolve, and there is some more work to be done, but I have asked for final decisions to be reached in the coming days."