Jennifer Lopez may have had her summer 2020 wedding with Alex Rodriguez delayed, but that doesn't mean she's been slacking during quarantine. Instead, since she can't do all the girl boss things that she usually does, she's taking a little break and trying something new, as many of us have been doing. J.Lo launched her own shoe line and is doing all the same celebrity power moves from home, thank you very much.
It might feel weird that you and the Maid in Manhattan star are probably both sitting in sweatpants right now and opening your laptops to do work, but this time has truly made us realize that celebrities aren't that different from us.
Although she was supposed to launch her shoe line in NYC (the birthplace of Jenny from the Block) she has to work from her home in LA with her family as she launched her very exciting footwear collection with DSW. Although the launch shouldn't happen, the line was still released and fashionistas all over are screaming for a pair.
Jennifer says that she trains in her DSW sneakers, which have a great lift and gorgeous bottoms, similar to the Balenciaga styles.
J.Lo might be a stiletto icon in our eyes from what she's worn over the years, but growing up, the singer and dancer was actually a tomboy, and star of her high school track teen. She lived in Timberlands and combat boots as well as sneakers, but the woman she is today is a representation of Lopez's more feminine side.
During quarantine, we're all feeling kind of bummed out, and there's nothing like a sparkly new pair of shoes to cheer you up. Online shopping is at an all time high right now, with many stores closed or listing reduced hours, so there's never been a better time for Jennifer Lopez to launch her shoe line.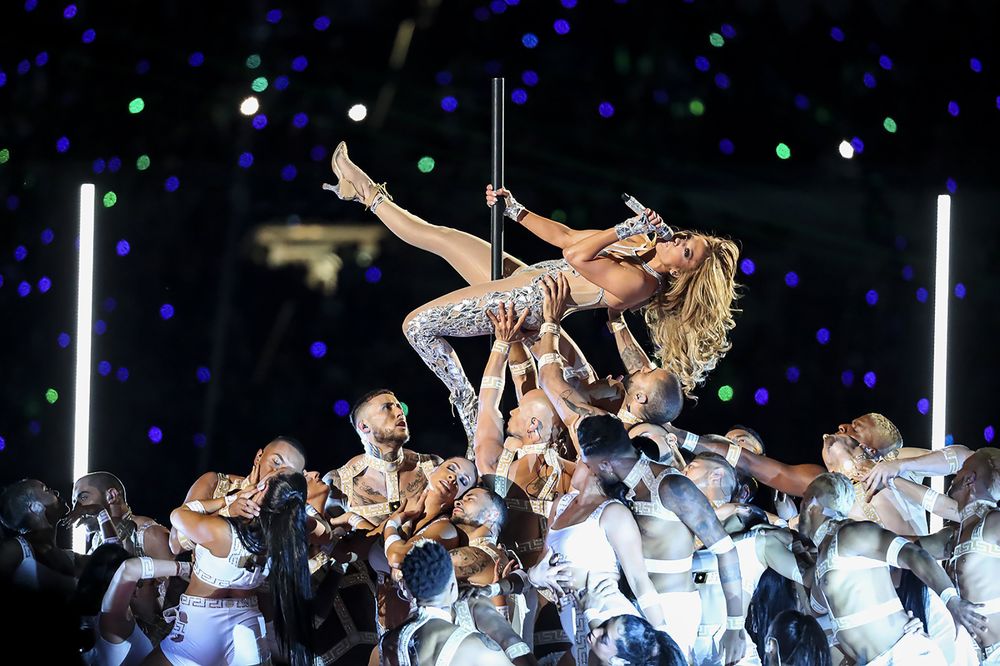 Best of all, her shoe line is actually affordable, with some as low as $59. With Lopez's collection, she wants girls to stay true to themselves, while expressing the multiple sides and identities in themselves that all women have, as complex beings. Hey, J.Lo the tomboy and girly fusion should know!
The collection with DSW boasts a diverse range of styles, and none of them are boring. From casual kicks to sky-high heels, you can find embellishments, animal prints, and loud colors. There are also more muted options for those who prefer to highlight their outfits, or make a statement in a more subtle way.
Some of the gorgeous shoes were excited about include the JLo Jennifer Lopez Florella Ankle-Wrap Pump, which features a laceup ankle detail and a mesh pointy toe, as well as the Parlata Transparent Pumps, featuring a clear upper and a pink snakeskin bottom, ankle strap, and heel. There are also studded sneakers, nude platform pumps, and even her take on an espadrille/sneaker sole combination with the JLo Jennifer Lopez Larenn Ankle-Wrap Espadrille. All of them cost less than $100, with the max price point going up to $189.
In terms of her inspiration, Jennifer says that it's a tribute to her three hometowns: LA, Miami, and NYC. She's merging the downtown, sleek vibe of downtown New York City with classic Hollywood 1920s glam. And of course, that vibrant, swaggering nature that the neon lit city of Miami is famous for.
This isn't Jennifer's first time at the shoe rodeo. Apart from juggling several fashion collabs at the moment, she had a previous shoe collection for Titan Industries, as well as a partnership with world-renowned shoe designer Giuseppe Zanotti on several capsules. The star has always had a sharp sense of style on her own, and it's always wonderful to see her bring that style to life with her own designs.
We're truly inspired by this star's creative take on the shoe line, and you can tell she put her heart and soul into the collaboration. She has a few other fashion deals coming up, including being the new face of Coach and wearing that same, iconic Versace dress on the runway at 50 years old that she did decades ago. Spoiler alert: she looks even better in it now than she did then. That's all the inspiration that we need to purchase a new pair of her DSW sneakers and get on that at-home workout routine so we can look as flawless after middle age as Ms. Lopez (soon to be Mrs. A-Rod) does.