Wearing a vibrantly coloured purse can be intimidating to some, but a handbag should allow your to express your personality and play with new looks without fear! This look can be just as classic as a neutral shade if you do it the right way. Your handbag doesn't have to necessarily match your outfit – if you're walking around with a colourful handbag, you have endless options when it comes to styling. Here are our favorite suggestions.
Rock an all white outfit
It's true that black goes with everything, but so does white! Sometimes, all black with a bright color is too stark. But white looks fantastic against vibrant accessories as well and can match with both things.
2. Go beyond bright solid colors
We love a good color-blocked accent piece, but what's even better is a cool bag with a print or pattern to make for a conversation-starting statement piece. You can play with contrasting this pattern with clothing.
3. Made a basic outfit more exciting
Sometimes, we like to go back to basic, but just need something to brighten up the look and make it more appealing. Adding a colorful bag can help liven up an outfit and turn it from conservative to edgy in no time at all.
4. Bright red actually works with cool colors
You might think that cool tones like darker blues and greens would clash with a feisty red tone, but these shades actually go very well with warmer red tones. Consider pairing a dark wash of boyfriend jeans with a long green coat to go with your red (or other warm-toned) bag.
5. Play with neutrals in your outfit
No matter how many neutrals you combine in your outfits, you can still wear a colorful bag and not have it look too outlandish. Only if you wear multiple bright colors will it start to clash with your bag. instead, layering neutrals add dimensions, so have fun experimenting with this while you carry your bag!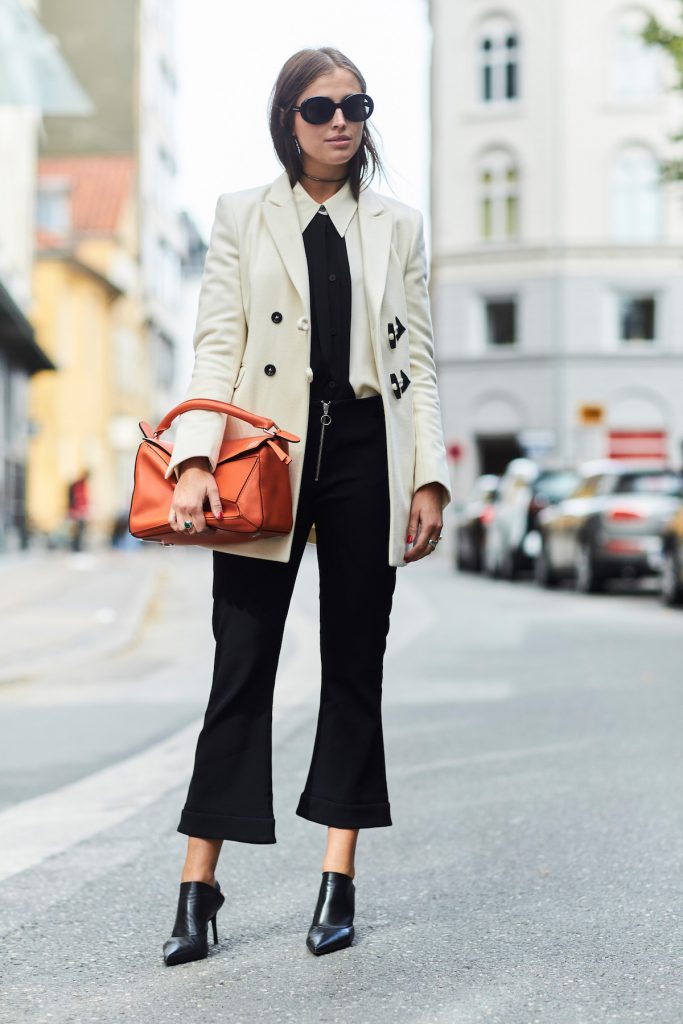 6. Make your outfit a darker version of your bag shade
Carrying a bright blue envelope clutch? Consider pairing it with a dark blue cape or coat. Same goes for blush and darker pinks, and most pastels. Darker outfits with a similar color story can really add that extra dynamic element.
7. Match black with yellow
You actually won't look like a bumblebee if you do this! A boho chic yellow bag (remember, yellow comes in many shades that flatter a variety of skin-tones) can be paired with a black dress or black jeans with a crop top or turtleneck for fall.
8. Spice up a monochrome look
Monochrome looks are super stylish, but can feel a little overwhelming or one-note at times. Drawing attention with a neon or loudly colored bag can help accent the monochrome look while breaking it up.
9. Accessorize with another loud shade
Your outfit isn't bright, but there's no rule that your bag has to be the only coloured accessory you're walking around with. Play around with perhaps a hat, shoes, or scarf of a bright shade. It can be the same shade as your bag, or a contrasting one which can be quite striking as well.
10. When it doubt, color block
Combining solid colors has never looked better. We love a high end orange purse with a black peacoat, leather jacket, or floor-duster. It's very fall appropriate, but classy enough to not look like a Halloween pumpkin.
11. Go crazy and clash prints
If you feel bold about it and it works with your personal style, go ahead and get print-crazy! A coloured bag will just be another aspect of a bold look rather than an afterthought
12. Play with pastel tones
If you like coloured bags but are scared of going too bright, we suggest trying out pastels, which are somewhere between a bright tone and a neutral. For instance – instead of a bright cobalt bag, consider a sky or powder blue tone. Instead of loud green, go soft sage.
13. Try to match your shoes to the handbag. If not, choose a grey pair
Shoes and handbag going together really pulls together an outfit and has been the rule for many years when it comes to looking chic with a coloured handbag.
14. Try to match the silhouette of your bag to your outfit
If you're wearing a more formal or business look, a stiffer silhouette with more structure is probably preferable. However, if you're going for a slouchy or late night look, you might prefer a more relaxed bag, regardless of its color. Same goes for if you have a generally sporty or casual.