Tragic love stories are the ones that you remember the best. It's hard to tell if we've been conditioned by the media, or maybe the media just reflects real life and we all have a soft spot for some truly tragic love stories, but you can't deny that tragic love just gets you in the feels like nothing else. There's just something special about love stories that end way too soon or never get a chance to fully get explored because of life circumstances. So today we thought we'd indulge and talk about the most tragic movie couples. But be warned, there are spoilers ahead.
1. Forrest and Jenny – Forrest Gump, 1994
They've been good friends since childhood and their paths keep crossing throughout their life. It's almost as if they're destined to be together, but at the same time, we know that Forrest isn't exactly the best when it comes to communication and interpersonal relationships. Yet when they do finally get married, it's Jenny who dies soon after due to sickness and leaves Forrest with their kid. As if Forrest didn't have enough struggles throughout his life.

2. Robert and Francesca – The Bridges Of Madison County, 1995
Robert is a photographer with an assignment to take photos of Bridges of Madison County, Francesca is a housewife whose husband and kids are away on a trip. When the two meet we can see that they're meant for each other, they're basically soulmates. But as life would have it, they've met too late, and Francesca isn't willing to sacrifice her children and family for the sake of her own happiness. It's the saddest thing to see her sacrifice a chance at true love and happiness to do the "right" thing.
3. Romeo And Juliette – Romeo + Juliette, 1996
I mean Shakespeare is all about tragic love stories and drama, so it's no surprise that the 1996 modern movie adaptation made the list. You know the story, two kids whose families hate each other, fall in love and one thing leads to another. A story of forbidden love, family feuds, miscommunications that lead to an untimely death.

4. Jack and Rose – Titanic, 1997
Jack wasn't even meant to be on that ship, he won the tickets in a game. Rose is engaged to someone already. They're from different worlds yet their lives are changed forever when they meet each other. But it's Titanic so it's doomed, not only because they're from different social classes but because no one stands a chance against the iceberg.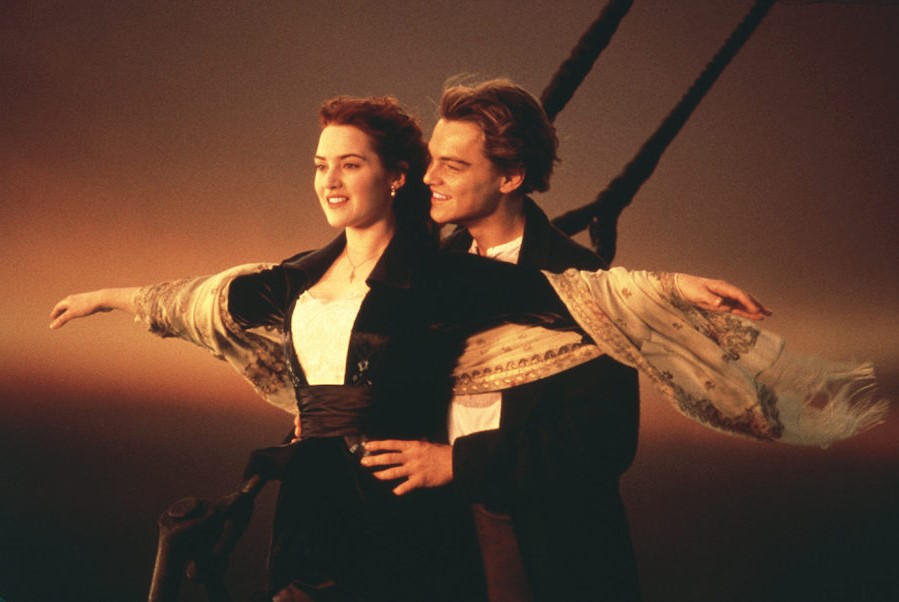 5. Jamie and Landon – A Walk To Remember, 2002
A classic case of cool boy meets a very uncool girl and despite everything, they fall in love. Except she knows she's sick and she warned him not to fall in love with her. They have a very intense relationship but in the end, she succumbs to leukaemia.
6. Ennis and Jack – Brokeback Mountain, 2005
It could've been a beautiful love story, but in the 60s in America being gay could get you killed. So instead it's a tragic love story in which everyone suffers including their families, no one is allowed to be openly happy and the ending will break your heart.
7. Tom and Summer – 500 Days Of Summer, 2009
Summer is everything Tom could've possibly dreamed of, she's beautiful, quirky, she likes his kind of music, she has this amazing perspective on life that makes everything alright. And it's glorious, but it only lasts 500 days. Because life isn't a fairytale and things end, sometimes in very mundane ways.
8. Cindy and Dean – Blue Valentine, 2010
Blue Valentine is another movie that explores love and shows us what happens after the "happily ever after". Not every relationship can last forever, things that might initially attract you to someone can become things that annoy you the most with years and people fall out of love. That's exactly what happens to Cindy and Dean.
9. Gus and Hazel – The Fault in Our Stars, 2014
It's pretty obvious from the start that there's no way this can be a happy ending. They're teens with cancer, they don't stand a chance, especially Hazel. But throughout the movie you start to believe that they can actually make it, that they get a chance at being happy and normal for a bit, you get lulled into a false sense of security only to be punched in the guts at the end.
10. Oliver and Elio – Call Me By Your Name, 2017
Oliver is a student spending the summer in Italy interning at Elio's father's villa. Elio is just spending his summer holidays with his family. There's an obvious part between the two that they explore in the most beautiful and awkward way. A summer love story that will make you crave that awkward yet intense feeling of first love, and will rip your heart out in the end.