Sometimes, two co-stars meet on set and click like they're two old besties from high school, going from professional to personal fast. Here are famous duos who had long-lasting platonic chemistry.
1. Sophie Turner & Maisie Williams
If it weren't for Game of Thrones, this glorious friendship might never have occurred. Automatically drawn to each other, these two read for the role of the Stark sisters, and pretty much became real life sisters from that moment onward.

2. Jennifer Aniston & Courteney Cox
If you can't recognize these two from Friends, you must have been living under a rock for a couple of decades. These two are known for fiercely standing up for each other and never engaging in trash-talking. They will slam each other's bad press, and that's saying something. Aniston even babysits for Courtney's daughter!

3. Tina Fey & Amy Poehler
There's never been a duo more empowering, uplifting, and hilarious than Tina and Amy, who met while doing improve at Second City in the 90s. They were introduced by a mutual friend, and have been smashing the patriarchy with their sharp senses of humor ever since.

4. Seth Rogen & James Franco
Is there a more ridiculous, famous duo than these two? Showing up to most award shows together, we have Rogen and Franco's friendship to thanks for some of the funniest comedies gracing our screens. With Pineapple Express acting as the friendship glue between these guys, we don't ever expect them to ever stop giggling like schoolboys with each other.

5. Zach Braff & Donald Faison
These Scrubs co-stars forged a friendship so genuine, it even shone through on their TV show, making them everyone's favorite comedy BFF duo. They even claim to have founded the concept of the bromance – that's how deep their bro love goes.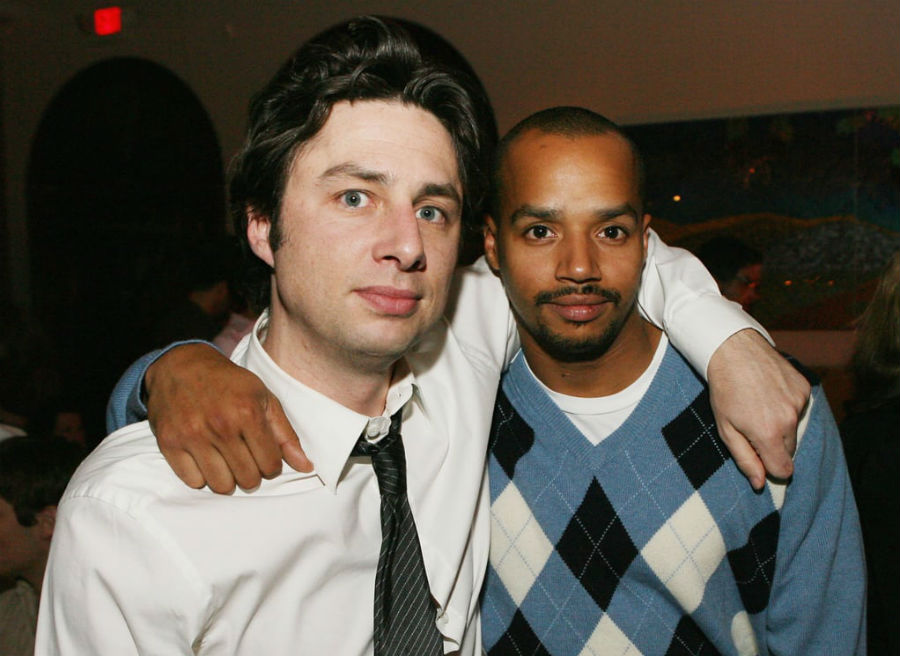 6. Mindy Kaling & B.J. Novak
While the nature of this relationship is unclear, what is crystal is that these two have been each other's supporters since day one. They're even writing a book about their experiences on set in The Office. Romantic or not, these two bring each other confidence, which is all that we hope a friendship brings us.

7. Drew Barrymore and Cameron Diaz
After filming an iconic female friendship movie like Charlie's Angels, how could you not fall in love with your co-stars? The two often appear on each other's Instagrams, giving us serious girl power FOMO.

8. Vanessa Hudgens and Ashley Tisdale
Both of these Hollywood starlets started off in the wake of their Disney fame – they met on the set of High School Musical. Imagine being so young yet idolized by so many tweens and teens all over. This pair of besties are rather busy at this point in life, but still make time to hang, post- Disney era.

9. Kate Winslet and Leonardo DiCaprio
If you're one of those people who thinks that men and women can't be friends, these Titanic co-stars are proof that this is definitely not true. Even after doing a steamy scene together, these two left the set with nothing but a powerful platonic bond.

10. Matt Damon and Ben Affleck
After Good Will Hunting in 1997, it was all history. Over 20 years later, they still set bro-cations with each other all the time, and often bring their kids, who also happen to be best friends. That's BFF #goals at its finest, and if you think otherwise, you're probably just jealous.

11. JWoww and Snookie
These two were matched up as roommates on Jersey Shore back in 2009, and instantly clicked.
They even starred in their own spin-off together, holding hands through the transition from party girls to pregnancy and marriage, which they experienced at the same time, whenever.

12. Brad Pitt and George Clooney
These two hunks have starred in countless movies with each other, but met in 2001, on the set of Ocean's 11. Ever since then, it's been pranks and dude love galore.