When we're growing up and learning to define our sense of fashion, what we watched on TV played a large role in that. From Mary Tyler Moore onwards, both men and women graced the screen with impeccable style. Here are the celebs we nominated for most stylish.
1. Betty Draper, Mad Men
January Jones played this icy role well – filled with feminine, retro mystique and 1960s looks that slayed, Betty's outfits have had a huge impact on the fashion world that's not to be underestimated. Our favorite would have to be the dramatic, full-skirted ensembles which she rocked so well.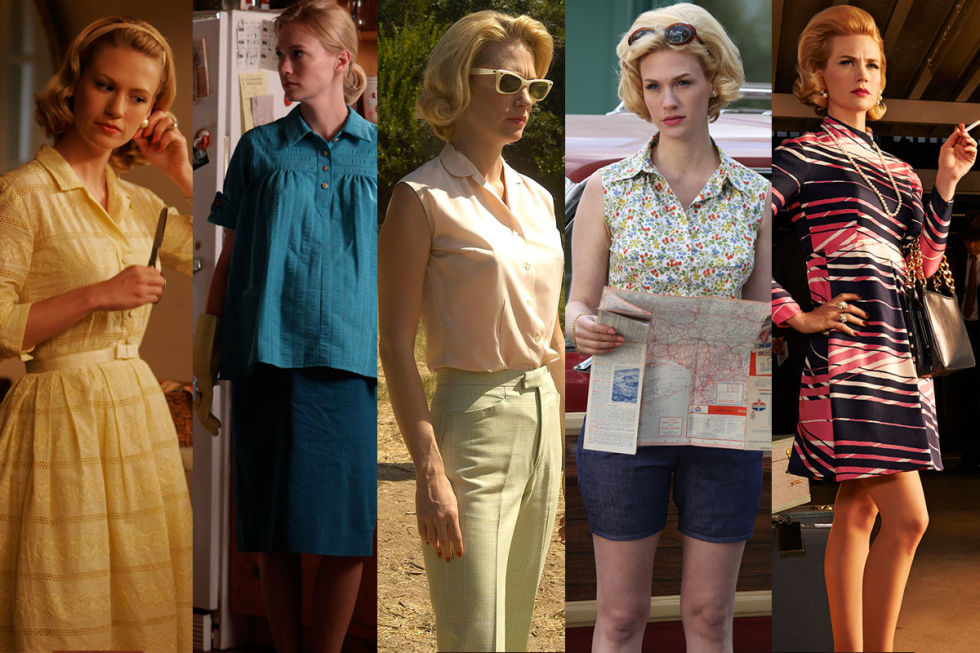 2. Blair Waldorf, Gossip Girl
Serena might have been the bubbly blond on GG, but Blair Waldorf was without a doubt the one with a more sophisticated style. It's clear that her looks were gorgeous due to their expensive nature and her lavish lifestyle, but she was a great aspirational fashion icon.

3. Barney Stinson, How I Met Your Mother
Yes, a man can be voted most stylish TV character, and HIMYM's Barney Stinson proves that with ease and elegance. Played by the lovable NPH, this guy's suit collection is seriously out of this world. And his tailor in the show is Tim Gunn, so there's that.

4. Emma Pillsbury, Glee
This guidance counselor is outfit inspiration for days, especially for those with a love for J.Crew and all things preppy. From her glittery,

5. Ally McBeal
Calista Flockhart brought these slinky office looks to life, but we can't really imagine working in a law firm and realistically wearing these outfits every day. Either way, we still have a fantasy of walking into our office with the same lingerie-inspired camis, mini skirts, and scrappy sandals.

6. Jessa Johansson, Girls
This character was always fashion forward, in a more out of the box and unconventional way than many of her co-stars. Scattered with exotic vintage muumuus, cool girl looks like wide legged chiffon pants, and a smattering of designer pieces, we'd love to try on her wardrobe for the day.

7. Olivia Pope, Scandal
Besides the loads of drama on this show is the dramatic ensembles that our protagonist Olivia Pope, played by Kerry Washington wears in each episode. We love her bold white fedora looks, those chic gowns, and of course all of her amazing designer coats.

8. Wilhelmina Slater, Ugly Betty
From one of the kindest characters on TV to one of the most vicious, Miss Wilhelmina was styled by Patricia Field herself, the same genius behind the Sex and the City wardrobe. She's never short of cleavage in her Chanel suits and gorgeous color palettes of white. Brown and gold.

9. Lisa Turtle, Saved by the Bell
This fashionable star rocked 80s looks with her bright, shoulder padded jackets and fluffy skirts – her look was always feminine yet trendy – the type of cool girl you dreamed of emulating in your high school days, or at least hung out with.

10. Patsy Stone, Absolutely Fabulous
If you're one of the younger generations, you might not get this reference, but Patsy Stone dressed as an iconic fashion editor before Meryl did in Devil Wears Prada, with her Ivanka updo, skirt suits, and big, sassy jewelry.

11. Fran Fine, The Nanny
Even an Instagram account was created in honor of her style. Fran loved loud looks like printed, skintight suits, seaport printы, and body con dresses with a minimum of 10 outfit changes per episode. She was so extra, but her looks were always memorable.

12. Carrie Bradshaw, Sex and the City
Did you really think that we were going to finish the list of most fashionable TV characters without mentioning Carrie Bradshaw? Fashion is pretty much its own character in this show. Everyone wanted to be a Carrie and no one wanted to be a Miranda. Hey, if you go to rock Jimmy Choos and fur coats with runway looks all day, you'd want to be a Carrie too!