There were some pretty epic celebrity romances in the '90s, but what we were even more obsessed with were the amazing sparks of on-screen chemistry. Now, everything feels so forced, but back then, you totally fell for that unrealistic and whimsical love. As a matter of fact, it swept you off your feet. Here are our favorite movie couples from the best era of rom-coms our world has ever seen.
1. Rose & Jack, The Titanic
The Titanic is, and will always be, one of the greatest love stories of our time. It surpasses all of its lighthearted rom-com competitors, mostly because who can compete with a young Leonardo DiCaprio? It has everything our young hearts desired: a chase, lust, a luxurious boat, and streaming tears as we watched Rose's love slip away from her. Let's be real – every girl who watched that movie wanted the big ol' sapphire and dreamed about it at some point.
2. Kat & Patrick, 10 Things I Hate About You
RIP to Heath Ledger, the finest faux teenager a romantic comedy has ever seen. The love story in 10 things I Hate About You was one none of us could forget. The bad boy from the other side of the tracks and the Valedictorian good girl ending up together? It's a fantasy we've all had, plus, a forward-thinking depiction of single dads.
3. Laney & Zack, She's All That
While we're still on the fence about Laney Boggs turning beautiful because she dresses provocatively, lets her hair down, and takes off her glasses, it's still hard to not fall for this classic romantic comedy trope. Hot popular guy makes a bet over nerdy girl who is not interested in his advances. Hot guy gets nerdy girl to fall for him makes her over into the perfect prom queen. Hot guy actually falls in love with nerdy girl when she turns into a hot girl, just in time for her to find out about said bet. Sigh. We'll admit it – we're basic.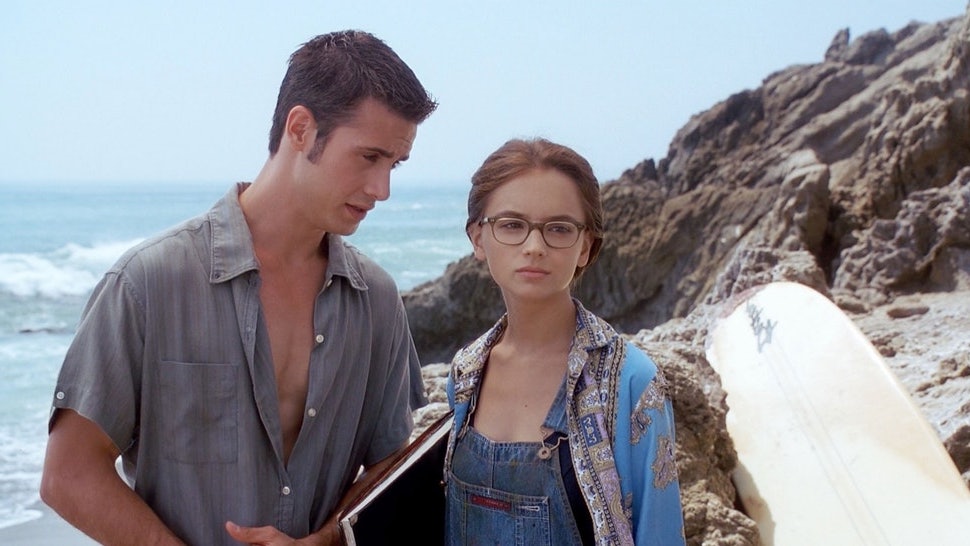 4. Vivian & Edward, Pretty Woman
Some might be weirded out by this storyline, but it's on of our favorite movies of all time. Vivian is initially hired for her call girl role, which she made a career out of. Vivian was just meant to be arm candy at first ( a very PG version of what actually happens in real life) but the two end up falling for each other. Remember that flawless bathtub moment? Young Julia Roberts is such a gem.
5. Annette & Sebastian, Cruel Intentions
Kathryn was Sebastian's evil stepsister who tried to drive a wedge between him and the character played by Reese Witherspoon. However, the good girl trope proved to be similarly irresistible. The plot is quite edgy in this movie, and the ending is a bittersweet tragedy.
6. Molly & Sam, Ghost
Ah, Ghost. The movie that made every woman want to take a pottery class or two. It received lots of harsh reviews, but the public loved Ghost, and it's somewhat of a cult favorite now. In this movie, two people are passionately in love with each other, but when the man is killed in a robbery, it all changes. This film was an eerie premonition
7. Nicole and Chase, Drive me Crazy
This 1999 flick was primarily about jealousy. Two people (one of which is notably the smoldering Adrien Grenier) concoct a devious plan to make both of their exes jealous. In the end, they end up making each other jealous, and falling madly in love. The twist? Their parents are also together, so they might end up step-siblings. Talk about awkward. Why are so many of these storylines in 90s movies?
8. Josie & Sam, Never Been Kissed
Romantic comedies are Drew Barrymore's bread and butter – some would even argue that this role was better than her as an amnesiac in "50 First Dates." Here, Drew is Josie, a geeky literature lover who was never popular in high school. However, the guy that she falls for thinks she's in high school for most of the movie. It's all dandy when it finds out the truth, and they Ive happily after ever. The ultimate it-does-get-better film for your angsty family member who is still in school.
9. Murray and Dionne, Clueless
People might hail Josh and Cher as the ultimate '90s couple from 1995's "Clueless," but we have to tip our hats to the ultimate ride-or-die couple, Murray and Dionne. Not only were they hilarious, but they made us fall in love with them in that very famous freeway scene. Their love was something real that we could believe in – not a fleeting affair. The passion was so intense, it even inspired others to fall in love!