Always brimming with charisma, talent and star power, Angela Bassett has become one of Hollywood's most iconic actresses. From her start on the stage back in the 1970s, Angela Bassett has established herself as not only a seriously gifted actress but as a celebrity who uses her fame for good. She is well-known as an activist and philanthropist, helping countless charities and initiatives to aid underserved youth, marginalized populations, the black community, and other minorities. Whether we grew up watching the classic films she's starred in, or marveled at her in her more recent roles, everyone knows and loves the work of Angela Bassett. But what do you know about her background and personal life? For an inside scoop on this phenomenal actress and activist, here are the most impressive and intriguing facts about Angela Bassett.
Angela Bassett's age
Angela Bassett was born in New York City on August 16, 1958. This makes her currently 61 years old. But if you didn't know it, Angela Bassett's age would be a mystery as she is still stunningly beautiful and graceful. She spent a large portion of her childhood in the south, living in Winston-Salem, North Carolina, and later in St. Petersburg, Florida.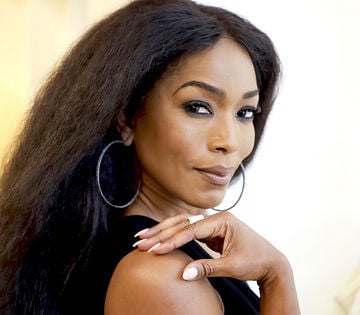 Angela Bassett's childhood
Angela Bassett was a stellar student from grade school all the way through college. She became one of the first African Americans to be admitted into the National Honor Society at Boca Ciega High School in St. Petersburg. She is described as a very high achieving and prideful student. She earned one "C" letter grade as a young student, and never got another grade less than an A or B again until college. Angela received her B.A. degree in African American Studies from Yale University in 1980. She later earned her M.F.A. from Yale School of Drama.
Angela Bassett's height
Angela Bassett's height is 5ft 3 ½ or 161.3 cm tall.
Angela Bassett's first acting inspiration
Sources say that Angela Bassett first became inspired to act in high school. In 1974, she went on a class trip to Washington D.C., while in the 11th grade. Her class saw James Earl Jones perform in a production of the play, "Of Mice And Men," at the Kennedy Center. This is when Angela began to actually consider theater and acting as a potential career she might be interested in pursuing. Sources say that Angela studies under iconic stage director Lloyd Richards, who she started acting under the direction of on stage.
Angela Basset's husband
Angela Bassett met her husband at Yale, making her time at Yale very monumental to her future. Angela Bassett met actor Courtney B. Vance in the early '80s, and were married in 1997. Although they say it wasn't necessarily love at first sight – and that their first date was pretty boring – they've found a way to continue their successful marriage and have been married for over 20 years.
Angela Basset's kids
In 2006, Angela and Courtney had twins through surrogacy – a daughter named Bronwyn Golden and a son named Slater Josiah.
Angela Bassett's net worth
According to online sources, Angela Bassett is currently worth $20 million. Other sources place her net worth at closer to $24 million.