There was a time when we thought that to be a celebrity you have to fit a certain mold. Not only would one have to be extraordinary talented but also look a certain way. You know, the standard is tall, skinny, fit, with symmetrical features, conventionally attractive. But that's not exactly true. There are plenty of celebrities who have very unique looks that don't exactly fit the mold of conventional yet we love them even more. Bjork, Tilda Swinton, Mick Jagger, David Bowie just to name a few. They're all amazing in their own way and their unique looks just add to their charisma. But do you ever wonder what their kids look like? Are they as talented as their parents? What have they chosen to do with their life? Let's find out, shall we?
1. David Bowie
The legendary David Bowie was a chameleon when it came to looks and changed his appearance and style many times throughout his life, and every single time he managed to make it uniquely Bowie. He has two children, Duncan Jones and Alexandria Zahra Jones, one from each marriage. Duncan became a director and his first movie Moon was nominated for several awards at once. Alexandria, known as Lexi is only 18 so she only recently graduated from high school and it's way too early to say what she's gonna do with her life. What we know is that she's smart and beautiful and has the whole world at her feet.

2. Bjork
Bjork also has 2 children a son and a daughter. Her son Sindri is 32, he's a talented musician and plays in a band and releases albums. Her daughter Isadora is only 16 and there really isn't much information available about her. Bjork probably is trying to shield her child from the public while she's still a child and we totally get that.

3. Mick Jagger
Rolling Stones singer Mick Jagger famously has 8 kids with 5 different women and they're all wildly different and range in age between 2 and 48. His oldest daughter Karis is 48 and she doesn't really have social media so it's hard to know what she does but we do know she studied in Yale and is a volunteer and philanthropist. Jade, 47, is a jewelry designer, socialite and former model. Lizzy, 35, is an American-English lobbyist, model, musician and actress. James Jagger, 33, is an actor. Georgia, 27, is an English fashion model and designer. Gabriel, 21, so far is a model. Lucas is only 19 so he's a student so far. And Mick's youngest son Deveraux Octavian Basil Jagger is only 2, so he's just a cute baby.

4. Tilda Swinton
Tilda has two children. Both Xavier and Honor are 21. Xavier shies away from limelight but Honor has taken after her mother and chose to pursue a career in acting. They're often seen on red carpets together. Honor's known for her role in The Souvenir and she's being called the Sundance's Breakout Star so we're probably going to hear more about her soon.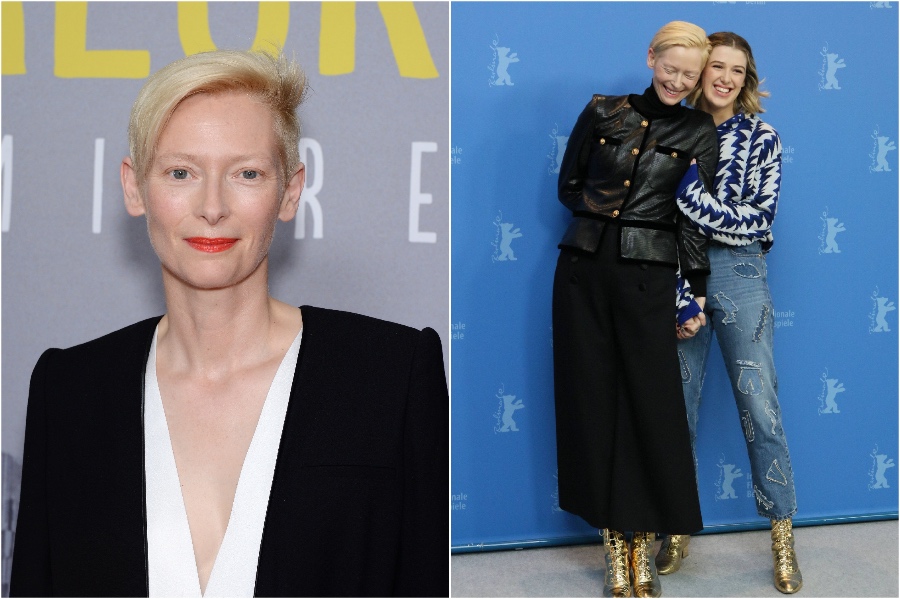 5. Cher
The Goddess of pop has two kids. Her first son Chaz Bono is a writer, musician and actor. Elijah Blue Allman, known professionally as P. Exeter Blue, is Cher's second kid and he's a musician. So clearly both of her children take after her in terms of talent.

6. Uma Thurman
Uma Thurman has 3 kids, two daughters and a son. Maya Hawke, her oldest daughter, definitely takes after her mom. She's quite a successful model and works closely with big fashion brands, and now she's venturing into acting. She's going to be in Quentin Tarantino's new movie Once Upon A Time In Hollywood. Uma's son Levon is a very good looking young man but so far he's showing no interest in acting. And finally her youngest daughter Luna is only 6.

7. Meryl Streep
The legend that is Meryl Streep has a big family. She's got four kids, 3 daughters and a son and they're all very talented and definitely are taking after their mother. Her son Henry is a musician and has released multiple albums, he also does some acting on occasion. Her daughters Grace and Mamie are up and coming actresses, we can't wait until they start getting Oscars just like their mom. And finally Meryl's youngest daughter Louisa is a model.

8. Courtney Love
Courtney Love has one daughter from her relationship with Kurt Cobain. Frances Bean Cobain is a perfect mix of her beautiful and talented parents. She works as a model and a visual artist. She also interned at the Rolling Stone magazine and was an executive producer on the HBO movie about her father's life,Kurt Cobain: Montage of Heck.

9. Rowan Atkinson
Mr Bean might look quite peculiar but his daughter Lily is absolutely gorgeous. She can sing, she's a dancer and she's into acting as well. What a talented young girl. His son Benjamin definitely has some of his father's looks but he was never into acting, instead he always wanted a military career so he studied in the Sandhurst military academy.