There's nothing worse than waking up to get ready for work, only to stare at your wardrobe full of clothing and somehow feel like you have literally nothing to wear.
Most of us wear less than half of what fills our closet, so clear the clutter and give your old jeans some Marie Kondo style before you toss them in the donation bin.
Instead of buying fad items, fill your closet with versatile staples that you'll get use out of.
1. Men's inspired shirt
A neutral toned button down, like white, grey, or black is every celebrity stylist's favorite item. Throw in a French tuck and pair with skinny jeans and heeled sandals for an automatic supermodel off duty work. Button closure allows for great day to night transitions as well.

2. A leather jacket
An edgy piece of transition outerwear is essential to looking sharp but not owning a bunch of useless jackets. That's why a motorcycle style leather one is that most valuable outerwear piece to own. It can be colorful, oversized, or more fitted – whatever screams "you."

3. A solid colored long sleeve shirt
Black and white staples are great, but a colored statement top adds an air of mystery. This is proof that colors can be integrated in an everyday way – your whole outfit doesn't have to be funeral colored!

4. Printed Midi Skirt
There's a time for pants and a time for maxi dresses – but what about when you're in that frustrating in-between mood? A midi skirt is the ultimate compromise that falls around the calf and pairs well with tights or boots.

5. A well tailored blazer
Even your oldest jeans and blouse somehow is pulled together by a good blazer. Even a job interview when you're having the worst hair day will be overshadowed by a smart blazer, and garner a compliment.

6. Black skinny jeans
We all love our softest old jeans that have gotten us through trying times, sisterhood of the Traveling pants style. These jeans (keep them lint rolled if you have pets) elevate the look to a more sophisticated look without sacrificing comfort.

7. Silk blouse
We're obsessed with how different a silk blouse can look with different garments – tucked into high waisted jeans, it's the perfect work-to-happy hour transition piece. With a pencil skirt? Going to meet bae's parents. With tight leather jeans, the perfect concert look!

8. Heeled loafer/brogue
Emma Roberts has been seen rocking this trend – we love the professional, academy woman meets sassy femininity. They look great paired with high waisted, broad pants a la Annie Hall, or with a long, chic black dress.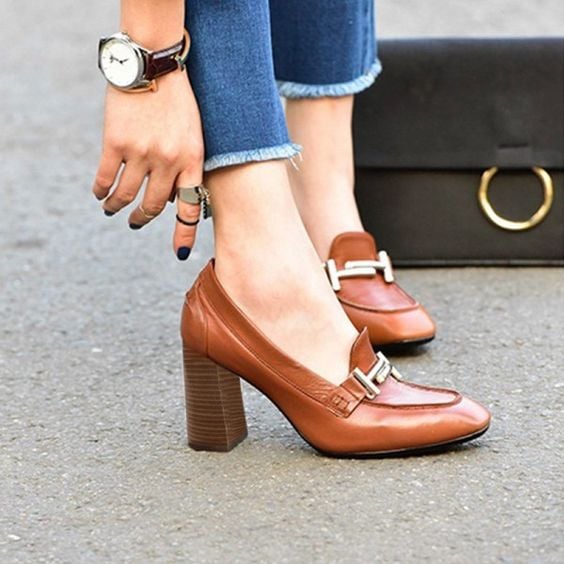 9. Trench coat
This is the only look where you can both feel like a sexy spy, and envelop your whole body if you're having a bloated day. A waterproof one is suggested as well – try a camel toned classic coat that.

10. Bike shorts
Now that we've said goodbye to winter for the time being, say hello to your new BFF, the very affordable bike shorts. Wear this on its own, under dresses, XL shirts, or just about anything else.