Winter is the best time to enjoy hot drinks. Hot chocolate, cocoa, coffee, and tea – sure all those drinks are quite yummy, but all too familiar. If you want to spice up your winter evenings with something new, here are 10 hot drink recipes to try right now.
Kashmiri Kahwa
Kashmiri kahwa has a rich aroma created with a set of simple, yet well-combined spices: cardamom, cloves, saffron, rose petals, and cinnamon. You have to grind them with green tea leaves to create the special Kashmiri kahwa mix or buy the tea online. It's usually served with dried fruits and crushed almonds.

Pumpkin Spice Latte
You might think that pumpkin spice latte is a fall drink, but wait till you try it one of those freezing winter evenings with snow falling heavily outside. It's the best thing in the world! With vanilla, coffee, spices, yummy pumpkin puree, milk and whipped cream, this drink is perfect for both chilly winter mornings and lazy evenings in front of a fireplace.



Masala chai
Masala chai, the traditional Indian milk tea, is loaded with spices like cloves, cardamom, nutmeg, and cinnamon that are perfect for warming you up during cold winter days. Adding ginger to the mix makes it the most warming drink on the list!

Hot Grapefruit Tea
There isn't actually any tea in this drink, but feel free to experiment with some light flowery flavours. Hot grapefruit tea is prepared with freshly squeezed grapefruit juice, 1 cinnamon stick, and a few teaspoons of honey. It's delicious and packs more vitamin C than any other drink you've ever had!



Spicy Coconut Tea Tonic
Rooibos, coconut milk, turmeric, ginger, cayenne… sounds interesting? This spicy coconut tea tonic is a mad mix of flavours balanced by the milky creaminess of coconut and sweetness of vanilla and cinnamon. Turmeric makes it an ideal immunity-booster, which is exactly what you need during the cold winter months.

Turmeric Latte
This sunny drink will not only get you through winter without a hint of a sneeze or cough, but will also improve your digestion and health in general. Turmeric is one of those superfoods you need to pay special attention in winter, so feel free to add it both to your drinks and food.



Matcha White Hot Chocolate
This Asian take on hot chocolate offers some yummy tropical notes thanks to warm coconut milk and a livening caffeine boost of the matcha powder. Of course, there's also the sweetness of chocolate and some marshmallows to top it all!



Mexican Spiced Hot Cocoa
Is there anything better on a cold winter day than a hot cup of sweet cocoa? Yes, when this cocoa is mixed with a few fiery pinches of ground chipotle pepper! This spicy drink takes only five minutes to prepare and will get you all warm and cosy in no time.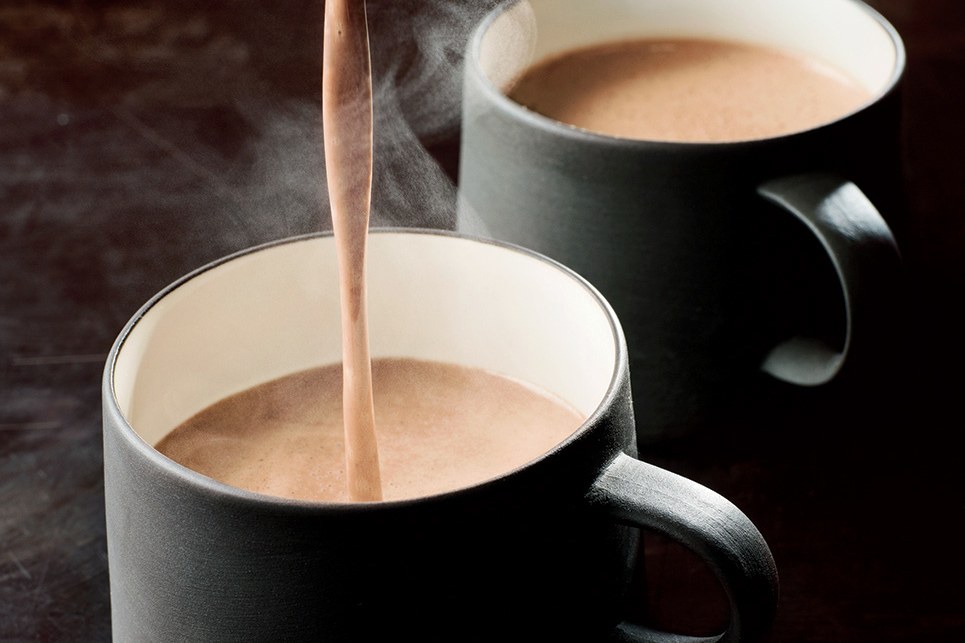 Cinnamon White Hot Chocolate
If you're tired of the classic hot chocolate recipe, how about trying some hot white chocolate instead? Prepared with flavourful cinnamon sticks, whipped cream, milk, and chocolate, this yummy drink is a perfect start of a freezing winter day.



Ginger Lemon Honey
Ginger lemon honey is the #1 drink you want to consume in winter. It's sweet, sour, citrusy, and comes with a whole lot of vitamins and antioxidants to keep the winter cold at bay. Don't forget to add a dash of classic winter spices like cardamom, cloves, and cinnamon for an extra boost of flavour.