Smoothies are one of the healthiest and quickest meals one can have. And the best thing about them is that they're so customizable. You can make them taste sweet or sour, fresh or decadent. It all depends on the ingredients you put in your blender. Some go for the green smoothie every morning, while others prefer fruity and berry smoothies, you can also make it into an indulgent peanut butter and chocolate flavored sweet treat for the weekend. While we all know how to pack a lot of fruits and veggies into a smoothie, few of us know how to add protein without having to use protein powders. And let's be real, protein powders can really throw off the flavors in a good smoothie, and lots of them come with really fake sugary flavor additives that push the level of sweetness into the sickly spectrum. But rest assured there's a way to add a healthy dose of protein to your smoothie without using a protein powder and we found 10 recipes that will turn your smoothies from just delicious to high protein delicious.
1. Peanut Butter and Jelly Protein Smoothie
If you like peanut butter and jelly sandwiches – this is a much healthier alternative yet it's just as delicious. It's called a smoothie but it tastes more like a milkshake and it packs 23 grams of protein, which is quite a sizeable amount for a breakfast smoothie.

2. Green Warrior Smoothie
This green warrior smoothie deserves such an impressive name because not only is it completely vegan and packs a lot of fruit and veggies, it's also full of fibre and still has 17 grams of plant-based protein.

3. Sunrise Smoothie
Just the name of this smoothie should make you want to have it every morning. It's incredibly flavorful thanks to the combination of berries, oranges, the banana makes it sweet and the Greek yogurt delivers 15 grams of protein that are perfect for breakfast.

4. Banana Almond Breakfast Smoothie
This banana and almond breakfast smoothie is perfect for those who are always in a rush but still want to have a quick and delicious breakfast that they can take with them on the go. Just pour it into a mason jar and have it on the way to work. 13 grams of protein per serving guaranteed.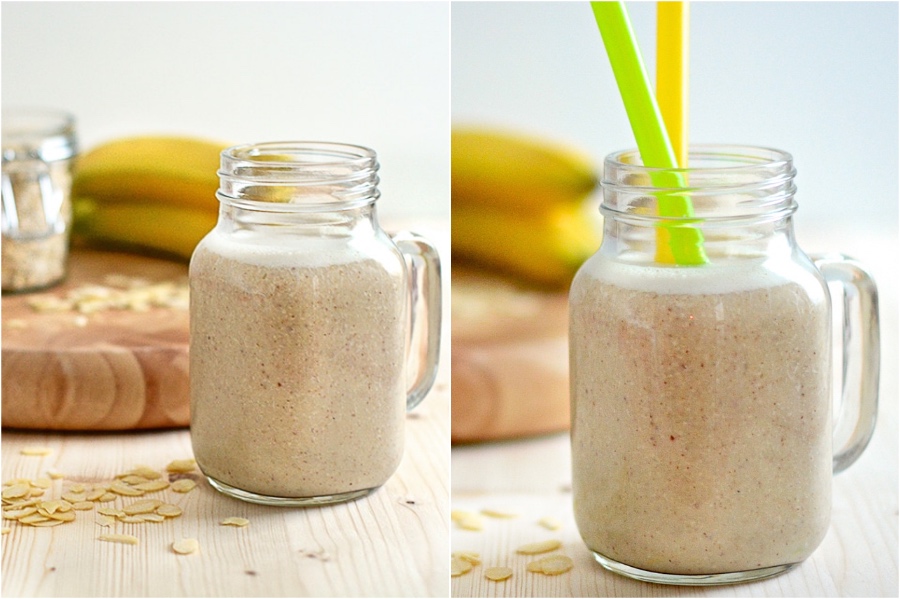 5. Roasted Strawberry Smoothie
If you have never tried roasting strawberries – get on this bandwagon. It makes them juicier, brings out more of the flavor and brings this particular smoothie recipe to a whole new level. The 17 grams of natural protein don't hurt either.

6. Raspberry Almond Chia Smoothie
Almonds and chia seeds are actually a great source of plant protein, so feel free to add them to other smoothies for an added protein boost. But obviously Greek yogurt does most of the heavy lifting in this high protein smoothie. 23 grams is quite impressive for a smoothie, don't you think?

7. Peanut Butter Oatmeal Smoothie
This smoothie will make you think of peanut butter oatmeal cookies, but in liquid form. It's rich and creamy and absolutely delicious, and a serving of it packs almost 15 grams of protein. Who in their right mind would say no to this?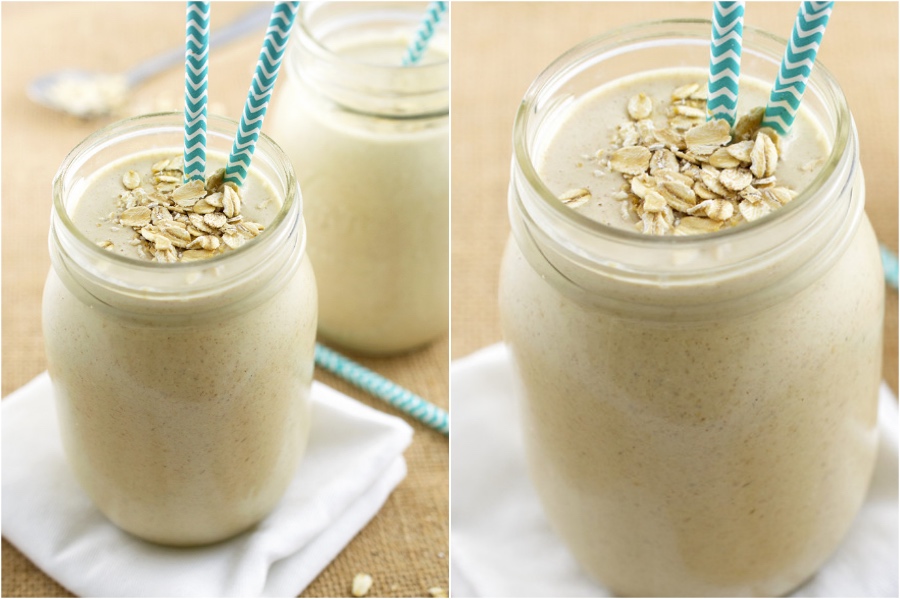 8. Peach Banana Honey Cottage Cheese Smoothie
Putting cottage cheese in a smoothie might seem like a strange idea, but if you blend it a bit longer or just have a high powered blender it's a great idea. It makes the smoothie extra creamy and thick and peaches with honey will make this smoothie taste more like a fancy dessert. Plus you get 18 grams of protein.

9. Green Apple Pie Smoothie
Apple pie is a classic for many, but we know it usually contains a lot of carbs, fats and sugar. Well this free apple pie smoothie is the epitome of healthy breakfasts with a whopping 19 grams of protein and it's absolutely guilt free.

10. Lemon Blueberry Smoothie
Lemons and blueberries really do go well together, it's a winning flavor combination that will have you reaching for seconds. Just one serving of this smoothie will provide you with 15 grams of protein, but chances are you'll have more because it's that yummy.