Perfect vacations are not easy to plan, and most people tend to go with their partners or their family. What about your bestie? You can and should go on a vacation with your BFF. After all, this relationship will last the longest. Why not celebrate it with a nice trip and also explore a new place together?
1. Paris
It's not just for those in love. It's also a great place to drink wine next to the Eiffel tower, eat lots of baguettes and cheese, and then some amazing croissants for desserts. Think how cute it will be, you can wear stripy tops and flowy dresses, matching berets and red lipstick. And who knows maybe you'll meet some cute French boys too.

2. Bermuda
Who could say no to a perfect beach holiday. Sounds like heaven to me.



3. New York
The city that never sleeps seems like a great destination for BFFs. You can shop all day, have a classic NY style slice of pizza, have way too much coffee, swing by a famous bar, get to the top of the Empire State Building, see the Statue of Liberty and then party all night long. You'll never be bored since there's always something going on here, and going with your best friend is the best way to experience everything NYC has to offer.

4. Reykjavik
If you and your best friend are into Instagram and photography you should definitely go to Iceland. The opportunities to snap a photo here are endless. The nature is so breathtaking and if you manage to see the northern lights – your life will never be the same.



5. Las Vegas
It's Vegas baby! You definitely have to go here with your BFF. You can spend some money on the slot machines, play some poker, be a wingwoman for each other at the bar. It's the city that calls for some crazy adventures. And you know, what happens in Vegas – stays in Vegas.

6. Santorini
Greece is a wonderful place for a summer vacation. It's warm, it's beautiful, and while it's not exactly the location of Mamma Mia movie, it looks similar enough for you and your BFF to pretend you're in a musical and reenact some scenes while singing ABBA songs.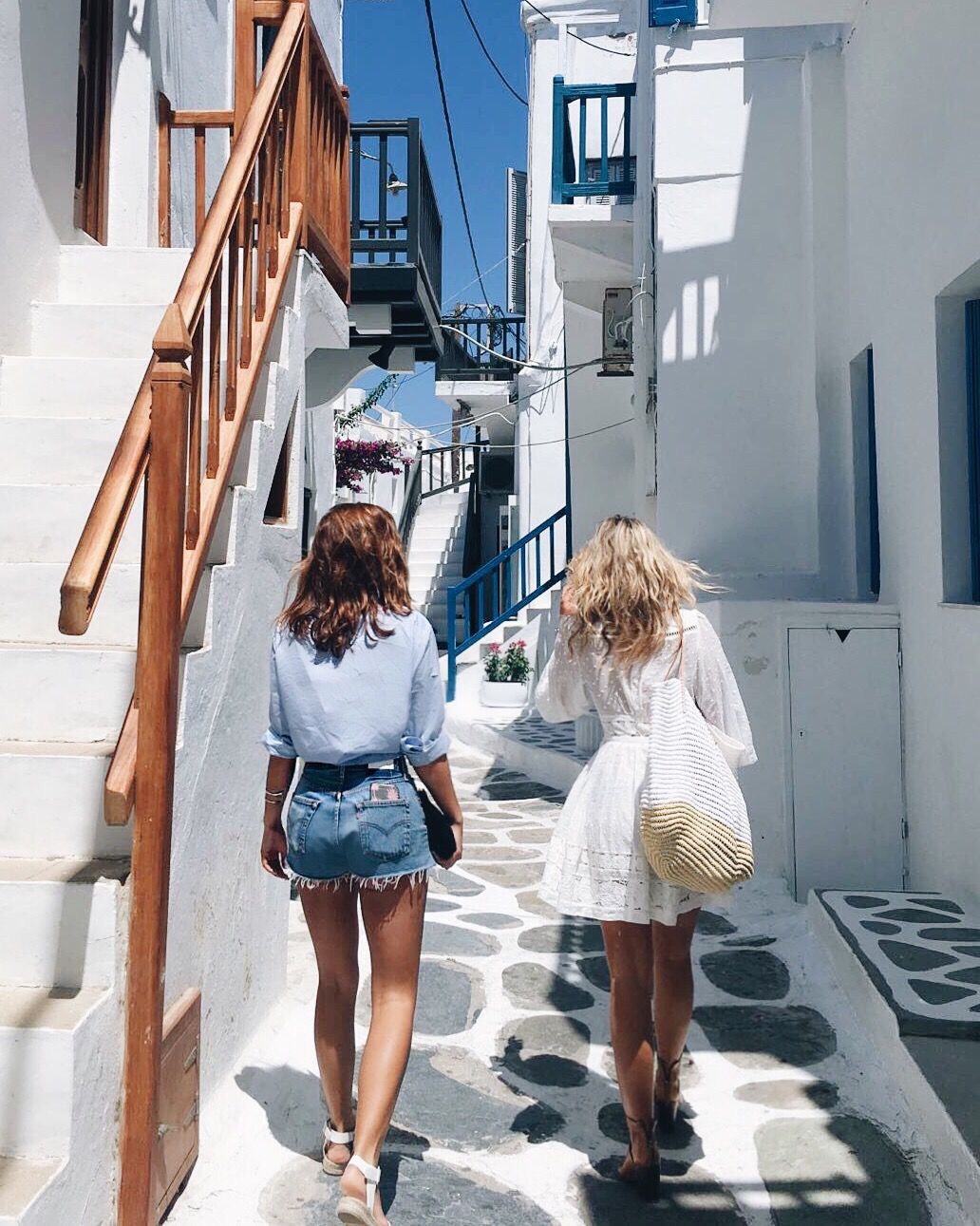 7. Rome
When in Rome do as the romans do. Rent a Vespa, eat some pizza for lunch and pasta for dinner, grab some delicious gelato for dessert and enjoy the beautiful sights and the gorgeous scenery. And with a friend by your side you'll have double the fun.



8. London
London is a must visit location for BFFS. You can pretend you're Joey and Chandler from friends and get lost, use a paper map, ride the double decker bus and take all the photos. Or you can go for a pub crawl of the oldest pubs in London. Take a tour of multiple Sherlock locations or go for a leisurely picnic in Hyde Park. Either way you're bound to love it.

9. Edinburgh
Not too many people think of Scotland as a vacation spot, after all it's not very sunny, but boy is it fun. First of all Edinburgh looks like a gothic fairy tale, there's a pointy church at every corner yet most of them have been converted to clubs these days so you can party it up in an ancient church. And there's the iconic Edinburgh Fringe Comedy Festival which is a great thing to experience with a friend.



10. Lisbon
If neither of you is a huge fan of planning out what to do, and you're not hugely into museums yet want to experience a bit of culture – go to Lisbon, Portugal. It's a beautiful city where you can just leisurely stroll the streets and admire gorgeous architecture without worrying you'll miss a sightseeing spot, or just go to the beach if you want to chill and soak up the sun.