Donuts are amazing. They're a popular dessert for a reason. They're sweet, they're chewy, they come in a variety of flavors, fillings and toppings. Some people like the classic glazed ones, and that's fine, sometimes the simplest foods are the best ones. But that's not the ones we're going to talk about right now. Today we'll celebrate variety and uniqueness. We're embracing the weirder things in life. We're going to show you some of the most unusual, delicious and over the top donuts that will make you salivate at the mere sight of them. Here we go.
1. Rainbow Donuts
Everything tastes better when it's rainbow colored, you can't argue with that. But whether you prefer rainbow filling, rainbow glaze, rainbow sprinkles or just rainbow dough – all of those options are available in donut form.
2. Mochi Donuts
For those of you are fans of Japanese desserts, mochi in particular – there are mochi donuts. We're not sure who thought of combining Japanese rice-cakes with various yummy fillings and donuts, but there's a strong possibility it was an American.
3. Kawaii Donuts
Speaking of Japanese things, cute kawaii donuts shaped like animals and adorable characters also exist. These definitely would go on a list of too cute to eat, but they are perfectly edible and from what we hear – absolutely delectable.
4. Spicy Donuts
If it's heat you're after the Ring of Fire donuts are definitely something you should try. These are chocolate donuts with cinnamon sprinkled on top. But the secret ingredient is cayenne pepper, that contrasts the richness of the chocolate and packs some serious heat. And yet they are sold with dried chilli pepper on top.
5. Bacon Donuts
So we've all heard of maple syrup and bacon combo. But what happens when you take that idea and elevate it to a whole new level? Obviously, bacon donuts are the right answer. For loves of sweet and savory this donut might just become their holy grail.
6. Mars Bar Cronut
Some foodies would say that if you haven't had a Mars Bar cronut you're missing out and not experiencing life to the fullest, and we'd have to agree with them. It's not an everyday donut, it's definitely a special occasion treat, but you have got to try it at least once in your life. It's a life-changing experience.
7. Rum Cake Cronut
While we're on the topic of cronuts, we have to mention rum cake cronuts. It's a unique combination and definitely not suitable for those who are underage. But if you're an adult who likes boozy dessert this is definitely a must-try.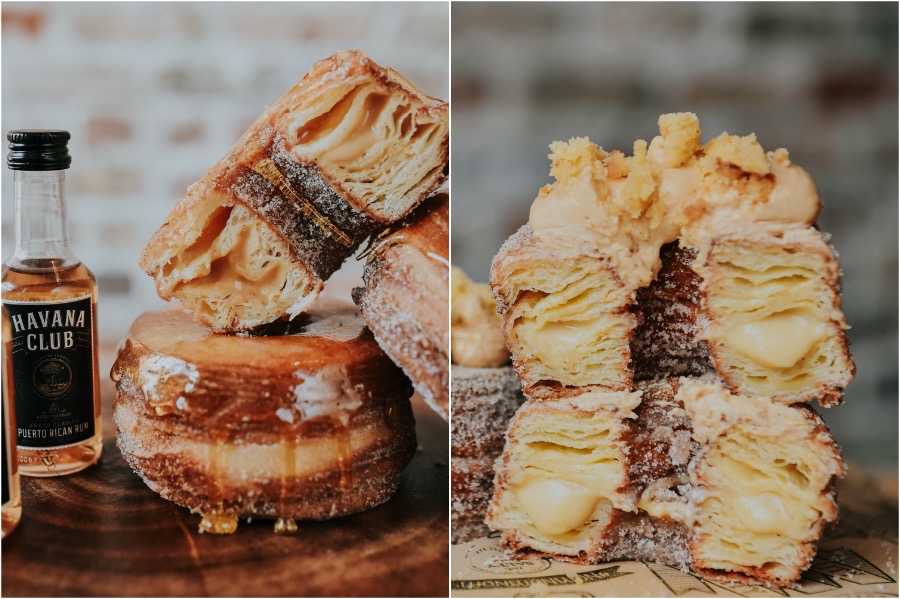 8. Sticky Bun Donut
It's as delicious as it sounds. And if you're doubting it, we're here to tell you that when these went on sale they became so popular that the donut shop literally had to limit them to 2 donuts per person because they were selling out too quickly.
9. S'mores Donut
We don't even know what to say. It's just perfect. Is this not the most ideal autumn for fall weather? Who doesn't want s'mores on everything? Why have we been living without it until now? Don't deny yourself the simple pleasures in life – get this donut asap.
10. Fried Chicken Donut
Listen, if you think putting fried chicken on a donut is wrong, you're clearly at the wrong place. Because to us, it sounds like the best idea ever. It's a match made in heaven for anyone with curious taste buds. It's an explosion of flavors. And if that's wrong, we never want to be right.
11. Ripple Donut
Why have just one donut when you can have three all at once, and it's sliced like a piece of cake. A donut bakery in New York who came up with this concept clearly needs some sort of award for creativity. This is genius!
12. Golden Snitch Donut
What is this wizardry? Harry Potter fans are over the moon about this donut. Not only does it look magical, it also has a butterbeer glaze, which is also a reference to a popular drink Harry Potter and his friends would have in Hogsmeade.