If you love citrus fruits as much as I do, you'll agree that there's very few other foods that are as delicious, refreshing and versatile. Citrus fruits are just perfect for adding that little kick of flavor and zest to most dishes and they tend to compliment most flavors depending. And the best thing is that you can literally have them to any meal if you want and get a slightly different result based on what citrus fruit you choose. So enjoy this list of 12 recipes for citrus lovers, here you'll find citrus recipes for breakfast, lunch, dinner and desserts too.
1. Citrus Ricotta Pancakes
Pancakes are the best breakfast food and you know it. Don't even try to deny it. Especially if you know how to make fluffy pancakes and top them with some yummy ricotta and citrus fruits. This is definitely a perfect recipe for a Sunday morning.
2. Ombre Citrus Cream Tart
You might think that this is a dessert, but I'm not above having a tart for breakfast. So if you're looking for a reason to have dessert first thing in the morning you can use the same excuse. And trust me, this ombre citrus cream tart is worth it.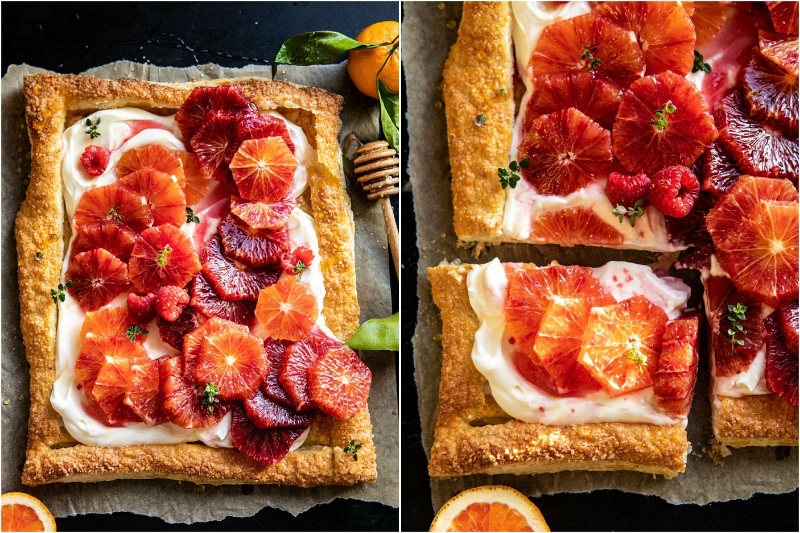 3. Citrus Coconut Chia Pudding
For those who prefer lighter breakfast options – here's a coconut chia pudding that will satisfy not only your needs but also your tastebuds. It's delicious and light, but still packed with flavor. And since it's chia pudding you quickly make it the night before and have it all ready for breakfast, waiting in the fridge.
4. Citrus Roasted Beet Salad
Salads are a popular option for lunch, but it gets old quickly if all you have is classic Caesar salad or a side of coleslaw. Here's an exciting and flavorful salad that is full of vitamins and colorful ingredients to keep you full and happy.
5. Roasted Veggie Grain Bowl With Citrus Dressing
Just cause you love citrus doesn't mean you have to have actual fruit in your meals. There's way to add a little something to your dishes with citrus based sauces and dressings. This roasted veggie grain bowl with a citrus dressing is a great example of how to add a little citrusy kick to your lunch.
6. Maple Citrus Salad With Grilled Chicken
Everyone knows citrus and chicken are a great combo. Those flavors are so complementing that you literally can't go wrong when combining them. This salad has everything you need in a lunch to keep you full and the tangy and sweet flavors will make your tastebuds happy too.
7. Clementine Fennel Potatoes
This wonderful side dish can perfectly complement any dinner table. After all who doesn't like roasted potatoes, especially when they're so perfectly seasoned and the flavors of fennel and clementine work so well with this dish. Add a source of protein like chicken, fish, chickpeas or halloumi and dinner is done.
8. Pan Fried Cod In Citrus and Basil Butter Sauce
Dinner is often the time when the whole family gets together for a meal, so you want to make it a little special. This pan fried cod recipe is a perfect choice for a nice Sunday dinner. It's quite easy to make but it's still looks impressive in case you have guests over.
9. Honey Lemon Chicken With Sauteed Green Beans
Honey lemon chicken is a true classic for all citrus lovers. It's a dinner option that never fails and is always satisfying. There's so many ways to make it though, and everyone has their little tips and tricks. This one is particularly good though.
10. Citrus curd
Citrus curd is so freaking yummy and can be served on scones, cakes, pancakes, waffles, stirred into yogurts, drizzled over oatmeal or granola…the sky's the limit here. And this recipe gives you three options: pink grapefruit, blood orange and clementine.
11. Blood Orange Yogurt Bundt Cake
It's got blood orange in the cake dough, in the glaze and even on top for decoration. Just look at that cake, do you even need any more reason to try this recipe?
12. Pavlova With Mascarpone Coconut Cream And Candied Citrus
If you like your desserts light and sweet – a pavlova is right up your alley. This one is gluten free, comes with mascarpone coconut cream that's to die for, and the candied citrus is the cherry on top. What else could you want?