There's no shame in standing out from the crowd; no one knows that better than Sophia Hadjipanteli. The model is leading her own beauty revolution that Frieda Kahlo would be proud of, and her unibrow is the show's main star. The stunning Greek-Cypriot American first gained the attention of the public in the United Kingdom in 2017. In 2020, she showed up at London Fashion Week shows.
Hadjipanteli grew up in Maryland, raised by a Greek Cypriot refugee father and a British mother. Her culture and her family both inspired her to flaunt her unibrow rather than hide it. Her unique eyebrows even have a nickname, she calls them "Veronica."
According to Sophia, she's signed to both MUSE NCY and Premier Model Management. She's starred in over 50 global publications such as Vanity Fair, Vogue, Harper's Bazaar, Elle, and the New York Times. She's also worked for high-profile brands such as Fenty and Jean Paul Gaultier.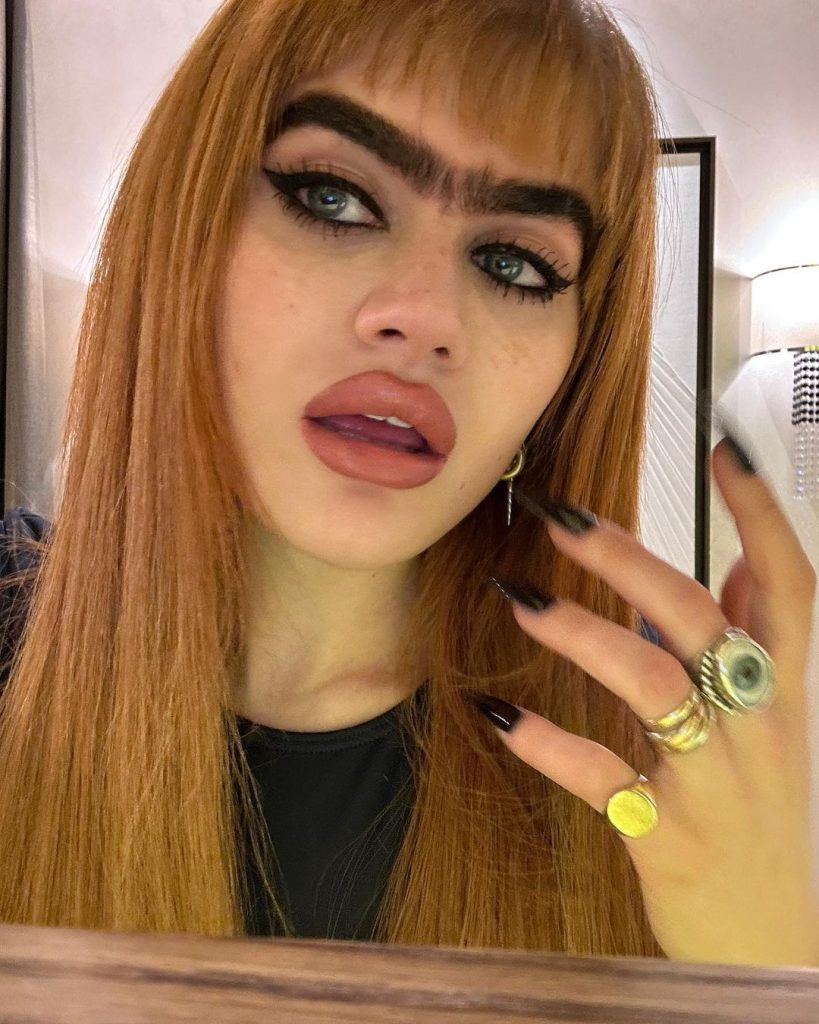 Unibrows aren't where Sophia Hadjipanteli's style started. She's never been afraid to stand out from the crowd with the eccentric looks that she started to wear in high school. From neon colors to latex pants and stilettos, Sophia didn't care about being bullied by classmates who were more conservative than her. Who has the last laugh now? Sophia, clearly!
Apart from being a beauty activist, the model recently dropped her first sunglasses collection with Peter & May. She's using her platform and massive following to break conventional beauty norms, encouraging girls everywhere to put the tweezers down.
She told Dazed Digital that she chose to rock her bold, black unibrow above her blue eyes for the same reason she dressed uniquely in school. The only preference that matters is Sophia's, and being different is something to embrace, not shy away from.
Her social media campaign called the #UnibrowMovement that she founded isn't meant to polarize. Instead, it's meant to unify and inspire others to be themselves. While the unibrow is certainly her signature look, the rest of Sophia's features are quite modelesque, which is probably another reason so many famous designers have sought her out.
Sophia's hashtag campaign allows her to experience positive feedback in the community and see people support each other. Since that was all she craved growing up, this is very meaningful for the unibrowed beauty.
She is featured as an audition judge in Greece's Next Top Model (GNTM) and often posts images of her daily adventures on social media with her followers.
After posting a throwback image of her parents from their wedding day, the resemblance is startling. We can see where she got that bone structure, blue eyes, and, most importantly, those thick and gorgeous brows. Sophia is very close with her parents and family, who always taught her to ignore society and value instead what was on her mind. 
Hadjipanteli says that everyone in her family has a unibrow, and her pet peeve is when people frequently comment on her posts that she would be prettier with plucked eyebrows. She always has a clever comeback, and her main philosophy is that hair between eyebrows shouldn't make the difference between perfect and imperfect.
We love that Sophia Hadjipanteli is speaking up on beauty standards and ignoring the trolls rather than feeding them or deleting rude comments, which would give them too much attention.
The model is frequently under fire for shaving her legs and armpits. She does so because she prefers how it feels and wishes that her online critics would stop calling her a hypocrite. Her mission in life is to do whatever she wants, and she hopes that others can do the same.