French manicures are so classy and beautiful and they literally go with anything and everything. But did you know it's not actually French? It wasn't invented in France and not even by a French person. It's hard to pinpoint who exactly invented it because it seems to date back to the 1800s, but in terms of who coined the phrase, there are two options.
Max Factor (yes, that one) claims he created it for the fashionistas in Paris in the 1930s.
The actual term "French manicure" was originated by Jeff Pink, the creator of brand Orly, in 1978. When he was in Paris he painted the model's nails and when he came back to the states he started to call it French manicure. They later started selling French manicure kits. It became hugely popular after Hollywood started using it for convenience. It takes ages to change nail polish colors on actresses so that it complements each wardrobe change but French manicure goes with everything. And of course since Hollywood used it – it became hugely popular around the world and still is to this day. Honestly, it'll probably never go out of fashion.

1. What Is A French Manicure
A French manicure is generally done using two colors. One nude or pinkish nude for the whole nail and white to draw the strip at the end of your nail. It's basically like an exaggerated and more polished version of your actual nail color, but you know, better.

2. French Manicure For Short Nails
Many people think that to get a French manicure you need to have long nails and that couldn't be further from the truth. You can totally rock a French manicure with short nails, you just draw the white strip thinner and that's it.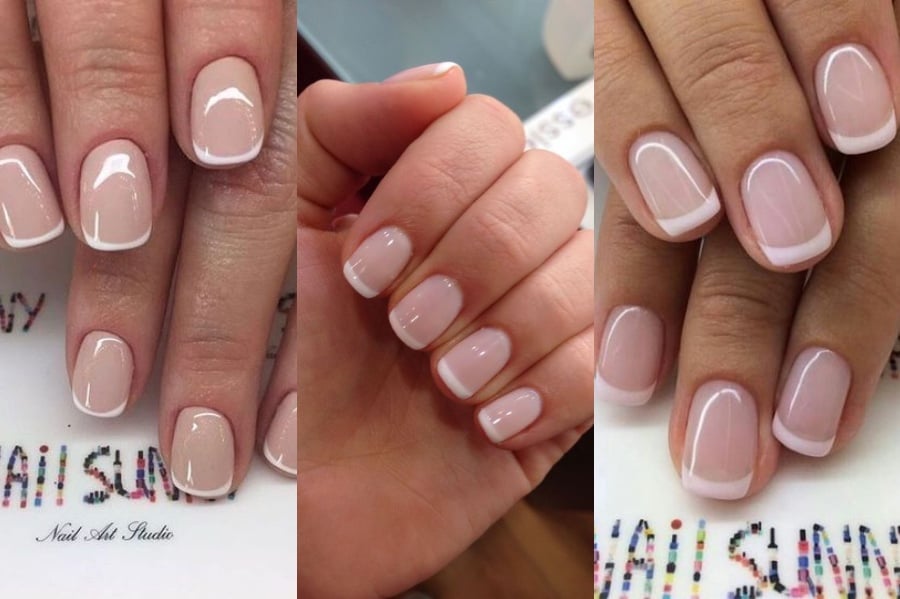 3. Colorful French Manicure
However, you don't have to stick to the rules if you don't want to. You can just take the idea and run with it. People have been doing variations of French manicure but with other colors for a while now. You can do black tips instead of white, or red for a more dramatic look. You can do a different colored tip on each nail for a rainbow effect.

4. Reverse French Manicure
Reverse French manicure is a unique and clever variation on the classic. Instead of painting a white or different colored strip along the tip on the nail, when doing a reverse you pain that line at the root of the nail, right under the cuticle. The result is both classy and modern at the same time.
5. Sparkly and Glittery French Manicure
Instead of using white or any different color for the tips you can always go for sparkles and glitter. It's a great way to make French manicure more festive for a special occasion or a holiday, or just because you feel like it that day. You can do the same with a reverse French too, for a subtle sparkle.
6. Metallic French Manicure
To take your French manicure to a whole new level, why not introduce a metallic shade? You could do the entire nail in metallic and do some black or white tips. Or you could do a matte base and metallic tips. Either way, it's going to look incredible and you'll see your friends stealing this idea as soon as you post a snap on Instagram.
7. Dotted French Manicure
This is a great idea if you like patterns. You can either add some dots on top of your regular French manicure or do the dots instead of the classic white stripe. It looks incredibly cute and minimalist, while also providing a unique and fresh angle on a tried and true classic.
8. Ombre French Manicure
For a modern twist and a seamless transition between colors go for an ombre French manicure. It's very subtle and understated but looks very dainty and beautiful. This is possibly our favorite variation on the classic French manicure because it's just as natural-looking and versatile but more modern looking and possibly even chicer than the original.