Dita Von Teese has a unique style. She loves vintage things but she also likes to add her own twist on everything. And as you're about to see this isn't limited to her clothes, makeup and style in general. Her LA home is a pretty incredible representation of all the things she loves. There's nothing minimalist about it, in fact Dita calls herself a maximalist and once you see the photos you'll understand why.
Dita house is a 1927 English home built in a classic Tudor Revival style. When she first moved in 5 years ago it was all white walls everywhere. A dream for a minimalist, but for Dita that was simply unacceptable. She hates white walls. Dita loves color and wants her house to reflect that. So she immediately chose to add some color and personality to her new home.
In one of the rooms she chose to have a mural painted on the wall that was inspired by a picture of a castle and that mural actually has little hidden things painted into it like monkeys and birds, just to add even more interest and detail.
She still has a few blank spaces that she left as they were because she likes having little projects and decorating her house is a never ending project. So there's an entryway left white because she plans to have it covered in feathers. A classic Dita Von Teese move, don't you think?
Dita has shared in her interview with Architectural Digest that she started wearing vintage clothes because she couldn't afford the new designer things her friends were wearing back in the day. So vintage was a natural choice, but soon after her love of vintage blossomed into not just clothes but all sorts of things including furniture, homeware and house decor. She now loves collecting vintage and antique things for her home.
Dita's kitchen is super glamorous. She made it so because as she says, no matter what you do with your house, when people come over, they inevitably hang out in the kitchen. And you know, she's not wrong. She used to have a pink kitchen in her last home, so she took a lot of things over to this house. But her current kitchen esthetic is green and copper. Her pride and joy is a British racing green Aga Stove. She dipped the plates in copper so it would fit the kitchen color scheme and she gave a makeover to some of her chairs too.
The living room is possibly the most outrageous room in the house. It definitely showcases Dita's maximalist nature to the fullest. There's taxidermy animals, Victorian taxidermy birds, vintage decorative feathers and powder puffs, vintage furniture and various knick-knacks and treasures that Dita loves and displays. One of the couches here was found at a flea market and then reupholstered with vintage fabric, another one is a reproduction of a french sofa. You'd think those would be very cosy, but Dita says that while her couches look beautiful, all of them are extremely uncomfortable, in fact you'll be hard pressed to find any comfortable place to sit in her house.
Her dining room set was also found at a flea market but she reupholstered the chairs with beautiful fabric that she loves. She also has a vintage mirror on the wall and a lipstick on a golden chain next to it, so that she can use it whenever she needs a touch up but can't find her lipstick. Dita says she stole that trick from Robert Smith of the Cure who is said to have lipstick hanging on a string by his front door so that before he leaves the house he can just put it on and go.
Another fun addition to Dita's home is her pool house which she turned into a pub. She always envied people who have Tiki bars and since she has an English Tudor house she thought a pub would make more sense.
Dita also has a room in her house that she calls her woman cave. It's a place where she keeps all of her vintage burlesque items and some pictures of herself, since she's too embarrassed to put them on the walls of her house just out in the open. Here you'll see corsets in glass frames that belonged to famous burlesque dancers and movie stars who played them and other Hollywood memorabilia. There's a lot of art from vintage men's magazines on the walls.
Dita has an incredible wardrobe full of some spectacular shoes and vintage hats, all proudly displayed in her wardrobe. She also has a big collection of vintage brooches covered in colorful rhinestones. It's very sparkly.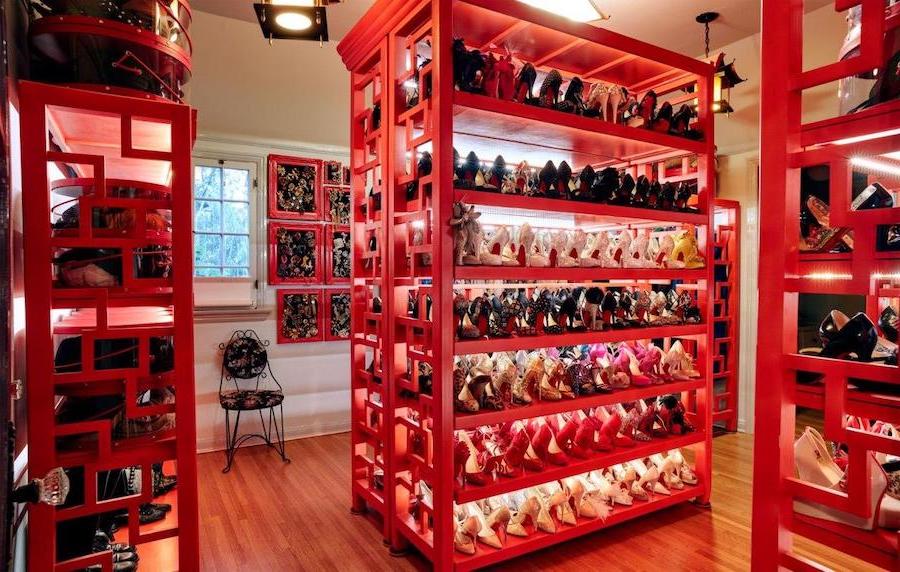 The bedroom is the only place in Dita Von Tesse's house that isn't super colorful. She says it's her version of minimalism because it's all light colors. But even here she has lots of little vintage details like drapes that she and her boyfriend designed based on some historical pictures and an actual 30's vintage vanity that has a little knick-knacks museum waxed to it, so that her cat doesn't turn everything over in the middle of the night, like he used to.