Everyone has been doing the 10 year challenge recently to show people how they've changed in the past years and we thought it would be a good idea to do the same for some of our favorite Bollywood celebs. Take a look at these 14 stars and let us know which ones impresses you the most or which you think haven't changed at all.
1. Alia Bhatt
Alia Bhatt grew from a very good looking girl into an absolutely stunning woman. Her fashion sense went from basic to sophisticated and we can't get enough of her new and improved stylish looks.
2. Karan Johar
Karan Johar is known for always looking dapper and stylish but he seems to have lost some weight and elevated his style, making it more modern and trendy. He even changed up his hair and went for a cool silver shade.
3. Sara Ali Khan
From classic awkward teen Sara blossomed into a very beautiful woman. It's always fun to see these kinds of transformations cause you never know what puberty can do and how much someone will change.
4. Bipasha Basu
Bipasha was very gorgeous to begin with but we think the new more glamorous look she's going for now suits her so much more. She looks so elegant and charming, like a true star fit for a red carpet in Hollywood.
5. Sonam Kapoor
Sonam went from young and flirty to grown up and extremely elegant and sophisticated. Her outfits these days are very sleek and impressive looking, she just overall seems more mature and in control of her image.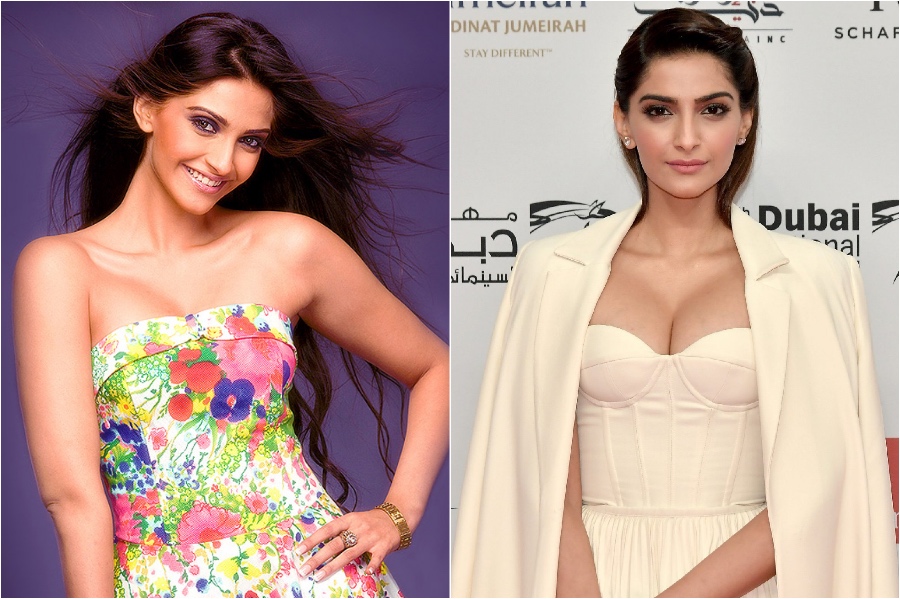 6. Rajkummar Rao
Rajkummar Rao is almost unrecognizable from his past self. He's ready to take risks with his style and willing to experiment with fashion and accessories. We love a man who knows how to glow up and take care of himself.
7. Arjun Kapoor
When Anjur shared this childhood photo of himself we could hardly believe it's the same person. He looks so different now. He's no longer an awkward and geeky kid and instead he's a charming good looking fellow with quite a decent sense of style.
8. Priyanka Chopra
Priyanka hasn't aged a day, she looks just as young and beautiful as before but her fashion sense has changed significantly. We'd go as far as calling her a true fashionista who's willing to follow new trends, take risks and she always looks effortlessly stylish these days.
9. Kareena Kapoor Khan
Kareena also decided that she's had enough of traditional and old fashioned outfits and is now going for an Instagram baddie look with her edgy style, sleek updos and some truly spectacular outfits and trendy sunglasses.
10. Anushka Sharma
Anushka Sharma went from bright and flirty to sleek and seductive in the past couple of days. We think it suits her a lot. Loving the new fashion sense and it even changed the way she carries herself. She seems more confident and sure of herself now.
11. Dia Mirza
Dia Mirza also became much more glamorous and stylish in the past years. She seems to still favor printed dresses, but these days they look much more flattering and custom made than before and way more stylish too. She might've put on some weight but she still looks amazing.
12. Deepika Padukone
Deepika clearly had a glow up in the past years and is looking like the most stylish fashionista these days. She's always been a very gorgeous lady but now she's on a whole new level.
13. Aishwarya Rai
Aishwarya Rai doesn't seem to age, she still looks so young and so gorgeous!
14. Namitha
Namitha definitely lost some weight in the past years and seems to be going through a sporty phase, posting pictures of herself in workout gear and athleisure outfits. Good one, Namitha, you do you!