Love knows no age, and in the world of the rich and famous, this sentiment is often put to the test. Celebrities are no strangers to unconventional relationships, and one of the most intriguing aspects of Hollywood romances is the surprising age differences that sometimes emerge. In this article, we'll take a closer look at some famous women who have found love with much younger men. From seasoned actresses to iconic fashion designers, these women prove that age is just a number when it comes to matters of the heart.
1. Sam and Aaron Taylor-Johnson — 24 years apart
Sam Taylor-Johnson, the talented director behind "Fifty Shades of Grey," found love with actor Aaron Taylor-Johnson, who is 24 years her junior. Despite the age gap, their love story is a testament to the strength of their connection. Their relationship, built on mutual respect and shared interests, has endured and thrived.
2. Courteney Cox and Johnny McDaid — 12 years apart
Former "Friends" star Courteney Cox and Snow Patrol musician Johnny McDaid share a 12-year age difference. The couple's shared love for music has been a binding force in their relationship, proving that age doesn't dictate compatibility when you have a strong connection.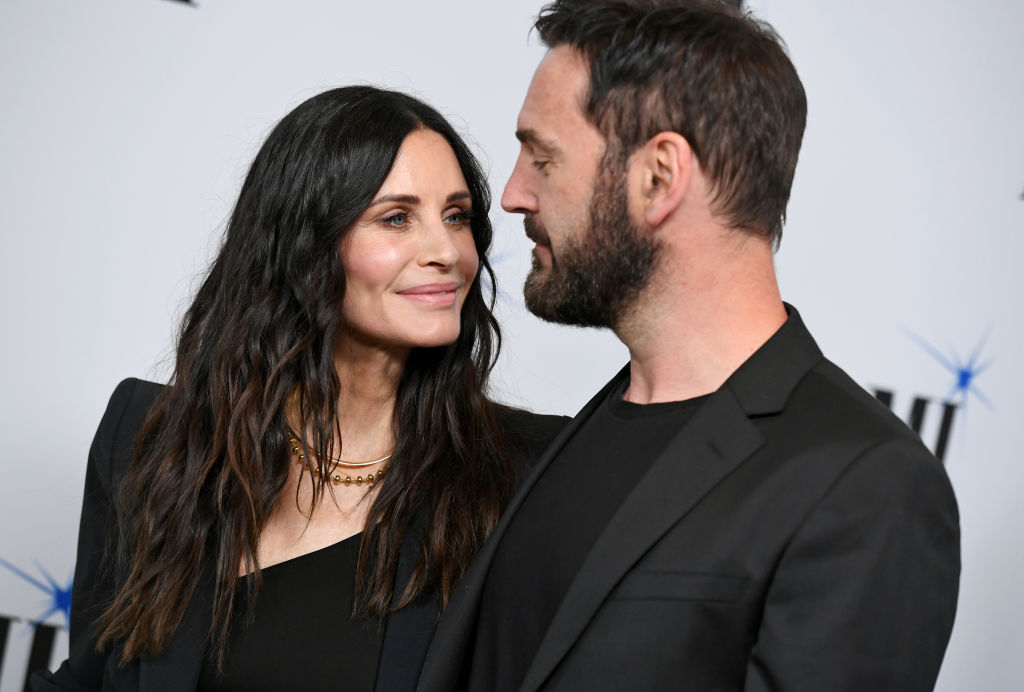 3. Kathy Griffin and Randy Bick — 18 years apart
Comedian Kathy Griffin and marketing executive Randy Bick defy their 18-year age gap with humor and love. Their relationship is characterized by laughter, trust, and the ability to embrace their differences.
4. Miranda Kerr and Evan Spiegel — 7 years apart
Supermodel Miranda Kerr and Snapchat co-founder Evan Spiegel have a 7-year age difference. Their fairy-tale romance is a reminder that age is no barrier to finding true love, and their journey includes starting a family together.
5. Kim Cattrall and Russell Thomas — 14 years apart
"Sex and the City" icon Kim Cattrall found love with her 14-years-younger partner, Russell Thomas. Their connection is rooted in shared interests and a deep emotional bond, proving that a substantial age difference is no hindrance to a strong relationship.
6. Mira Sorvino and Christopher Backus — 14 years apart
Oscar-winning actress Mira Sorvino shares a 14-year age gap with her husband, Christopher Backus. Their story is a testament to the enduring power of love, as they've navigated life's ups and downs together, stronger than ever.
7. Denise Welch and Lincoln Townley — 15 years apart
British actress Denise Welch's love story with artist Lincoln Townley showcases that age can't dull the flames of passion. Their supportive and caring relationship defies the 15-year age gap.
8. Kris Jenner and Corey Gamble — 25 years apart
"Keeping Up with the Kardashians" matriarch Kris Jenner's relationship with Corey Gamble, 25 years her junior, has been a topic of fascination. Their bond is a testament to the idea that age is just a number when two people genuinely connect.
9. Julianne Moore and Bart Freundlich — 9 years apart
Oscar-winning actress Julianne Moore and director Bart Freundlich share a 9-year age gap. Their partnership is built on creative collaboration and shared goals, proving that love can flourish with a substantial age difference.
Honorable Mentions
10. Kim Kardashian and Pete Davidson — 13 years apart
Reality TV star and business mogul Kim Kardashian briefly dated comedian Pete Davidson, who is 13 years her junior. Though their romance didn't last, it sparked intrigue and fascination across the entertainment world, proving that age can be just a number when two people click.
11. Britney Spears and Sam Asghari — 13 years apart
Pop sensation Britney Spears found love with fitness trainer Sam Asghari, who is 13 years younger. While their relationship went through its ups and downs, their connection was evident in their social media posts and public appearances during their time together, showing that age shouldn't hinder the pursuit of happiness.
12. Olivia Wilde and Harry Styles — 10 years apart
Acclaimed actress and director Olivia Wilde had a relationship with pop sensation Harry Styles, who is 10 years her junior. Their relationship, while short-lived, made headlines and emphasized that sparks can fly between people of different ages in the world of entertainment, proving that love can be both unexpected and exciting.