Hollywood stars are always serving looks, but few of them stand the test of time. We tend to forget and move on to the next big thing. But we're pretty sure these 10 looks are so iconic you're gonna remember them for a while, and who knows, maybe they'll influence you to wear something as memorable in 2019.
Michelle Obama and her sparkly Balenciaga boots are still making the rounds online, that's how memorable this outfit was. And if we're being honest, we hope to see more amazing fashion choices from her this year. Michelle clearly knows how to make a statement and now that she's free to do whatever we can't wait to see more.

The gorgeous pink dress that Jennifer Lopez wore to the red carpet was a crowd pleaser for many. The combination of the short front and a very long and poofy dress train was unexpected in the best way possible.



Dua Lipa managed to look both adorable and sexy in this frilly pink dress by Giambattista Valli. We don't know how she managed that but it definitely landed her a spot in the most memorable outfits of the year.

Lady Gaga literally slayed in this feathery Couture Valentino dress. She combined the trend for fluffy pink dresses with the recent trend for feathers and the result was mesmerizing. Great choice, Lady Gaga, we loved it!



Ezra Miller has definitely become one of our favorites in terms of wearing memorable outfits. There's really too many to choose from considering he's worn patchwork jackets, shiny metallic coats and what we can only describe as a purple pimp coat, but if we had to pick the most memorable one we're gonna go with the black Moncler puffer coat he wore to the Paris premiere of "Fantastic Beasts: The Crimes of Grindelwald".

Is it cheating if there was a theme to the night? We don't think so. Whatever the occasion, Jared Leto dressing up as a fancy priest in a full Gucci suit with a decorative sache is definitely a memorable occasion.



This glorious Versace dress that Gigi Hadid wore to the Gala made quite an impact and we can't get over how amazing it looked. It's out there, it's flashy, but it's also incredibly stylish and feminine at the same time. It's the best of both worlds and we're very into it.



Rihanna in Maison Margiela Artisanal was the star of the night – there's no doubt about it. We've come to expect incredible and risky outfits from Riri but with this one she blew everyone out of the water. Can you remember anyone who walked the carpet after her that night? Yeah, neither can we.

Timothée Chalamet is also becoming quite a fashion icon these days. The Alexander McQueen printed suit he wore to the "Beautiful Boy" premiere in London is our favorite this year. But we can't wait for what's to come, he's got a lot of potential.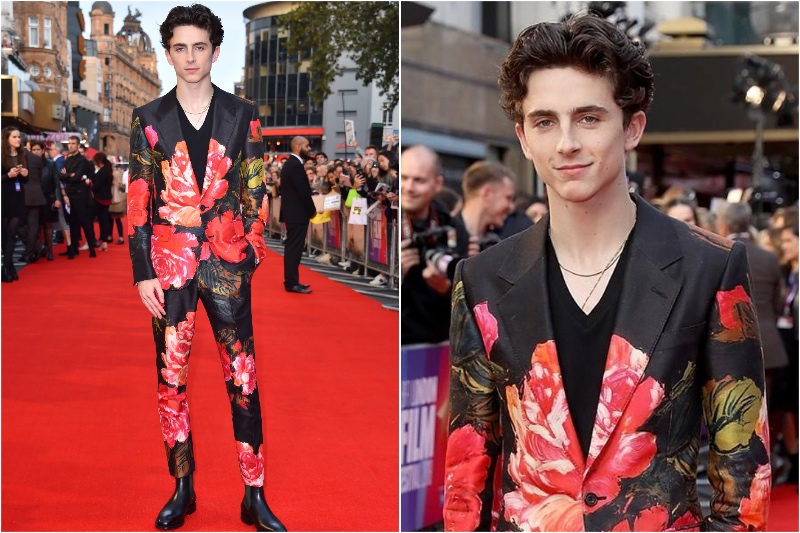 Meghan Markle was always quite conservative in her outfits, especially since she married into the royal family. But this fun butterfly dress she wore to the Australian geographic society awards was like a breath of fresh air.