In the 90s and early 2000s, the world of fashion and pop culture was dominated by super-skinny models and celebrities. We idolized the thigh gaps and flat tummies, believing that was the ideal to which we should aspire. Fast forward to today, and it seemed like we had shifted our gaze to admire the voluptuous curves of Kardashian-style bodies. But hold onto your heels, because the times are changing again. Even the iconic Kim Kardashian herself is flaunting a skinnier frame.
In a world where the obsession with skinny bodies seems to be making a comeback, you might expect plus-size models to feel the pressure to conform. But these fearless women are proving that beauty comes in all sizes. With unwavering confidence and a passion for embracing their bodies, they're stepping into the spotlight and recreating the iconic looks of thinner celebrities.
Join us on a journey as we celebrate these fabulous plus-size models who challenge beauty norms and show the world that style knows no size. Get ready for a stunning collection of side-by-side photos that will inspire you to embrace your own unique beauty, regardless of the changing tides of fashion. It's time to recognize that beauty has no boundaries, and these models are here to prove it.
1. Katie Sutrino recreated a casual Hailey Beiber look in bright pink and said that initially she hated this look and it didn't look like something she would ever wear, which was kind of the point, to expand her horizons. But after styling it for herself and snapping the photo she decided that she quite liked it and would wear it again.
2.Katie also recreated this Kaia Gerber's look and said that it was actually the perfect look for fall because it combines good ventilation at the top and the plaid bottoms are very cute for autumn.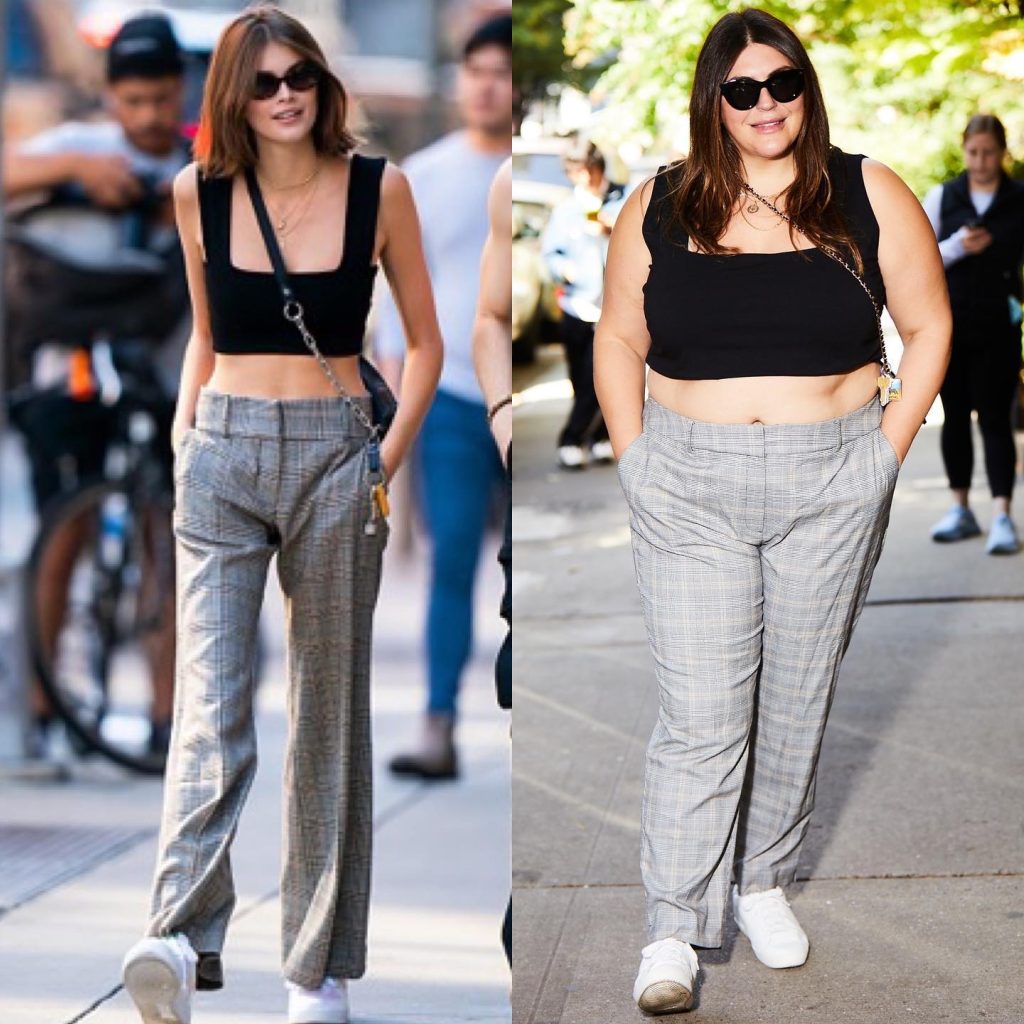 3.Gabriella Athena Halikas recreated a grocery store look by Julia Fox. Gabriella said that while this was definitely the most scandalous outfit she's ever worn to a grocery store she felt liberated. She says that she's tired of this idea that only skinny girls are allowed to wear more revealing outfits and as soon as a curvy woman does it's immediately deemed to be «too revealing» or «inappropriate». It even goes back to her middle and high school years when she used to wear the exact same outfit as her skinnier friends, but only she would get dress coded because her pencil skirt just "wasn't appropriate" (since she was just thicker) — and her tank top was "too revealing" just cause she had bigger boobs.
4.Gabriella said that as soon as she saw this vintage inspired shoot for skims she knew she had to recreate it on a curvier body. When we think of Hollywood we usually think of thin people and Gabriella thought that it was important to show that a curvier lady could absolutely rock a look like this and look incredible, because we're all different and beautiful in our own way and it's time to be done with the rigid beauty standards.
5.Paloma Elsesser recreated Aaliyah's look in this gorgeous tiger striped dress. Animal print is for everyone and we think it looks equally amazing on both ladies.
6.Katie Sutrino didn't think she'd need a DARE shirt past highschool but when she saw how Olivia Rodrigo styled it she knew she had to recreate the look. Remember it's not about who wore it better, that mindset just brings everyone down. It's not about competition, it's about representation and being inclusive. Beauty comes in all shapes and sizes.
7.Diana Sirokai recreated Kim Kardashian's white bodysuit look and captioned it very eloquently with « WE ARE BOTH WOMEN with DIFFERENT BODIES ❤️ #Slay.» And honestly, we've got nothing to add. It's perfect. 
8.Katie Sutrino did it again just to remind us that H-O-T comes in all sizes.
This time she is recreating Miley Cyrus's look. Why not? Black mesh dress with combat boots looks equally badass on everyone.
9.And finally he's Katie Sutrino recreating a casual Jules Hough look. Katie jokingly calls these «complicated tops» and stresses that back in the day these used to be a no-no for big girls, but as you can see both Julianne and Katie both look cute as hell.