"Emily In Paris" is Netflix's latest show about a woman who moves from the U.S. to Paris for a job. People have some pretty strong opinions about the show, with critics arguing that the way she climbed up the fashion industry ladder was unrealistic. But what we do know is that the wardrobe game in this show was absolutely incredible, and will give us style inspiration for days. Here are our favorite fashion moments from "Emily in Paris" that were unforgettable.
1. Ah, the Emily look that went immediately viral. The plaid suit and beret combo is definitely one that we're going to be seeing more often in the coming months. It's like Clueless and Parisian society had a baby. A monochromatic checkered suit with shorts is paired with the ultimate pop of color in that red beret. In cooler weather, you can rock tights underneath.
2. Remember this infamous Pierre Cadault white dress that Emily ended up modeling? It seems suspicious that she would fit perfectly into the dress, but with her petite body, it actually makes sense. Her makeup is serving us Black Swan while the outfit takes us to the light side with White Swan vibes. Strappy heels finish off the whole look.
3. Many of us dream of what we would wear if we got a chance to get fancy and go to the Paris opera, and we'd say that Emily nailed the look with ease. This semi-sheer, black zig zag dress with an off-the-shoulder-detail was such a fabulous outfit for attending this event, and she totally channeled Audrey Hepburn. Also, that glitterati shoe and clutch detail is everything.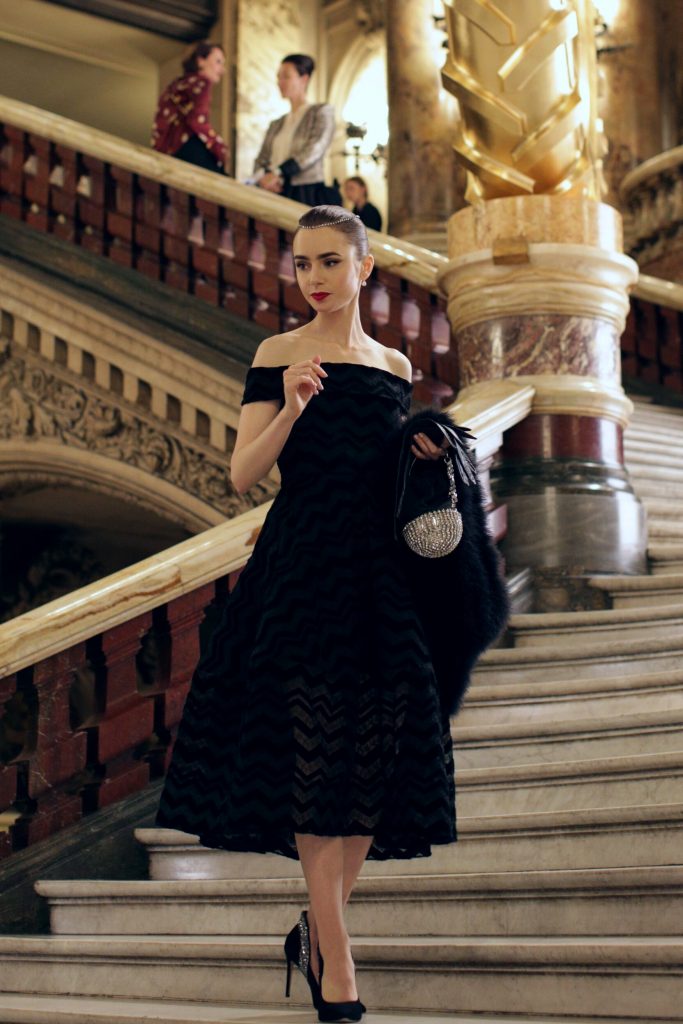 4. Some of the "Emily in Paris" outfits are way too busy, but this look is sublime (and achievable) perfection! The colorful landscape scene on her silky over-shirt is only buttoned at the collar, letting a simple white crop top and a green-grey snakeskin mini skirt balance the ensemble out.
5. "Clueless" meets "Legally Blond" with a 1960s French twist! This is a monochromatic look that's not for the fainthearted but so chic. Pink knee socks paired with a gorgeous pink satin shoe accentuate her legs in this mini skirt. Then, an oversized coat and argyle sweater add that cool, slouchy factor. It's this kind of contemporary meets vintage aesthetic that always makes us swoon.
6. It's not even really a famous scene, but these two fashionistas still made it so with their creative styles. Camille's cowboy boots and black purse contrast with Emily's tiny pink clutch and pointy lavender boots, which are giving us total Twiggy vibes. Emily rocks a more preppy cardigan to match her shoes, while Camille opts for a laid-back, oversized jacket and white denim shorts. The two styles are so different yet equally captivating!
7. This look wasn't for everyone, but we do like the concept of layering a sheer lace look underneath another shirt. More importantly, we love this moment for her fedora. Emily brought back the bucket hat and fedora with complete confidence, even though it earned her the nickname Bucket Hat by a certain celebrity in the show.
8. Emily might be the main star of "Emily in Paris", but her BFF/ man crush's girlfriend is actually the most underrated style queen of the show. I mean, look at this Chloe dress with sheer, billowing sleeves, and a figure hugging checker print? Billowing sleeves are a recurring theme in the show that we're dying to try out.
9. Yellow is a color that many of us traditionally stay away from (especially fair skinned folk) but Emily made it work by choosing one with a slightly busy, asymmetrical print and a thick black belt. For the cooler months, we'd love to see this with tights underneath and a black leather jacket.
10. None of us can forget this Alexandre Vauthier look, which Emily brought to life with that dainty ballerina energy she always has going on. Sleeveless and body hugging on the top, the bottom is a bloom of tulle. Tulle is one of those fabrics that can look too childish or innocent in light tones, but when done in black, looks quite edgy, and like a brand new take on the little black dress. Of course, she ties it all together with a black belt — this gal knows how to work her belt and hats.