The world can have some pretty messed up beauty standards, but let's be real. We're all beautiful in our own way, simply due to the fact that we're unique, and no one else on this planet looks like us. The most important thing we can teach our future generations is that we're perfect just the way we're born, and that we should embrace our differences.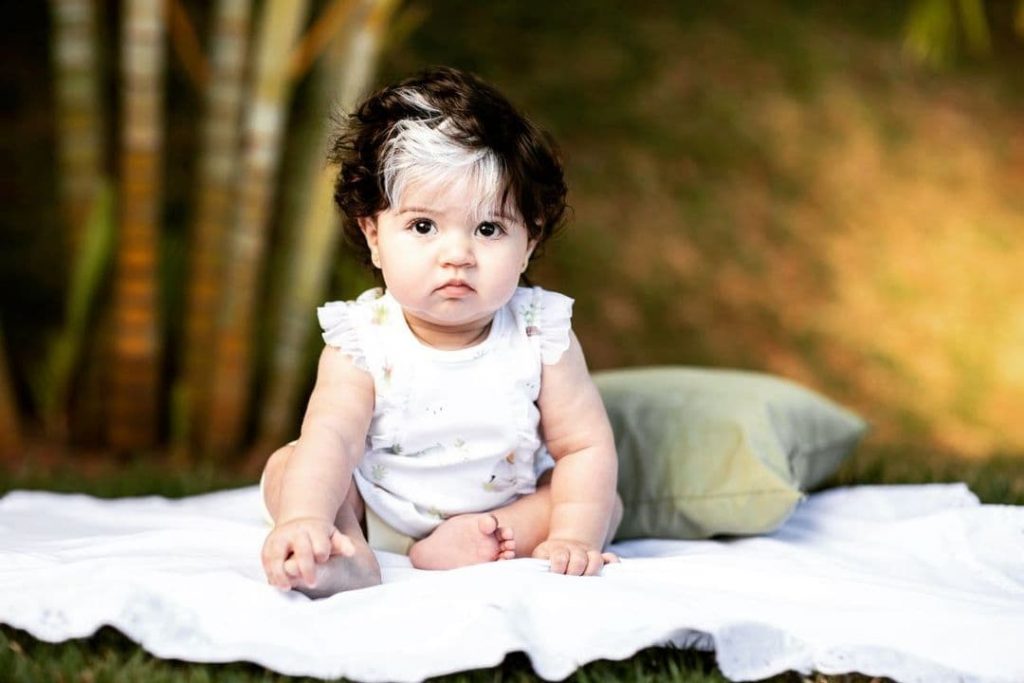 Meet the mother and daughter who  went viral for having matching white hair. When Mayah Aziz was born with a white streak of hair, that's exactly what her family did. White hair is often associated with old age or albinism, but Maya was born with a condition known as piebaldism. Piebaldism is distinguished by the lack of cells known as melanocytes in the skin and hair.
This condition runs in Aziz's family, so her mother Talyta wasn't too surprised. But instead of hiding away her daughter's differences, she started publicly sharing Mayah's photos online, and people all over the world fell in love with this cherubic baby. 
Mayah even did a cosplay of characters with the same streak, such as Rogue from X Men and Cruella de Vil from 101 Dalmations. It does give an infant some natural cool factor — I mean, who else cans say they share the same feature as an "X Men" character? Talyta hopes that the positive outpouring of support from the internet (and the powerful characters that share her traits) will inspire her daughter to love her hair. 
Talyta's pregnancy was not easy at all, and despite her late age, was not intentional.  This mom accidentally got pregnant at 40, and the following excruciating months were no walk in the park. She eventually was diagnosed with hyperemesis. 
After nearly 24 hours of intense labor, she has a c-section, with "the most beautiful hairstyle in the world." The doctors and nurses in the room were shocked, though it wasn't too unexpected for Talyta. The hospital workers showered her with compliments, saying she was "born with lights" and calling her a "fashion baby." It's safe to say that these two became locally famous in their hospital and had many visits from the staff. 
Talyta herself has that genetic grey streak, and is a majestic vision to behold. With a mom like Talyta that embraces her natural self so fully, we're sure that her daughter will be honoured to share the same white streak. But it wasn't always so easy for this mom. 
She reveals that as a child, she experienced lots of bullying due to her unusual look, and as a result, hid away behind clothing and makeup until her teen years. Only in her twenties did Talyta fully realize that her differentness made her special and made her a rare beauty. It's nothing to be ashamed of — even supermodels were made fun of for being tall when they were kids! 
Looking through pictures of this mama and daughter bond, these two are so adorable it makes our hearts hurt. We should all be so lucky to have a mother that's our personal cheerleader through every step.
As she photographs her daughter in different cosplay outfits, Mayah looks totally in her element, and her mom even joins her for some of the shots. After all, the best way to inspire your child is to be a role model for them, and this momma bear is giving off some seriously empowered energy.  Do you spy a future cosplay queen in Mayah?
Mayah's parents will always encourage her to embrace her uniqueness, as every parent should do.  We can tell that this household is filled with pure love and acceptance which is the recipe to creating an incredible young lady.
Here's Mayah with pigtails. Her white fringe makes it look as though she has natural highlights on both sides. This babe will never, ever need hair dye — she was blessed naturally! Perhaps if we can band together more parents like this, we'll live in a world where beauty is defined by a rainbow of differences, rather than a desire to fit in.