By now, nearly everyone has heard of coconut oil and its newfound place at the forefront of the health and wellness movement. In the last few years, coconut oil has resurfaced in the mainstream as one of the most essential wellness products. And the hype is all true, as it can easily be one of the most useful things you can keep stocked in your pantry. You may think of coconut oil as merely a cooking oil alternative, but it is so much more than that. If you are ready to see just how transformative coconut oil can be for your health, check out these 8 life-changing uses of coconut oil.
Full body moisturizer
Coconut oil is one of the best replacements for body lotion you can find. While it may feel greasy at first after application, your skin will quickly soak it up leaving a moisturized feeling without that oily coating. It's many health benefits, like anti-bacterial properties, make it even better for your skin beyond just hydration.
Oil pulling for oral health
This ancient practice is said to be one of the best things you can do for your oral health. Coconut oil pulling can potentially improve your gum health, whiten your teeth, improve bad breath, and improve your sense of taste. Your entire mouth will feel crystal clean after just one oil pulling session.
Coffee creamer replacement
Many people use dairy or non-dairy creamer, or just plain milk, in their coffee or tea. But if you are lactose intolerant, that can present a major problem. What many don't know is that coconut oil is actually a great replacement for milk or creamer for hot beverages. Next time you are about to enjoy your morning cup of joe, put your coffee and a tablespoon or two of coconut oil in the blender. The result is a frothy, smooth latte.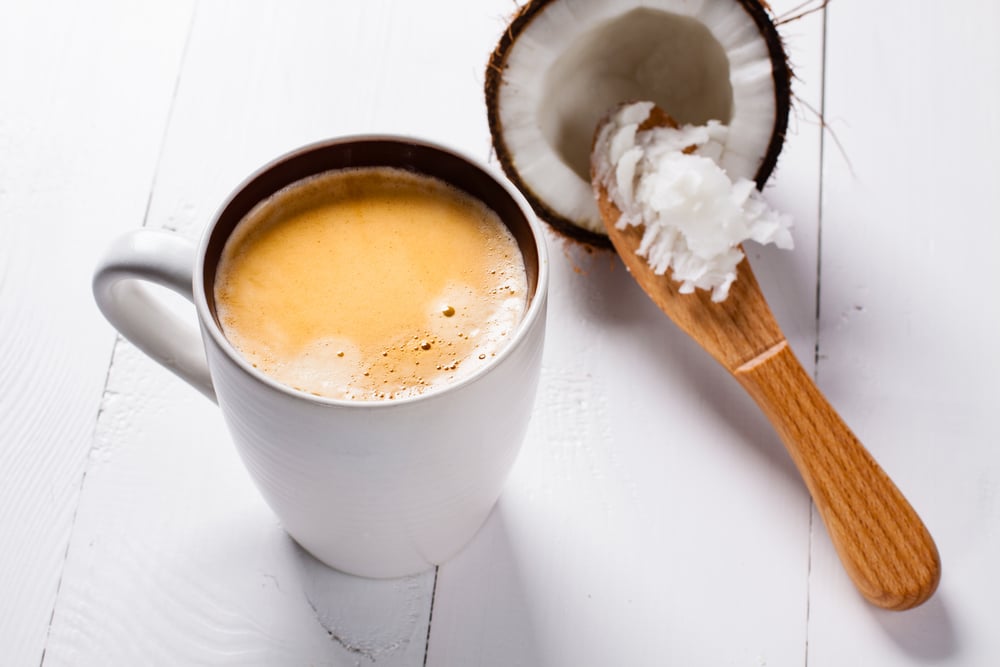 Conditioning hair mask
It is a general misconception that removing oils from your hair is healthy. The truth is our hair and scalp need the natural oils the scalp produces. An oil mask can deeply condition your hair; and because of its many health properties, coconut oil is one of the best products you can use for this. Warm coconut oil, rub it thoroughly into your hair and scalp, and put on a shower cap. You can either leave it in for an hour, or sleep with the oil in place overnight, and wash out with shampoo. Your hair will have added luster and shine.
Lip care and moisturization
Just as it is great for overall body moisturization, coconut oil is great for keeping your lips healthy and hydrated. Sources say that coconut oil is one of nature's best natural lip balms, for already healthy lips, or damaged, dry or chapped lips also. You can even add your own ingredients to achieve greater lip moisture and care, such as essential oils or Shea butter.
Oil cleanser for skin health
Cleansing your face with coconut oil is a great alternative to other cleansers, and is a great way to remove makeup also. It is very good for sensitive skin and does not run the risk of irritating your eyes.
Deodorant replacement
Because of its anti-bacterial properties, coconut oil naturally neutralizes body odor and reduces perspiring. There are several ways to utilize coconut oil as a natural deodorant. You can rub it under your arms by itself, or essentially make your own DIY deodorant, with ingredients like arrowroot powder or essential oils.
Shaving cream alternative
If you like a really close, smooth shave, you will love coconut oil as a shaving cream replacement. It can be a little harder to use as it is slippery and can make the bottom of your tub a bit slick, so this is something to be mindful of. But it is dual purpose as a shaving cream replacement, as you will get a super close shave, and immediate moisturization.