Any curvy girl out there knows that the market for plus-size clothing isn't exactly ideal. While more retails are hopping on the inclusive bandwagon, it's still difficult to find the plus-size versions of regular-sized looks, especially in terms of celeb inspiration. We're in desperate need of a plus-size blogger who knows how to recreate those stars' looks and even tailor them to bigger gals. Luckily, the world gifted us with Katie Sturino, an NYC style blogger for queens size "12ish – 18ish" in dire need of some fashion advice.
1. Alison Brie vs Katie Sturino
Katie's signature hashtag is #SuperSizeTheLook, and this look is for an Alison Brie re-creation. We're always looking for a casual-chic look, and this is definitely it. Kate made her look on the cheap with an affordable Old Navy jacket, Steve Madden shoes, and some J Brand jeans.
2. Meghan Markle vs Katie Sturino
Katie often tackles Meghan's looks, because they're easy to get creative with, especially for plus size cuties. This one is a dream in green – Katie's version has a little bit of a different button style in the front, but she kept the nude pointy shoes and leather skirt. This look is perfectly professional.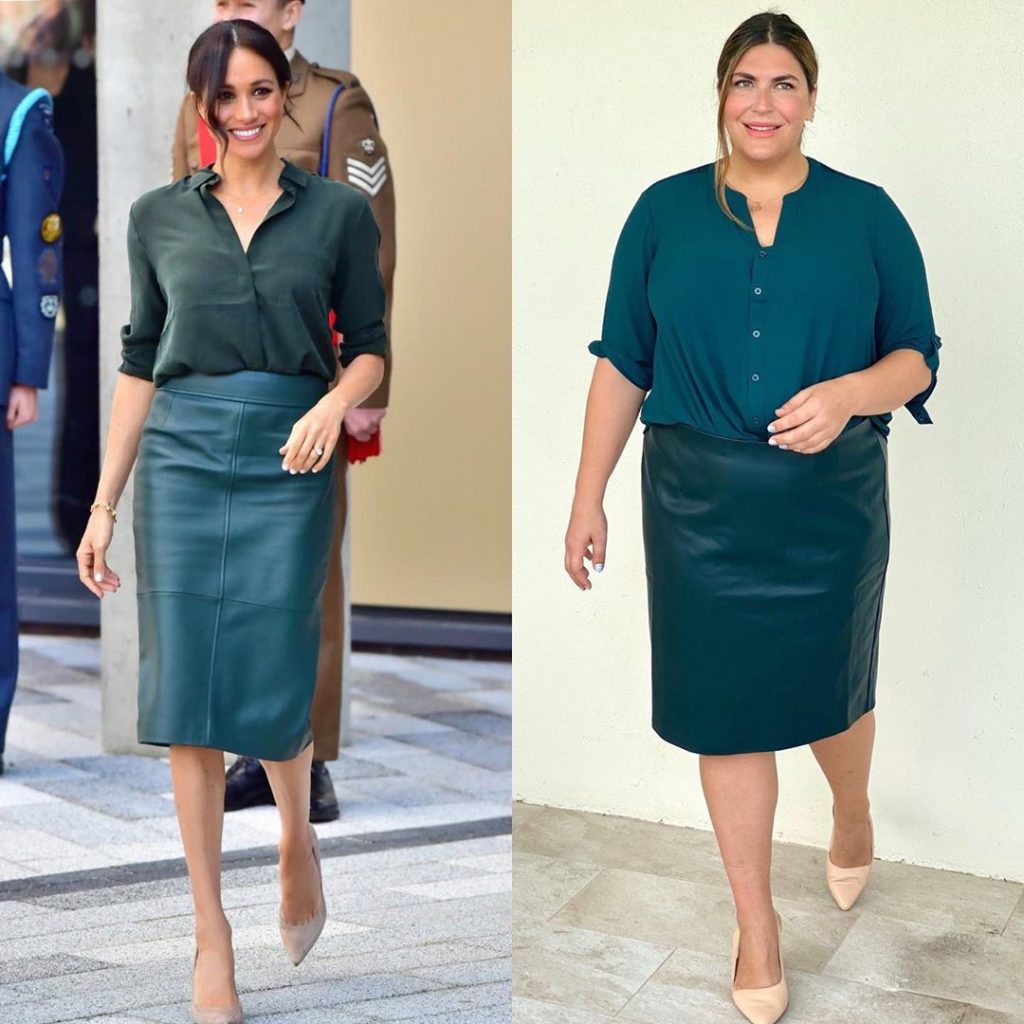 3. Blake Lively vs. Katie Sturino
We always love a coat that doubles as a comfortable bathrobe. Blake Lively and Katie are actually wearing the exact same Max Mara coat in this outfit, but Katie decided to go for all red shoes and a slightly longer dress with from button detailing.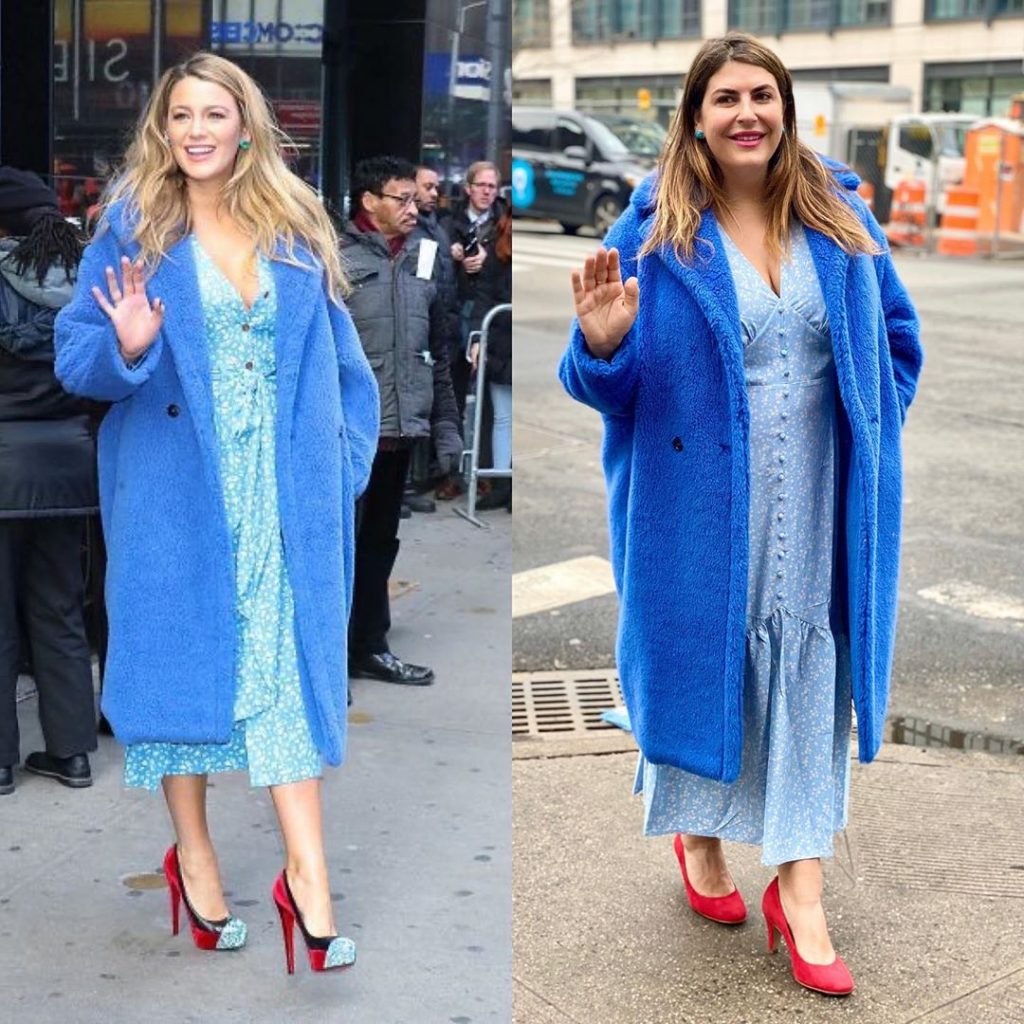 4. Kate Moss vs Katie Sturino
Thigh highs and a turtleneck sweater is probably our favorite seasonal transitional outfit, but we don't get to see the look on curvy models too often – mostly skinny models, a la the original Kate Moss style shot. Kate's boots are by Stuart Weitzman and we need them ASAP – cute AND available in a range of sizing? Yes please.
5. Rosie Huntington vs Katie Sturino
This Rosie Huntington look absolutely screams high fashion boss babe, and to be honest, we prefer Katie's look. The original one is very camel-centric, and while its intended to be monochromatic, we need a little pizzaz in the look. Katie managed this with some shiny trousers, which add depth and class.
6. Priyanka Chopra vs Katie Sturino
Priyanka Chopra always knows how to stay cozy while looking good. And while the days are still cold, we definitely need some of that. Katie's jeans are s lightly darker wash, and her trench is a little shorter, showing off those gorgeous calfs and ruched boots.
7. Tracee Ellen Ross vs Katie Sturino
A full-size pink jumpsuit isn't the easiest to pull off. Most people look like a janitor that's had Pepto Bismol spilled on them, but both Katie Sturino and Tracee Ellen Ross rocked this look with ease and finesse. This post was an attempt to get bigger girls out of their comfort zone and wear something a little intimidating – a jumpsuit with a major pop of color.
8. Jessica Simpson vs Katie Sturino
In this Jessica Simpson style inspo, we do enjoy the length on the original leather trench coat, we have to say we prefer Katie's version with the black and white snakeskin as opposed to brown, since it pulls the whole look together. A patent leather trench adds automatic confidence to a look.
9. Alessandra Ambrosio vs Katie Sturino
Not only did she recreate this Alessandra Ambrosio casual athleisure look with ease, but she added a chain to her phone, completing the tonal look. While the look is slightly tighter and more form-fitting than the Ambrosio look, we actually think it's more stylish and less gym-appropriate this way.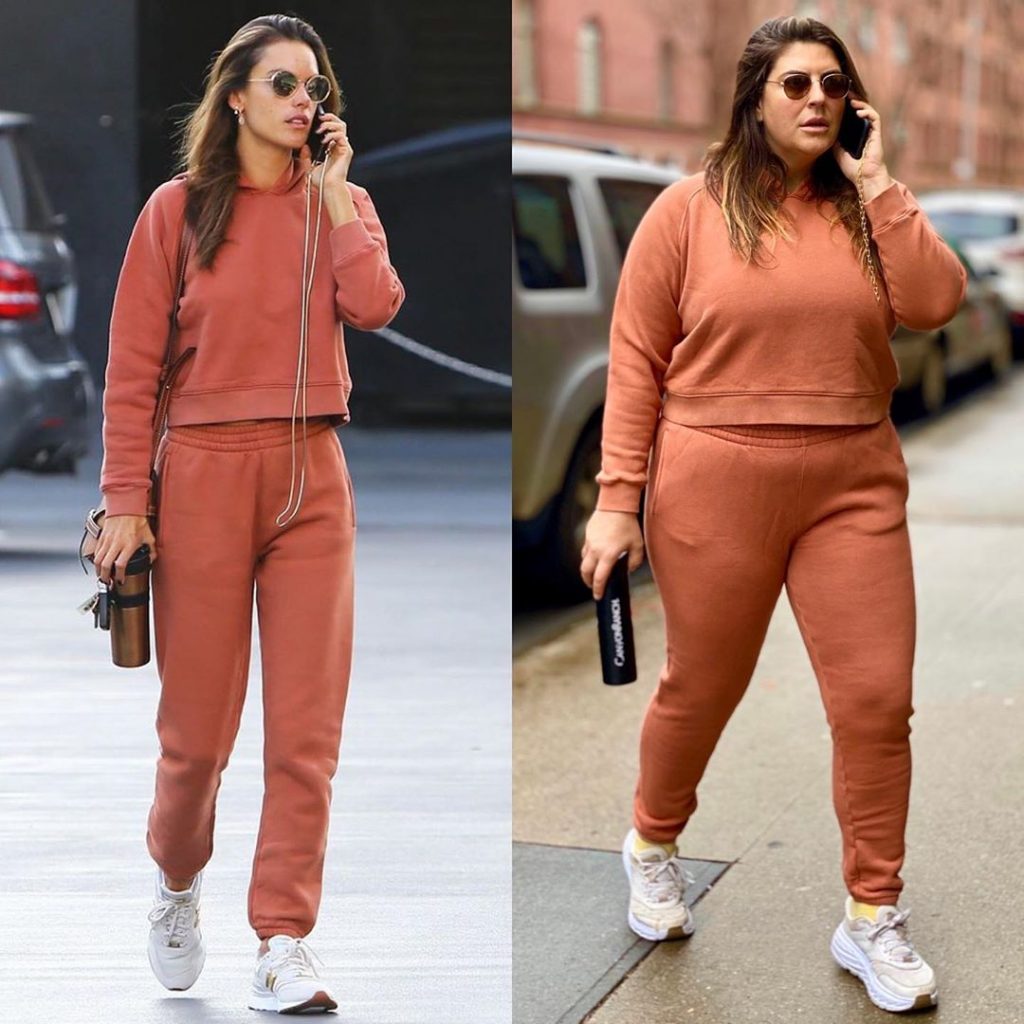 10. Amal Clooney vs Katie Sturino
There's nothing like an Amal Clooney inspired outfit to really get you motivated and unleash your inner feminist. This look is perfect for any season, blending ripped skinny jeans and a Moto jacket with a plain tee underneath. The jeans on Katie are AE, while the jacket is from Nordstrom.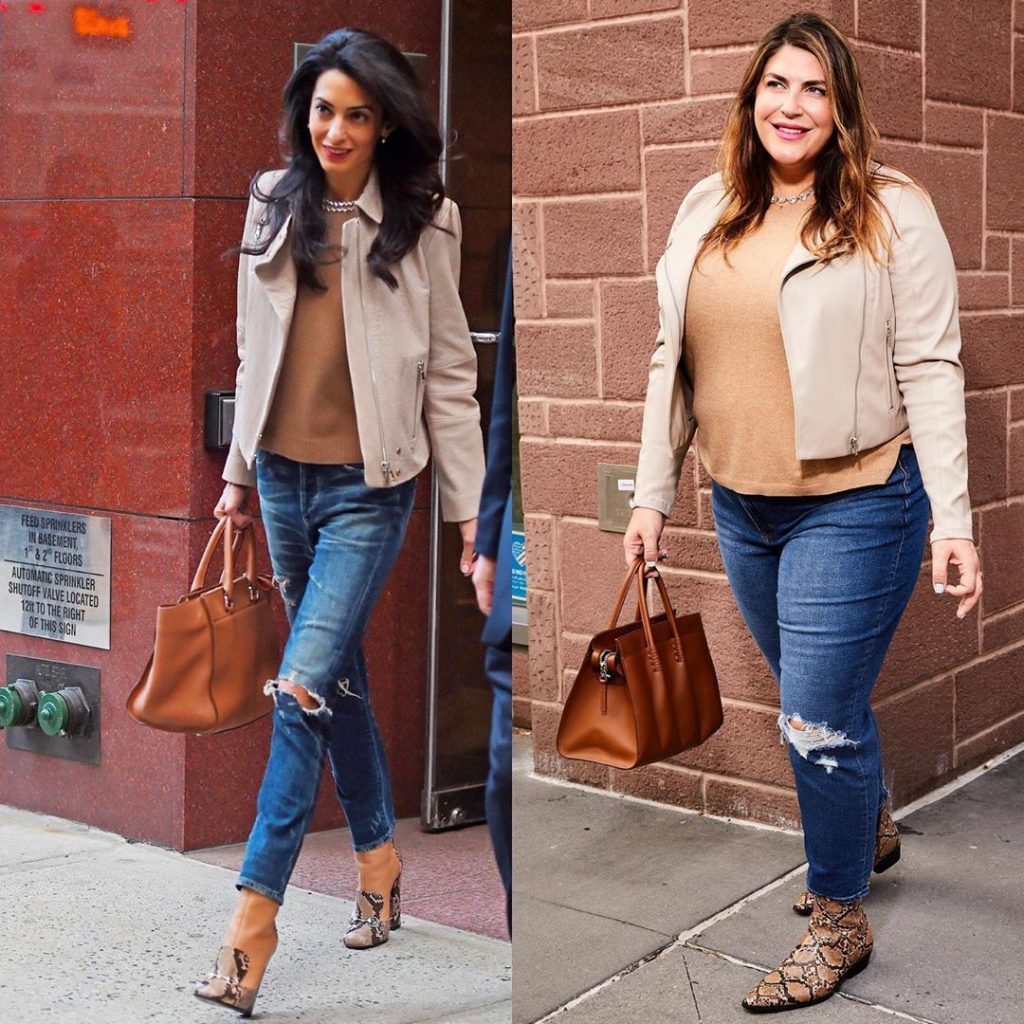 11. Maria Menounos vs Katie Sturino
Here, Katie is tackling another jumpsuit, this time looking like a golden girl. We love the waist belt detailing on both the Maria Menounos look and Sturino's. Some people might get nervous around a head-to-toe yellow look like this, but if both Maria and Katie can pull it off, then we can too!
12. Hailey Bieber vs Katie Sturino
You gotta love an androgynous queen, and when Hailey Bieber debuts a gender-fluid look, you can bet we're going to copy it. Katie's version is just as elegant, but has a commanding tone of power that we're obsessed with. Also, that neck broach detailing is everything. The brands here are a little less commercial than her usual looks.
13. Karen Gillan vs Katie Sturino
Shearling jackets are such a comfortable but edgy (and timeless) classic. This look is so perfectly put together but not over-styled in the least – we're going to always style our shearling with ankle boots, from now on. The jacket on both is by Madewell, but Katie's fabulous jeans are by LOFT.
14. Candace Bure vs Katie Sturino
This look is a fashionistas lesson in how to wear black and white. Candace Cameron Bure, aka DJ Tanner, might have tastefully slayed this holiday look, but Katie rocked it in a way more unique and versatile way that we want to rock all year long. A ruched center on that Veronica Beard top seem to accentuate all the right curves, while those Banana Republic Factory satin trousers add sophistication.